It's Problematic To Call Nick The "Most Deserving"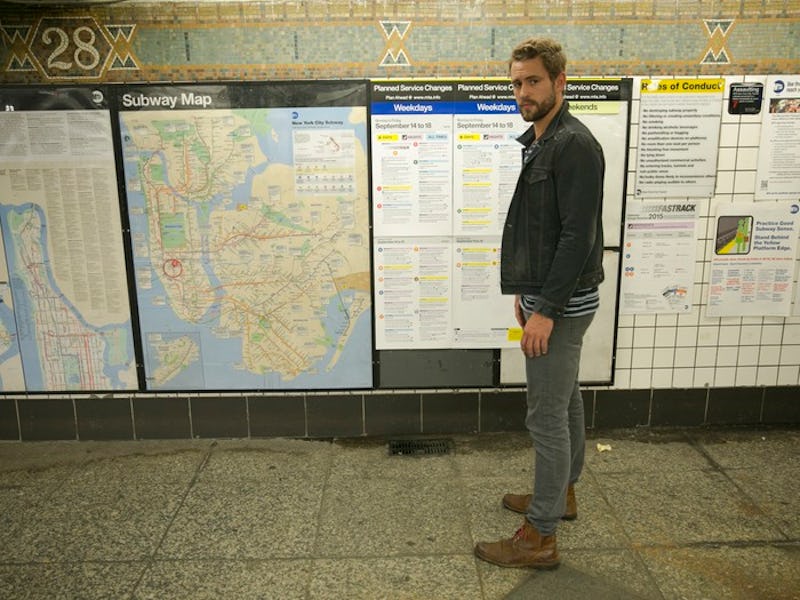 By now I'm sure you've heard that Nick Viall is the new Bachelor for The Bachelor, 2017. I know we're all excited for another season of this glorious show, but some of the talk surrounding the upcoming season needs to be addressed. On Good Morning America, Bachelor host Chris Harrison said that Nick is "the most deserving" Bachelor, and that's problematic. I'm not saying that Viall isn't the "most deserving" based on his character, or how he behaves when he's in a relationship, or anything like that. The guy deserves love as much as the next guy, and he deserves a chance to find it. But, in a world where we've yet to see a black Bachelor head up the show, it's questionable to say that a white man who's already appeared on television three times looking for love is somehow more deserving of this fourth opportunity than anyone else.
There have been 20 seasons of The Bachelor so far, and the only one to be helmed by a person of color is Season 18, with Juan Pablo Galavis, a Venezuelan former soccer player. And, while we were all delighted to celebrate the Latino man's inclusion as the first non-white Bachelor, fans have been clamoring for a black Bachelor for years now. With every season that's gone by since Galavis' in 2014, our voices get louder and more insistent. As far back as 2011, after the selection of Ashley Hebert as the next Bachelorette, Bachelor-creator Mike Fleiss was questioned by Entertainment Weekly as to whether we'd ever see a non-white man or woman in the hot seat. His response was quite the letdown:
I think Ashley [Hebert] is 1/16th Cherokee Indian, but I cannot confirm. But that is my suspicion! We really tried but sometimes we feel guilty of tokenism. Oh, we have to wedge African-American chicks in there! We always want to cast for ethnic diversity, it's just that for whatever reason, they don't come forward. I wish they would.
I'm hopeful that Fleiss' intentions are good, and that he's been working hard since that interview five years ago to bring us a black Bachelor.
However, it's hard to read something that tone-deaf and come away optimistic. Especially when that's also the sensation I get from Chris Harrison in 2016, explaining to GMA why Viall had been selected over Luke Pell and Chase McNary, who were also in the running:
Who is the most deserving? Who is the most sincere? Who have we watched time and time again really come on this show to find love and just come up short each and every time? [Nick is] the most deserving. He wants to make this work.
What's tough is that I agree with two-thirds of this statement: After watching Viall during the three seasons he appeared in, I do believe he's sincerely looking for love — and there's really no denying that he's tried hard and come up short every time. But, still, those things don't necessarily make him the most deserving candidate. In fact, I think Harrison actually has this situation backwards, because, technically, doesn't everyone — aka people we haven't seen in the franchise before — deserve a first chance at love? Before we start handing out second, third, and fourth chances to familiar faces?
Viall seems like a great guy, and I do want him to find happiness. But evaluating how deserving someone is based on how many opportunities they've already been given, and using that as the basis to give them more, seems unfair. This is especially true when you consider that the Bachelor playing field hasn't been even for Viall since we first met him during Andi Dorfman's season of The Bachelorette in 2014. That was the first and last time that viewers got to know him as a new face on television. When he appeared on Kaitlyn Bristowe's Bachelorette season, he was a familiar face in a familiar competition, and the same goes for when he appeared on Bachelor in Paradise this year.
More screen time might not sound like much of an advantage at first glance, but consider that this is a show built around a group of strangers trying to stand out in a pool of generally intelligent, attractive suitors. Any familiarity takes a contestant a long way with fans. Viall, for his part, has already proven he's adept at establishing a recognizable identity both on and off the show; he and Bristowe spoke before he joined her season, remember, so being a familiar face gave him a leg up when it came to that competition. I mean, is he deserving just because he's the person we've seen the most?
Let's compare Viall to Luke and Chase from JoJo Fletcher's season of The Bachelorette in 2016. Both men were reported contenders to be 2017's Bachelor, and they've each had one shot at finding televised love, compared with Viall's three, so, they're still fresh faces, in a sense. The disparity between their number of appearances and Viall's doesn't really indicate that Viall is the most deserving. As Psychology Today has pointed out, there's a demonstrable trend that we, as humans, are attracted to that which is familiar, so I wonder if it's this phenomenon that we're experiencing with Viall. Because he's familiar, we feel more warmly toward him, and want him to succeed. That's all well and good, but still different from him actually deserving this opportunity.
At this point, we've gotten three opportunities to get to know this dude, and he's already made good use of two of those opportunities to rehab his image after coming off as offensive in Dorfman's After The Final Rose episode, when Viall took it upon himself to reveal that the two of them had sex in the Fantasy Suite. Since then, Viall got the chance to come back twice more and show the Bachelor audience another side of him. Even within Bachelor Nation, that's an opportunity that not many get — and if, after both those attempts, Viall still isn't finding love on the series, then someone else deserves to get a chance. We've already watched Viall try and fail to find love on three separate occasions, so why does he deserve this fourth more than anyone else?
The fact is that none of these contestants are promised love. The Bachelor isn't the kind of franchise where you get to keep trying until it works for you, and Viall is really the only contestant where fans have acted like that's the guarantee. He has for sure gotten a bum deal by getting second place twice on national television (and whatever it is that's gonna happen between him and Jen Saviano on Bachelor in Paradise ), but acting like he's deserving of finding love in this series gets into some tricky issues of entitlement. The show doesn't owe its contestants anything, so if someone fails once, or even twice, there are plenty of people in line to redeem their chips before we get to the guy who's already had three shots at this.
At the end of the day, there's lots to love about Viall, and I think he'll make a great Bachelor from an entertainment standpoint. But let's not say he's deserving, because, if anything, Nick is at the back of that line. No matter how enthusiastic you are about him as a person, I think we need to find a way of celebrating him as the Bachelor without making it about who deserves what.
Images: ABC; Bustle (2); Giphy (2)