Cheap Halloween Makeup To Buy For Thrifty Ghouls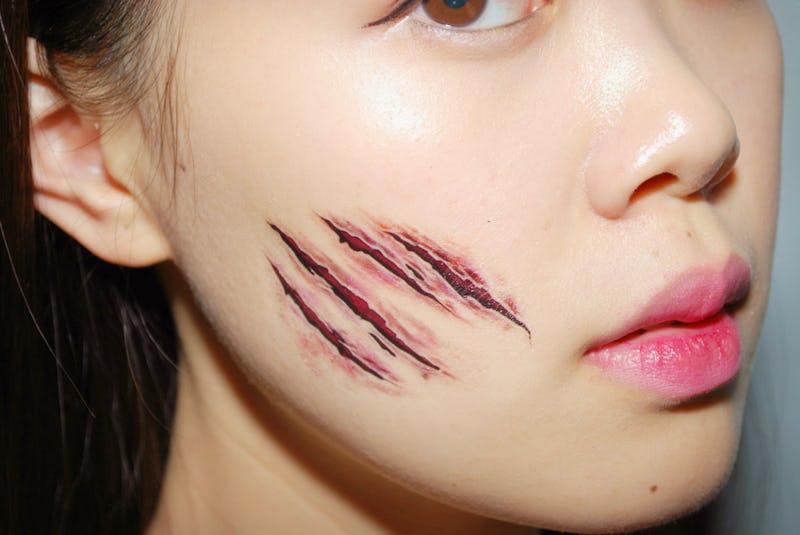 Like any holiday, Halloween can be an expensive time of year. Of course, folks who celebrate Christmas will know that Dec. 25 is probably the most expensive holiday, but the cost of celebrating All Hallow's Eve can take you by surprise. Thus, cheap Halloween makeup is a ghoul-send for anyone who wants to go all out, without turning a deathly shade at the checkout.
If you really want to, it's possible to spend a small fortune on Halloween. Amid the exciting costumes, spooky accessories, trendy makeup, and stylish home decorations, it's easy to get Carrie(d) away when it comes to Halloween. If you're hosting a Halloween party, your bank balance is sure to take a hefty hit once you've bought (or painstakingly made) all of the terrifying treats and surprises for your guests. So if you're someone who loves a bargain, leads a thrifty lifestyle, or is a penniless student who lives off ramen but still wants to par-tay hard, you'll likely be wondering how to put a Halloween costume together on the cheap.
First off, ask any friends if they have an old Halloween costume you can borrow, or dress as an iconic character using items you already have around the house – the Stranger Things cast make for awesome Halloween inspo. Once your costume is sorted, you'll need some rad makeup to complete your look. So here's some cheap Halloween makeup that's all $10 or under so you won't be sent to an early grave!
1. The Black Lippie
Black Lip Crayon, $2.99, claires.com
Halloween just wouldn't be the same without a classic, black pout.
2. The White Face Paint
Blackheart Beauty Face & Body White Paint, $2.92, hottopic.com
White face paint is a must for Halloween as it forms the base of a multitude of different looks.
3. The Vampy Lipstick
Lady Is A Vamp Vitamin E Lipstick, $4, boohoo.com
Glam vamps will adore this blood red shade of lipstick that's sure to add a deadly yet decadent vibe to their look.
4. The Monster Lash Mascara
Monster Lash Mascara, $4, boohoo.com
If you can't go big on Halloween, when can you? Supersize your lashes to monstrous heights with this aptly named Monster Lash Mascara.
5. The Harley Quinn Kit
DC Comics Harley Quinn Classic Makeup Kit, $8.92, hottopic.com
If you fell in love with the beautiful badass Harley Quinn after watching Suicide Squad earlier this year, you'll be pleased as puddin' to get your hands on this thrifty Harley themed set!
6. The Black Eyeliner
e.l.f. Studio Cream Eyeliner, $3.04, target.com
From creating the perfect winged cat eyeliner, to adding the finishing cracks to your spooky doll makeup, black eyeliner is a beauty lifesaver when it comes to Halloween makeup.
7. The Bat Tatt
Glitter Bat Tattoo, $5.24, claires.com
Take the hard work out of your Halloween makeup with this rad bat tattoo!
8. The Glittering Talons
Halloween Black Glitter 20 Pre-Glued Witch Nails, $5.99, claires.com
There's no need to get an expensive Halloween themed manicure when you can pop on a set of these bewitching, pre-glued nails.
9. The Anime Eyes
Anime Eye Temporary Tattoos, $3.75, hottopic.com
Cutesy cosplayers will love how these anime eye tatts make their life so much easier.
10. The Dark Gloss
Black Lip Gloss Tube, $2.99, claires.com
A girly, black lip gloss makes the finishing touch for Catwoman wannabes or gals wanting to form a Mean Girls coven.
11. The Faux Scars
Scar Temporary Tattoo, $2.99, etsy.com
Tough cookies can look like they've just been in a fight with a werewolf with this cool temporary tattoo.
12. The Gory Flesh Makeup
Adult Zombie Flesh Makeup, $5, target.com
Those who want to join the ranks of the undead this Halloween will need this Gory Flesh Makeup in their lives!
13. The Green Ooze
Adult Zombie Green Ooze Cream Makeup, $5, target.com
Monstrous makeup is incomplete without some grotesque green ooze.
14. The Zipper Kit
Zipper FX Makeup Kit (Standard,) $6.86, amazon.com
If you're the kind of person who gets a kick out of scaring the life out of trick-or-treaters, this Zipper FX Makeup Kit will help you on your twisted quest.
15. The Ultimate Makeup Kit
Wolfe Fx Water Activated Deluxe Multi Face Painting Kit, $10, target.com
Folks who don't know what they want to be yet for Halloween can have the pick of the bunch with this epic sounding "Ultimate Make-Up Kit."
At the end of the day, Halloween is all about unleashing your creativity, so you can put the spade down – there's no need to go grave digging in order to afford awesome Halloween makeup!
Images: Courtesy Brands