13 Key Tests For A Relationship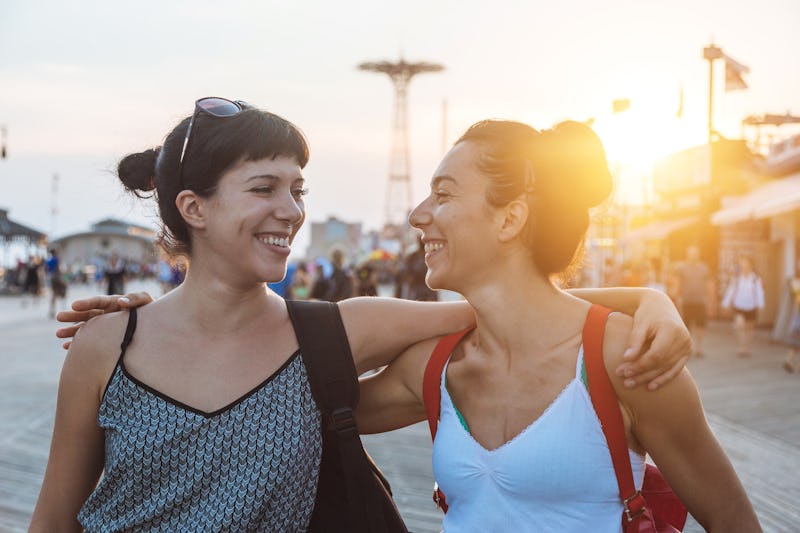 Your relationship with your significant other is constantly being tested, and it's all about how you overcome little — and big — hurdles. There's an endless number of issues that can come up: money (who pays what?), traveling together (have every minute planned out or taking a more spontaneous approach?), job loss (how do you each handle it?), and so on. There are key tests for a relationship that may hint at whether your relationship will last or not — and some are more unexpected than you'd think.
"There are certain tests in a relationship that really show you your own and your partner's true colors," New York based relationship expert and author April Masini tells Bustle "These are the crises and traumas that happen in life, and they can split a couple apart or render them stronger, because they force you to peel back layers and show grit."
I hear that. How about you?
Murray Suid, co-author of Married, Etc. , agrees."Relationships fail when the partners can't solve conflicts," Suid tells Bustle. "Just about every couple will fight. It really doesn't matter what the subject is — traveling, sex, money, children, use of free time, neatness. People bring their differences to a relationship. Those differences can spark conflict. What happens next determines whether the relationship will survive and thrive — or go bad."
Married, Etc., $9, Amazon
Will your relationship survive and thrive, or not? Here are 13 key tests for a relationship, according to experts — so you can see if you and your partner passed and made the cut.
1. Go Camping
"I highly recommend the 'camping test.' I heard about it from a confirmed bachelor relative when I was a child. When I asked why he wasn't married, he said that he had camped with all of his prospective wives and realized they wouldn't work out. As an adult, I remembered his story and, as I became serious with a special someone, I would go camping with them. It becomes very apparent if you can work well together setting up a tent (ideally, a new one neither of you is familiar with), if you can laugh at bad weather, bugs, etc. — or, if you cannot wait to get away from each other after a day in nature and a night in a tent. I camped with my now-husband and, despite him dislocating his shoulder and torrential rain, we had a great time. I've passed this tip on to all of my girlfriends, and we've all let some good guys go over bad camping issues. We're all happily married, too (I just celebrated 11 years). — Danielle Tate, Founder and CEO, MissNowMrs.com
2. Miss A Flight
"It's always a bummer to miss a flight, but it helps you learn about your partner's ability to handle conflict. Do you play the blame game or find a solution? If you're able to successfully come to a cool-headed solution together, you'll gain confidence that you will be a good team when bigger issues arise down the line." — Allison Gerrits, Matchmaker, Three Day Rule
3. Take A Road Trip
"Being in a confined space for hours on end is a great, but difficult, way to test out compatibility. You'll see what your partner is like when they are hungry, cramped, lost, tired, and achy. Road trips can bring out the worst in people, so it's good to give your partner a break while also being aware of some of their triggers." — Kali Rogers, Founder of Blush Online Life Coaching
4. One Of You Is Laid Off… Or Accelerates In Your Career Faster Than The Other Person
"A real test for a relationship occurs when one of you becomes unemployed. It can take a real shot at that person's self-esteem and feeling of value in the relationship. The partner then becomes a major source of support for them and, over time, can grow impatient. Also, the person who is employed now has to pay for everything, and it is easy for the inequity to lead to feelings of resentment. In addition, when one of the members of coupleship has a breakout career moment, and the other is still plugging away. The successful person can easily feel guilty celebrating all their accomplishments and overshadowing his/her partner. The partner can be torn between wanting to support his/her partner's good fortune and hard work, while feeling envious and inadequate." — Rhonda Milrad, CEO & Founder of Relationup, Relationship Therapist, and Huffington Post Blogger
5. Meet The Family & Friends
"Meeting your partner's friends and families are tests for each partner — plus, how one makes the introduction, if it is in a supportive way where the new party doesn't feel isolated or excluded. Also, how the introductions are received, particularly in the instance where there may be tension and the first meeting may not have gone well. The way you frame the situation to your significant other is key." — Rori Sassoon, Co-founder of Platinum Poire
6. Attend A Holiday (Or Work) Party
"Spending time with coworkers in a social setting can be… uncomfortable. Seeing how easily your partner mingles on his or her own while you're catching up with you comrades can help you to see them in a new light. Just be aware: It can be intimidating for your partner to meet the people you spend the majority of your waking life with. Be sure to include them in conversation and talk about more neutral, non-workplace-specific topics so they don't feel like an outsider." — Allison Gerrtis, Matchmaker, Three Day Rule
7. Adopt A Dog (Or Other Pet)
"A real test for a relationship is how you divvy up the responsibilities of having a dog together. Does one of you get stuck with the bulk of walking, feeding and vet visits or is the care divided evenly? Do you both marvel at how much you love your mutt, or is one of you resentful and disturbed that the other person seems unloving and neglectful? Your dog can either become a relationship-enriching experience or a frightful window to your future with kids with this person." — Rhonda Milrad, CEO & Founder of Relationup, Relationship Therapist, and Huffington Post Blogger
8. Fight Productively
"In some relationships, learning to fight in a way that strengthens the relationship takes years. Fighting productively is a skill that can develop. So any one fight usually isn't decisive. What matters is the trend: Do the partners improve their skills at resolving conflict? I've been married for more than 30 years. My partner and I have done all the usual things together — and also have worked together in the same organizations and started a couple of businesses. So many opportunities (!) to go to war with each other. But also so many opportunities to have the pleasure of resolving differences in a way that enriches both of us." — Murray Suid, co-author of Married, Etc., $9, Amazon
9. Agree On Finances
"Along with my wife, I'm a financial coach that works with other couples on fixing their personal finances. Money issues are the number one reason people cite for getting a divorce. While many people are not naturally 'financially compatible' and go on to have very happy relationships, it is important to be able to talk openly about financial goals and to start a mentality of working together toward fulfilling those goals for both people. The best way that any couple can make sure they are working together is to do a budget every month. Now, in most couples there is a Budget Nerd and a Budget Denier. What you have to do is have the Nerd put the budget together and then present it to the Denier. They can then have a good discussion about what does and does not need to be in the budget (wants versus needs) and come to a consensus about where they are going as a couple. Then they have to both agree to STICK TO THE BUDGET! My wife and I have been doing this for more than 11 years. It works!" — Paul Moyer, Personal Finance Blogger, SavingFreak.com, and Finance Coach
10. Make A Big Purchase Together
"Big purchases can bring big stress to a relationship. Buying a house or a boat can be a totally new experience for lots of couples, but buying a car has an added layer of stress because, in most cases, each partner has had decades of using, driving, and even owning a car, so they tend to have some strong ideas of what they like and don't like. The question of when to buy, how much to spend, and the priorities of what features to look for (i.e., all-wheel drive in the winter versus heated leather seats and Bluetooth) can often lead couples to butt heads. Plus, one partner might be more financially conservative and believe that a few more years without a car payment would be more beneficial, overall, than a new car. It's an important balancing act to hit just right." — Molly Lizzio, Licensed Marriage and Family Therapist
11. Respond To Your Partner's Stress
"During high times of stress, sometimes it can be difficult or more stressful to carry out normal daily tasks. If your partner hates doing laundry or doing dishes, giving small amounts of help can show that you are willing to support them in any way they need. Plus, tell your partner you are there for them. External reassurance and words of encouragement can help a partner feel loved and supported." — Dr. Celia Trotta, psychiatrist
12. Get Through A Health Or Death Crisis
"Whether it belongs to a person in the relationship or a parent, a child or a loved one, even a pet, grief and loss are part of life, but people don't always prepare for or expect them. Even when they are prepared and do expect them, the reality of the experience can be different than what they thought. Depression, overcoming profound disappointment, and handling the business of health and death issues are character-defining. If you and a partner get through a health or death crisis, your relationship is different than before the crisis." — April Masini, New York based relationship expert and author
13. React To Good News
"A health crisis or the death of a loved one is obviously a big test for a relationship. Who wants to be with someone who's not supportive through hard times? But research by Shelley Gable at UCLA shows it's even more important to the health of your relationship to find someone who knows how to handle your more upbeat news. How do they respond when you announce you got a promotion at work or a prize for your painting or kudos for your volunteer efforts? The relationship-healthy response is an Active-Constructive one. In other words, it's not passive, like a quick 'Congratulations!' It's active, showing real interest in your good news, and sounds more like, 'That's great. And so deserved, after all the effort you've put in and all that you've learned this year. I'm so excited for you. How shall we celebrate your wonderful news?' If you hear this, you've got a great partner." — Patty Newbold, Award-Winning Marriage Blogger, Assume Love
Images: Fotolia, Giphy