Easy Best Friend Halloween Costume Ideas For 2016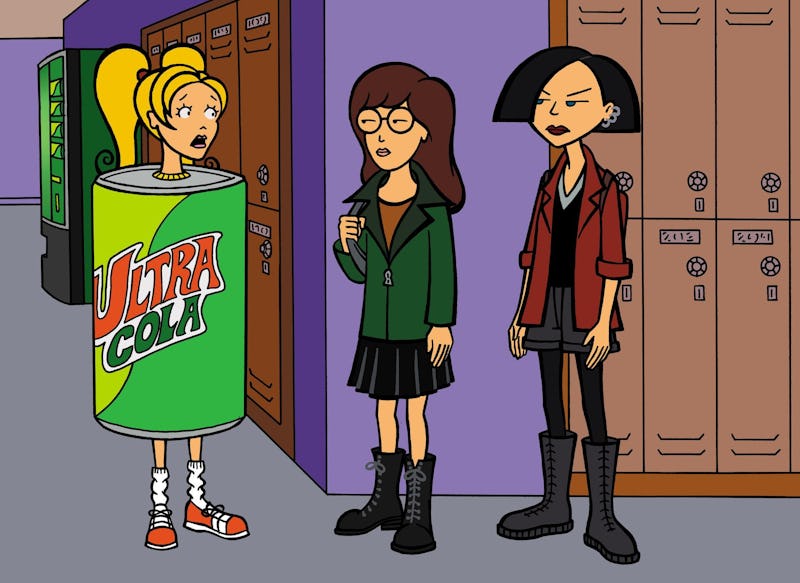 Since the very first holidays were introduced, their sole purpose was to bring together family, or for those ~special few~, significant others. Even Halloween falls into one of those two categories. Couples costumes are revered and encouraged. But this Halloween, you're going to take back the holiday. I'm talking about a full on Halloween attack featuring your true significant other — your best friend. Hence, these easy best friend Halloween costume ideas for 2016.
Who could possibly be better to share this holiday with than with the person you trust most? Just think about it. They know your favorite movies, your favorite colors, your sense of humor, and all of the things you told them over the years. All you guys have to do is look back to years of friendship for inspiration this Halloween. Two brains are better than one — and two brains that loved watching the same Disney Channel original movies are even better than just two brains. So feel free to get creative or just go with the flow. At the end of the day you'll have your best friend by your side to quell any fears or doubts either one of you has.
So what will it be this Halloween? The traditional witch's outfit? Maybe a Pokemon character to go with the movement that "Pokemon Go" created? Or maybe a character from an old television show you both loved? There are no wrong answers, people! There are only ideas. So get those thinking caps on and start brainstorming. There are so many options to choose from, and this Halloween will clearly be your favorite. To start your process, here are some ideas for friend costumes.
1. Salt And Pepper
If you want a simple costume for you are your best friend, take the cue from your dinner table.
What You'll Need: Basically, all you need is a black t-shit ($19 Ebags), a white t-shirt ($19, Wearall). If you want to add a letter 's' or 'p' for clarification you can. Then top it off with a white short wig ($13 Rosegal) for salt and a short black hair wig ($14, PinkQueen) for pepper.
Image: Polyvore
2. Daria And Jane
From one of the best animated shows on MTV comes the best friend duo that defined a generation. They were cooler, smarter and funnier than all of us.
What You'll Need: In order to look like Jane you will need a red blazer ($33, Macys) to go on top of a black v-neck t-shirt ($13, Hollister). Then you will wear a pair of grey jean shorts ($23, TheHut) on top of some black tights. To look like Daria you will want a green jacket ($23, Shein) to go on top of an orange shirt ($26, LandSend) and a black ruffle skirt ($18, PinkQueen).
Image: Polyvore
3. Ash And Misty
Pokemon are going to be huge this year. Why not come as some of the best trainers from that world?
What You'll Need: In order to become Misty you will need to dig up those high wasted jean shorts ($26, WithChic) you wore all summer. Pair it with a yellow crop top ($20, SansSoucisStores) and red suspenders ($8.99, Amazon). Ash needs the official Pokemon baseball hat ($5.87, Amazon), green fingerless gloves ($8, Etsy) and a letterman jacket ($39, Etsy).
Image: Polyvore
4. Ketchup And Mustard
This duo makes hot dogs basically a heavenly sent food.
What You'll Need: You and your friend will choose which of the two you want to be. The person who is ketchup will need a red dress ($14, Buckle) and a red beanie ($14, LuxuryDivas) . The person who is mustard will need a mustard yellow dress ($26,WearAll) and a mustard yellow beanie ($8.50, Asos).
Image: Polyvore
5. John Snow And Sansa Stark
This brother and sister duo are the ultimate Westeros rulers.
What You'll Need: For Jon Snow's look you will need his signature curly hair ($24, Etsy) and big black coat ($38, VeryCo). Sansa will need long red hair ($24, MayKool) that you will braid down your back and a black cape ($15, Smile) you can wear over anything.
Image: Polyvore
6. Pokeball And Chain
If everyone says you and your friend are like two peas in a pod, this costume idea is for you!
What You'll Need: One of you will go as the Pokeball and will need a shirt with a Pokeball ($42, Etsy) on it. The second person needs to put on as many chains are they can. Silver chains ($38, Berricle) and gold chains ($39, Belk) of different lengths and sizes.
Image: Polyvore
7. Bed And Breakfast
If you are looking for a low upkeep/high impact costume combo, this is for you!
What You'll Need: One of you will be going as the bed. This means you can carry a small pillow ($20, PBTeen) with you everywhere and a blanket ($3, Carter). The other person will be breakfast, which means an egg shirt ($26, TeePublic) and bacon pants ($40, Etsy).
Image: Polyvore
8. Peanut Butter And Jelly
Low-key the greatest food known to man. It's the perfect food to have for lunch and breakfast or it's the best way to describe how close you and your friends are.
What You'll Need: This is a pretty simple costume to make. You can obviously by your outfits fully online or go the really easy way as described here. You'll need to purchase a set of matching peanut butter and jelly t-shirts ($40, Etsy) and then beige jeans or pants ($27, SoHoGirl) as the bread.
Image: Polyvore
9. M&Ms
These candies were supposed to melt in your mouth and not in your hand — aka, the ultimate for giving high-fives.
What You'll Need: People already make cheep versions of this costume online so you just have to decide which M&Ms you and your bestie want to be this Halloween. The red M&M ($25, BuyCostumes) and the green M&M ($25, BuyCostumes) are two great choices.
Image: Polyvore
10. Rock, Paper, Scissors
Sometimes you have more than just one best friend. Sometimes you have two. You don't want to exclude anyone, right? That's why this costume idea is so great!
What You'll Need: You'll want to get creative on this one. Find your favorite band t-shirt ($28, BrandyMelvilleUSA) to represent the rock. Then a white and black stripped t-shirt ($9.99, H&M) to rep the paper. Finally, bust out that t-shirt full of holes ($10, RoseGal) to be the scissors. You can also just carry those items in your hand.
Image: Polyvore
11. Mia Wallace And Vincent Vega
An iconic movie filled with amazing lines of dialogue. Now you can be the main characters with your bestie.
What You'll Need: Mia Wallace had the original black bob ($25, ASOS) which she paired with black slacks ($23, StyleForLess) and a button down shirt ($40, TopShop). Vincent wore a black blazer ($32, MakeMeChic) and black slacks ($30, OverStock). His hair was pulled back into a pony ($6.34, NewChic).
Image: Polyvore
12. Harry Potter And Ron Weasley
This best friend duo was #friendshipgoals for all of us growing up. You can't argue that what they had was pure magic. A boy with too many brothers and sisters and another boy who grew up without a real family.
What You'll Need: Since the characters are pretty recognizable you can go two routes. Either be casual AF with it, or go the full out Hogwarts robes and wands way. For the first you'll need casual clothing like a Hogwarts Quiditch sweater ($23, Etsy) and a short haired wig ($30, Etsy). For the more fancy outfit, some Hogwarts robes ($29, VeryCo) and round glasses ($29, Etsy) will do.
Image: Polyvore
13. Milk And Chocolate
The combinations of the two items, milk and chocolate, have made some of the best things on this world — cake, chocolate milk, pudding. Now you can show the world that you and your best friend can do the same.
What You'll Need: This costume idea is pretty easy. Find a chocolate shirt ($9.99, ZuLilly) or a shirt that says chocolate on it. Then your friend wears either a white colored t-shirt or just a shirt with milk ($39, Selfridges) on it.
Image: Polyvore
14. Eggs And Bacon
The best breakfast in town consists of these two ingredients. They are the best and everyone knows it.
What You'll Need: You'll need to find a shirt with eggs on it ($30, ESOS) and another shirt that has bacon ($15, Etsy). That's pretty much it! Not you are a complete breakfast!
Image: Polyvore
15. Angel And Devil
There is always one friend who is the voice of reason, and another who pushes both parties outside of their comfort zone. So what better to rep that than with a costume depicting the ultimate good and evil?
What You'll Need: To be the angel of the group you'll need to find some angel wings ($3.99, Amazon) and a white flowing dress ($44, LilyBoutique). To the devil you'll need some horn ($18, Nordstroms) and tail ($2, HalloweenCostumes) and a drop-dread evil dress ($34, VeryCo).
Image: Polyvore
16. Tigger And Winnie The Pooh
These beloved children's characters taught all of us what it means to be a good friend. And now they're teaching us how to be the best costume wearing person at a party!
What You'll Need: For this look you will need a red crop top ($36, ChicWish) and yellow pants ($21, DorothyPerkins) to look like the familiar children's character who loves honey. To become Tigger you'll need a black and orange-striped shirt ($39, DorothyPerkins) and black pants ($32, TopShop). You might also want to have a nervous energy about you.
Image: Polyvore
17. Thing One And Thing Two
If you and your friend are close enough that some say you could be twins, this is a perfect costume for you!
What You'll Need: Both costumes are identical, so you'll just need to purchase two of each. First, you'll want a red onesie ($25, WearAll) — they are so comfortable. Second, you'll need bright blue short haired wigs ($24, Etsy) that you can fluff up with hairspray and make into a birds nest.
Image: Polyvore
18. Woody And Buzz
"You've got a friend in me." That line is so applicable to a best friends costume. Maybe the two of you can reminisce about your childhood while you're at it?
What You'll Need: To become Woody you will need a mustard yellow button down shirt ($9.99, ZuLily) and a cow print vest ($18, LainALine). Bust out those cowboy boots ($21, 6PM) and hat ($30, Khols) and you're all set. To become Buzz, you'll need a pair of kids pajamas with the character suit on it ($9.53, JCPenny), a purple beanie ($5.22, Amazon) and ray gun ($18, Amazon).
Image: Polyvore
19. Two Broke Girls
These characters have been pushing the boundaries of television on a network that usually keeps it pretty clean. So if you and your friend are also sassy AF, this can be your solution.
What You'll Need: The girl's most recognizable outfit is their work uniform. They both wear mustard colored dressed ($30, PrettyLittleThing) with red aprons ($29, Williams-Sonoma).
Image: Polyvore
20. Spongebob And Patrick
Growing up, these two were the prime examples of friendship. They loved each other so much.
What You'll Need: First of all, you'll need a good attitude. That's the most important. Second, you'll need a yellow sweater ($20, PinkQueen) and light brown pants ($30, Khols) to be Spongebob. He can be accessorized with a pair of nerdy glasses ($14, PopMap). Patrick is mostly a pink shirt ($8.52, H&M) and purple pants ($22. WearAll). His accessory can be the jar ($39, SelfRidges) from the episode where Spongebob tries to teach him something so he can get an award.
Image: Polyvore
21. The Twins From The Shining
If you want to make this Halloween a more spooky event, why not borrow from the master of horror himself? The twins from The Shining are creepy and super intimidating.
What You'll Need: Again, this look is about looking identical. You'll need a baby blue dress ($30, BlueFly) fashioned with a baby pink belt($15, Belk). You can put a pink hair clip ($38, ColleteHayman) into your hair or buy a dirty blond wig ($46, Etsy). You can also smatter some blood on it if you really want to go all out.
Image: Polyvore