What's Making 'Parenthood's Ratings Go Up?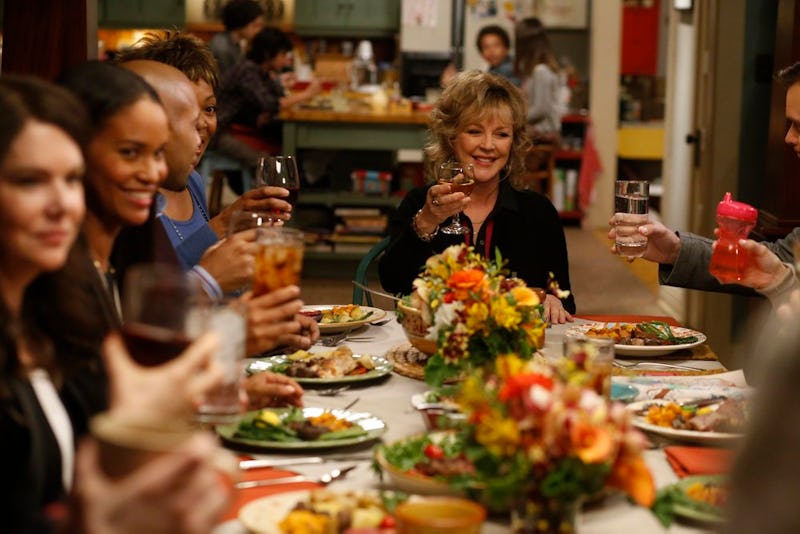 For those who call NBC their favorite channel, falling in love with a TV show is a pretty frequent occurence. For years, the Peacock has provided higher quality entertainment than any of its Big Four competitors, in both comedy — Friends, Parks & Rec, 30 Rock — and drama — The West Wing, Friday Night Lights, the first season of Heroes. Yet for dedicated fans, it's also not surprising when those same shows, despite their acclaim, slide down the ratings chart. Too often, the best NBC shows fail to get big viewerships, their creative merit unable to boost consistently low ratings. By now, fans of the network have gotten used to watching their favorite series disappear from the listings. So when a beloved NBC show does do well ratings-wise, fans are excused for being more shocked than celebratory. And when the show in question is Parenthood, a series that's faced cancellation every season since its premiere? Viewers are allowed to be downright suspicious. Last episode, Parenthood earned its highest ratings since its season premiere, and while that's obviously great news, fans are left with one major question: Why now?
Since it began five years ago, Parenthood has been hailed as the quintessential NBC show: a series that's beloved by critics and a tight, passionate fan base, but ignored by the majority of audiences. Unlike many "cult" shows, though, the reason for Parenthood's ratings struggles has always been clear. The series' storylines revolve around topics like divorce, autism, and cancer, subjects too painful and realistic for most casual viewers. Like all Jason Katims' shows, the main element of Parenthood is the relationships between its characters, and while that often leads to heartwarming moments and emotional dialogue, it doesn't always make for exciting TV. Yet judging by last night's ratings, perhaps Parenthood's style of storytelling is starting to grow on people — or maybe (and more likely), it's due to one of these 5 reasons:
1. The Julia and Joel Storyline
Parenthood's handled many intimate subjects during the course of its run, but none perhaps as painfully as Julia and Joel's separation. Watching the once-happy couple struggle to save their marriage has been difficult, thanks in equal part to the strength of the actors and the quality of the writing. Yet since those factors are present in all of Parenthood's storylines, the only explanation for the increase in interest in Julia and Joel's situation is how relatable it is. Maybe not a lot of people have experience with Asperger's or pre-teen adoption, but you can bet that plenty of them have dealt firsthand with parents' separation. Julia and Joel's marriage struggles, as well as the effects their separation has had on their kids, is bound to hit home with more viewers than typical of a Parenthood plotline.
2. Ray Romano
Or maybe it's all about Ray Romano. The TV veteran shines on Parenthood as Hank, a grumpy photographer in love with Sarah (Lauren Graham). Originally only expected to appear in a handful of season 4 episodes, Romano has become a regular on the show, showing up in nearly every episode this season. Despite not being a Braverman, his character has meshed well with the rest of the ensemble, befriending Max, pining over Sarah, and playing poker with Crosby. Recently, Hank's even gotten some storylines of his own, like his therapy sessions to diagnose his possible Asperger's. Joining Parenthood was a surprising move for the comedy-based Romano, but as it turns out, the show is perfect for him. Perhaps the show's recent viewership increase has to do with the fact that no matter where he is, everybody really does love Raymond (sorry).
3. No More Sarah Love Triangle
Despite Hank's love for her, Sarah has spent the vast majority of this season focused on non-romantic endeavors, and it's been refreshing to see. For all of last year, the character's plotlines revolved solely around a Hank/Mark love triangle, and it was getting frustrating to watch. Lauren Graham deserved better material, and finally, the writers seemed to get the hint. They booted Mark, used Hank elsewhere, and, when Sarah did start dating again, knew not to make her love life the biggest aspect of her character. Instead, they've given her a burgeoning photography career, with most of the drama in her life due to her kids, not her boyfriends. Viewers who'd grown tired of watching Sarah zig-zag between men might have tuned in again once they heard that the love triangle was no more.
4. Friday Night Lights Nostalgia
Parenthood has always been a refuge for Friday Night Lights alums, with Minka Kelly and Michael B. Jordan having substantial roles in past seasons. This year, five former cast members of Jason Katims' prior series have come to Parenthood, and maybe, word has spread to those still suffering from FNL nostalgia. There was Matt Lauria as Amber's ex-fiance, Ryan; Jurnee Smollett-Bell as Heather, Kristina's campaign manager; and, most recently, Jesse Plemons, Derek Phillips, and Stephanie Hunt as their FNL characters in that amazing crossover. Now that Friday Night Lights has been off the air for three long years, it wouldn't be surprising if fans' nostalgia has gotten worse, and so they tuned into Parenthood to get their fix.
5. They've Finally Realized How Great It Is
Or, perhaps, people finally started realizing that they should've been watching Parenthood all along. There's only so many times we can write about the show's perfection before it sinks in with someone. Hopefully, audiences have begun seeing Parenthood for the smart, poignant show that it is and are telling all their friends to tune in, too. Or maybe it's all because of Ray Romano. Whatever the reason, we're not complaining; Parenthood deserves all the love it can get, and if more viewers means a sixth season, then we're all in favor of the Braverman extended family getting a little bit bigger.
Image: NBC