The Powerful Message Behind These Sticky Notes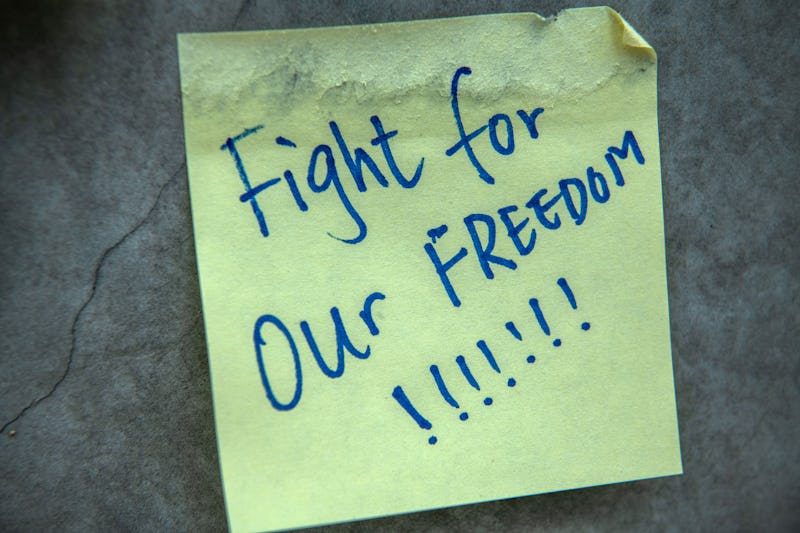 Carl Court/Getty Images News/Getty Images
The election of Donald Trump left many women feeling discouraged about the state of gender inequality and their own status in this country. But Google employees have found a creative way to combat this discouragement: Over the past few days, they've been leaving sticky notes on a Google bathroom mirror at the tech giant's base in San Francisco with supportive messages for other women. Collectively, they show that despite recent attacks to reproductive rights, LGBTQ rights, women's rights, and pretty much every right that's in danger, people still aren't becoming complacent or losing hope for a better future for Americans. (Bustle has reached out to Google for comment and will update this post if/when we hear back.)
The notes contain inspiring phrases like "The future is female," "Be bold, be brave. You got this," "Use your voice — it matters," "You are safe here," and "Everything about you is beautiful." One quotes Michelle Obama: "When they go low, we go high." And the Instagram posts women are using to share them are equally powerful.
"I just hope my daughter and her peers are able to live a very happy, peaceful life where selflessness, kindness, and tolerance are basic tenets," wrote Program Manager Farina Manji in a post featuring the mirror's notes on Instagram. "Where above all else, what's most important is being a good person. I hope we made the right decision bringing her here."
"This is not a post about politics. This is a post about pain," wrote a woman who goes by Grace C. on Instagram. "But this is also a post about hope. Hope that swept over me when I walked into this women's restroom and saw the solidarity between strangers, reminding each other that we are valued, we are capable, and we are fighters."
"Dear anonymous ladies at work, I love you," wrote Product Marketing Manager Lisa Hiatt. "Thankful to be surrounded by such a supportive community at work, at home, and in this city," Program Manager Kim Callender echoed.
Google's mirror is just one example of how women and other marginalized people have shown solidarity after the election. Some have been wearing safety pins to communicate to groups who are targets of hate that they're safe with them. People are donating to Planned Parenthood on behalf of Mike Pence in order to protest his plan to defund the organization. Women will be storming Washington, D.C. after Trump's inauguration to show that they won't stay silent. So maybe there's a silver lining to Trump's presidency: It's made people see how important it is to come together and support one another.
Image: Carl Court/Getty Images; courtesy of Kim Callender/Instagram