7 Sex Resolutions For Grown-Ass Women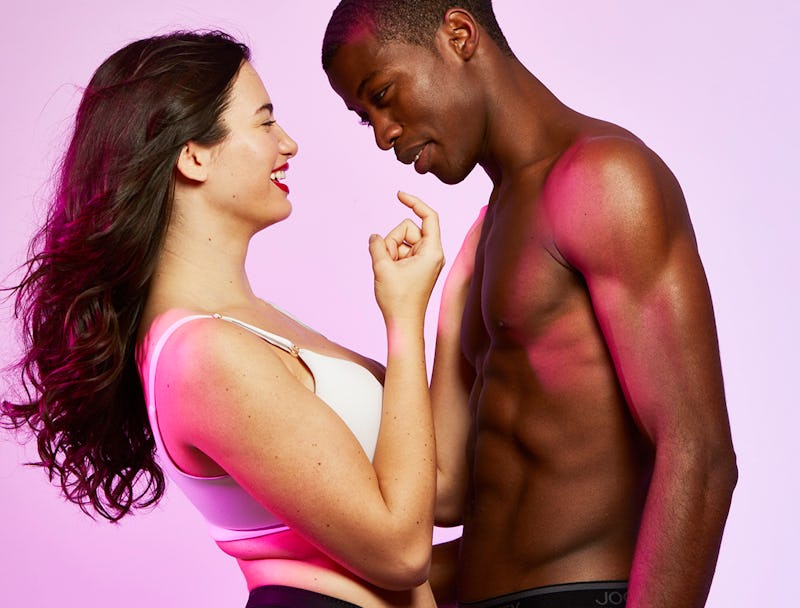 I'd like to think there's a somewhat universally shared feeling in that every year, without fail, tons of us confidently tell ourselves "new year, new me," only to be majorly disappointed (though not altogether surprised) when we fail to stick to our New Year's resolutions three weeks into the New Year. In fact, in a survey of 822 Bustle readers, 23 percent said that New Year's resolutions made them feel depressed, stressed out, or disappointed in themselves. So what are some resolutions that will make us feel good about ourselves? Even though I write about sex and dating for a living, it's never before occurred to me to make any New Year's resolutions for my sex life — and I totally shoul).
"I love New Year's resolutions, because I love getting to know myself better and seeing the ways in which I evolve year after year," Kitty Stryker, sex educator and former porn performer, tells Bustle. "I strongly believe that the relationship that's most important to cultivate is the one we have with ourselves. And while many resolutions focus on health, wellness, and self care, we often forget to include sexual and sensual stimulation. This year, give yourself the gift of being in touch with your erotic self."
It makes perfect sense: there are tons of benefits of having a healthy, fulfilling sex life, so why not make an active effort in the New Year to improve your own romantic life? Here are seven sex-related New Year's resolutions to aspire to in 2017 — let's hope it's an even hotter and more orgasm-filled year than the last.
Psst! Check out the "You IRL" stream in the Bustle App for daily tips on how to have an empowering 2017 starting Jan. 1. Right now, tweet @bustle about how you plan to make 2017 the best year yet. Use the hashtag #2017IRL, and your tweet could be featured on our app.
I have to admit, I'm totally guilty of having a masturbation routine, and I don't really change things up and "explore" as often as I should. "People's bodies, sexual responses, and interests change as they grow older," Stryker says. "We are constantly adjusting what we like according to what feels comfortable. A new position, a new setting, a new toy, even a new lube can completely revitalize your relationship to self-pleasure."
Speaking of trying new things while masturbating, checking out a new kind of porn (or even just checking out porn in general, if that's not yet your thing) is a fun, easy way to explore your sexuality. A 2015 survey by Marie Claire found that nearly a third of women watch porn every week, so it's clear that lots of women (and men, of course) use porn as a visual aid to their solo sessions. Blindly scrolling through a porn site's selection and waiting until something catches your eye might not be the most effective way to find something that really gets you aroused, but luckily there are better ways to find good porn you'll love. So think outside the box, and search for some alternative sources of porn — and maybe delve into a new kink or fantasy while you're at it.
Having fantasies (even ones not involving our partner) is human nature. "Most people, even in committed monogamous relationships, have a fantasy or two about a celebrity, a colleague, or a high school sweetheart," Stryker says. "These people often act as stand-in fantasies for someone that feels somewhat familiar, but is distant enough to try new and exciting things with. Exchanging sexy stories [and] laying these fantasies bare with your partner can be a way to increase intimacy without increasing pressure to DO the things in the fantasy."
"While sex can be an important part of a person or a couples' life, it's also not necessary for all," Stryker says. "Allowing yourself to indulge in sensuality without it becoming a sexual encounter, whether it's a sweet-smelling hot bath or a coconut oil massage, reminds us that pleasure does not center around our genitals."
Note to self: sometimes, a lubed-up back rub is hotter if that's all it is — no sex-strings attached.
Although you don't have to go full-nude-under-a-trenchcoat, making an effort to wear something that makes you feel sexy is a fun goal to aspire to. You can even go a few steps naughtier and discreetly use a sex toy on-the-go. "No one else ever has to know, but wearing a vibrating egg tucked in your panties while you get the mail, or a butt plug while you go to the bank, can make mundane tasks suddenly exciting," Stryker says. "Even just wearing some sexy lingerie underneath your work clothes can give you something soft against your skin, arousing your senses all day long."
Although it might seem odd to masturbate with your partner when you could both just, ya know, help each other out, there's actually a lot to be said for mutual masturbation. "Women, especially, are often under pressure in bed to perform pleasure in response to whatever their partner wants to do," Stryker says. "By having your partner watch you as you masturbate, or while you sensually touch your own skin, you can show them what sort of stimulation you enjoy. By watching your partner, you remind them that you are also capable of being an agent of desire, not just an object of it. That confidence, both ways, is hugely sexy."
Everyone knows that the holidays are low-key just a month-long "treat yourself" marathon. Sure, you buy gifts for all your loved ones, but there's no shame in shopping for yourself, too. If your resolution is to get more intimate with yourself (or your partner), that's the perfect excuse to buy a new toy. From butt plugs to couples' vibrators to cock rings, there are tons of sensual sex toys that you can gift yourself or your partner that will help you kick off the New Year with an extra powerful *bang*.
Whether you're single or ringing in the New Year with a kiss from your S.O., it's worth your while to reflect on the highs and lows of your sex and dating life in 2016, and think of solid goals to help you improve it in the upcoming year. It may sound silly, but having a healthy sex life takes effort, and there's no better time to make positive changes than the New Year.
Check out the "You IRL" stream in the Bustle App starting on January 1 for daily tips on how to have an empowering 2017.
Images: Hannah Burton/Bustle; Annie Pugmire for Bustle