7 Holiday Movies That Have VERY Sexy Scenes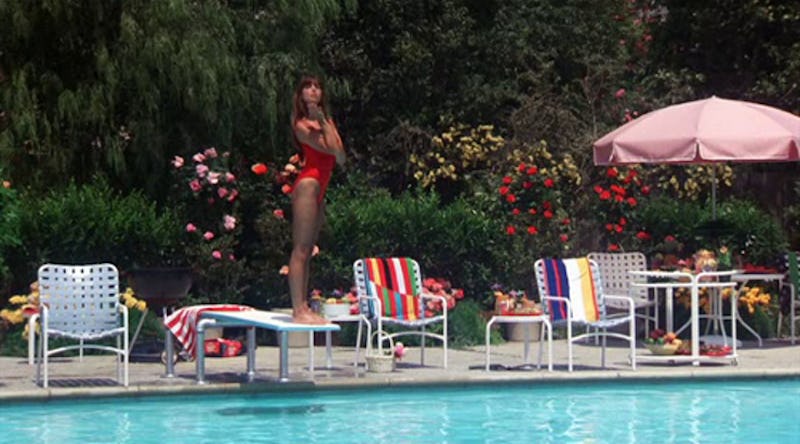 With the holidays right around the corner, now's the time to get cozy, perhaps "Netflix and chill," and watch some festive movies. Of course, that includes romantic comedies, too (The Holiday, anyone?), and some holidays movies that have very sexy scenes in them.
Yes, there are plenty of non-holiday movies with memorable sex scenes, too, like Dirty Dancing, Risky Business, Ghost, and the list goes on and on. But with many TV networks and streaming services showing holiday movies, there's no shortage of them — and 'tis the season to check them out. Of course, you may be overdosing (in the best way possible) on Hallmark Channel Christmas movies, too. They. Are. Everywhere. And they're wonderful. Fun — and amazing — fact: Since the network began airing original Christmas movies in 2002, it has made many, approximately 100. And you don't only have to watch when the weather gets cold, of course, since they rerun often.
So next time you "Netflix and chill" — after all, it's cuffing season — or just cuddle up with yourself to watch a romantic movie, here are seven of the best holiday movies with sexy scenes. You never have to wonder, "What should we watch?" again.
1. A Christmas Story
On the innocent spectrum regarding sexy scenes in holiday movies, you can look at A Christmas Story. Yup, it introduced some people to the idea of sexy legs — and sexy leg lamps. ICYMI, the leg lamp was inspired by an old Nehi Soda advertisement what writer Jean Shepherd saw. The ad featured two shapely disembodied legs up to the knee. Who knew, right? And who knew what a relic it would become, with lookalike leg lamps being sold everywhere.
Stream A Christmas Story here.
2. Eyes Wide Shut
On a more racy side of the sexy holiday movie scene spectrum, there's no argument that Eyes Wide Shut is a super sexy and sex-filled holiday film. As you probably know, Alice (Nicole Kidman) and Bill (Tom Cruise) play a privileged couple living on the Upper West Side. Little does one know what goes on in the meantime — you know, like orgies. NBD, right? The first time the audience meets Alice and Bill, they're getting ready for a holiday party. Staging-wise, director and co-writer Stanley Kubrick has Christmas trees in almost every scene, and the illumination from the holiday lights helps provide the ambiance for the sex-filled scenes, as Rolling Stone pointed out. You may still not be able to look at Christmas trees and holiday lights the same way.
3. Bad Santa
None of us can forget the sex between Billy Bob Thornton and Lauren Graham in Bad Santa. (And if you need tips for a car quickie, look no further.)
4. National Lampoon's Christmas Vacation
Everyone has sex fantasies sometimes, right? Case in point: The fantasy of the girl in the red bathing suit in National Lampoon's Christmas Vacation.
Stream National Lampoon's Christmas Vacation here.
5. Love Actually
There are countless sexy (and romantic) scenes in Love Actually , which makes it a hit year after year, holiday time or not. For instance, there's the way that Jamie (Colin Firth) falls in love with his house keeper, a beautiful Portuguese woman, Aurélia (Lúcia Moniz) — who doesn't know English. But, the two get each other. Love is love, right? Then there are the scenes where John (Martin Freeman) and Judy (Joanna Page), playing porn star stand-ins, recreate various sexual positions. (Who can forget that?!) And there are more, of course, but you'll have to watch the movie to appreciate them in all their glory.
6. Kiss Kiss Bang Bang
Maybe it's a cheat saying that Kiss Kiss Bang Bang is a Christmas movie, but it has some Christmas in it. Do you remember Michelle Monaghan's Santa outfit? And do you also remember when she ends up in Robert Downey Jr.'s hotel room? I know — how can you not?
Stream Kiss Kiss Bang Bang here.
7. Reindeer Games
ICYMI, there's a super hot scene in Reindeer Games . Hint: "Let It Snow! Let It Snow! Let It Snow!" Though not everyone loved this film, the steamy scene between Ben Affleck and Charlize Theron set to Dean Martin's "Let It Snow" is likely ingrained in many people's heads. The backstory? When Affleck's character, Rudy, gets out of prison, he meets up with Ashley (Theron). She'd been corresponding with Rudy's cellmate, Nick — who then died in a prison fight. Ashley never knew what Nick looked like, so Rudy pretends to be Nick. Since the movie takes place in December, Christmas songs abound. So, that's where "Let It Snow" comes in during the renowned Rudy-and-Ashley sex scene.
So, there you have it. With the click of a TV remote, or your computer, you can get your fill of all the holiday-movies-with-sexy-scenes that you could possibly want. Happy holidays, indeed! Wink, wink.
Images: Dimension Films (Bad Santa); MGM/UA Entertainment Co. (A Christmas Story); Warner Bros. (Eyes Wide Shut); Warner Bros. (National Lampoon's Christmas Vacation); Universal Pictures (Love Actually); Warner Bros. (Kiss Kiss Bang Bang); Dimension Films (Reindeer Games)