The Best Place For A Holiday Party Hookup Is...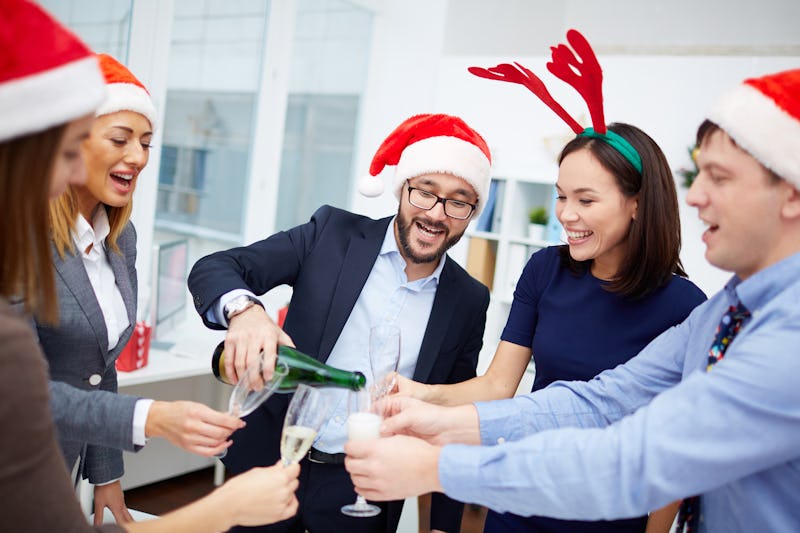 As someone who freelances, every year I miss out on one of the best things about working in an office: Holiday office parties. Just like every weekly Happy Hour event and company anniversary, holiday office parties make dealing with your coworkers all year really worth it. There's nothing quite like watching that usually quiet woman from HR get drunk and sing Mariah Carey's "All I Want For Christmas Is You." There's also nothing quite like hooking up with a coworker, the one you've been swooning over for months, because, you know, the hot toddy made you do it.
Through the use of consumer and behavioral data from each state, Cambridge Analytica put together "Holidata." Although it covers such things like likelihood of snow and December births, the real fun is in the holiday office party hookup predictions. What the data found is that both New York and Washington DC are the hubs of "mistletoe mischief," as they call it, and a lot of this has to do with the fact that, in both cities, roughly half of people identify as single. Single people plus mulled wine plus holiday cheer is the exact recipe one needs to find themselves locking lips with a coworker.
Will holiday parties in your state be evenings of debauchery and fun mistakes? Hopefully. Here are seven findings from Holidata.
1. Washington DC Has The Highest Amount Of Singles
According to Holidata, DC's singles make up 51.3 percent of the population. Washington DC is the most extroverted state in the U.S., with 23.45 percent scoring "exceptionally high" on the extroversion chart. Because of these two contributing factors, Holidata predicts some mayhem at holiday office parties in DC. Also, considering how many politicians work in DC, it might be fun to assume that with that mayhem comes — gasp! — scandal.
2. New York Is The Second Most Single State
Although singles in New York make up for 48.3 percent of residents, we're not even close to being as extroverted as DC. While DC boasts an extroversion ranking of over 20 percent, New York only got 9.27 percent. Maybe because we have less politicians? Either way, Holidata thinks the mass amounts of singles in New York will lead to some naughty holiday office party behavior anyway.
3. Illinois Rounds Out The Top Three Single States
I think there's a pattern here: States with major metropolitan areas have the most singles, perhaps? With Illinois, home to Chicago, being the third most single state, with 36.1 of people identifying as such, it does seem that way. However, when it comes to extroversion, Illinois is a bit more extroverted than New York, at 10.21 percent scoring "exceptionally high" in that ranking. Illinois also gets high ranking in regards to "mistletoe mischief."
4. Georgia Has Enough Extroverts To Lead To A Boatload Of Hookups
While this Yankee has the perception that Southerners are a pretty quiet crowd, Holidata proves me wrong. According to the stats, Georgia is the third most extroverted state, with 11.69 percent getting that "exceptionally high" label in extroversion. Although less than a third of Georgia residents, at 31.2 percent, report being single, Holidata predicts that the extroversion trumps all, therefore making office holiday party hookups a shoe-in.
5. Louisiana Might Have Some Office Holiday Party Morning-After Awkwardness
Although Louisiana is the 26th most single state, with 27.9 percent of people living there identifying with that as their relationship status, where things get crazy is with their extroversion level. In Louisiana, 11.24 percent of residents score "exceptionally high" in that regard, making it the fifth most extroverted state, and giving it a high "mistletoe mischief" ranking.
6. Pretty Much Everyone In Utah Is In A Relationship
Considering how many Mormons call Utah home, it makes sense that Utah would be the 51st most single state, with only 19.9 percent of residents not having a main squeeze at the moment. It's also the 46th most extroverted state, with only 3.38 percent of people scoring high on that scale. Not to mention, things like hot toddies and spiked egg nog aren't very likely to make an appearance at too many holiday office parties in Utah since the Mormon religion isn't down with alcohol. Basically, mistletoe mischief is low in Utah and those who are looking to get crazy should probably move a bit East.
7. Hooking Up In Idaho Just Isn't Very Likely
Not only is Idaho the 51st most extroverted state, at 2.73 percent, making it the least extroverted of all the states (yikes!), but it's also the 46th most single state, with only 23.8 percent of people claiming to be unattached. Of course this isn't to suggest that holiday parties in Idaho aren't fun. It's just that no one is getting lucky in the storage closet or anything.
While hooking up at an office holiday party isn't a guarantee, past surveys have proven that it definitely happens, and happens most in the IT department because… really?! Although hooking up is usually a great way to end a night, it's not a necessary component to a good time. That being said, enjoy your office holiday parties this year, and if that hottie from the graphic design department starts giving you the eye, waltz on over with some mistletoe. It's the one time of year you can dangle berries and leaves over someone's head as a way to tell them you'd really like to make out.
Images: Fotolia; Giphy (7)