9 Things North West & Prince George Have In Common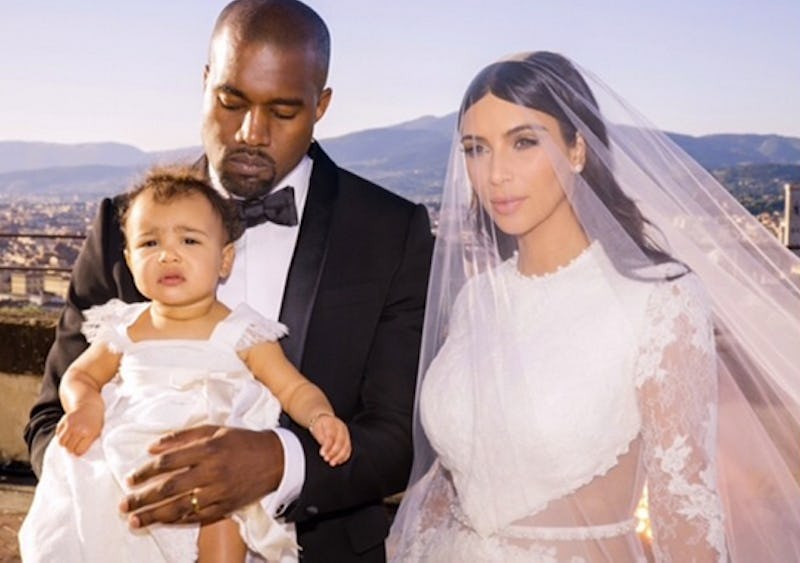 It's almost Prince George's first birthday and we might be celebrating with the announcement of another royal baby on the way. One of Kate Middleton's presumably now ex-friends confirmed that she's pregnant again, but until we hear the news from Middleton herself then we should take it with a grain of salt. However, US Weekly has also stepped forward to semi-confirm the news and add a tidbit of their own. Apparently, Kate Middleton and Kim Kardashian are both trying to get pregnant with a second child now that both Prince George and North West are about 1 years old.
At this point, they're making it seem like Middleton and Kardashian are in some kind of race to baby number two, with Kardashian aiming to get pregnant and keep it under wraps until she's at least five months along and Middleton aiming to be pregnant by Christmas, but childbirth isn't a competition. It does, however, highlight something that we've probably all thought at least once: North West is basically the American female version of Prince George.
Personally, if there is going to be a strong candidate for American royalty, then I would give the honor to Beyoncé and Jay Z's own Blue Ivy, but North West and Prince George have way too much in common for us to ignore it any longer.
1. They were born one month apart.
North West was born five weeks early on June 15 and Prince George was born on July 22 — incidentally about five weeks after North West. That's right. We almost lived in a world where North West and Prince George were born on the same day. Do you even need the rest of this list to convince you they're the same person?
2. Their mothers are fashion icons.
If Kate Middleton is wearing it, it's usually a safe bet that it's going to sell out within a week. Kim Kardashian's own drastically different sense of fashion gets her a similar level of attention, although there are less people clamoring to dress like her as there are people clamoring to figure out how she looks that good in everything.
3. They're going to be older siblings soon.
As Us Weekly reports, both Middleton and Kardashian are trying to give North and George baby siblings in the very near future. We are looking forward to a bright future in which the next generation could have a Prince William and Prince Harry of their own to fight over and a slightly less bright future in which North West has a brother named East West.
4. They've both been in magazines.
North West stole the show posing with her parents in the Vogue shoot that caused such a controversy that everyone couldn't stop talking about it. Prince George stole the show posing with his parents on the Vanity Fair cover that caused such a controversy that everyone couldn't stop talking about it.
5. They were both famous before they were born.
As soon as Kim Kardashian announced in December of 2012 that she was pregnant with a baby girl, the Internet went crazy. When Kate Middleton was admitted to the hospital with morning sickness and forced to announce early that she was pregnant with the third-in-line to the throne, the Internet went crazier. In fact, Prince George had his own Wikipedia page before he was even born.
6. They're both severely unimpressed.
Thanks to their adorable ability to look completely and utterly bored by the peasants around them, Prince George and North West are both famously Unimpressed. Between Prince George being Not Impressed by entertainment news and North West hating her glamorous life, you have all the baby meme gold you need to get through the day.
7. They've done cross-country tours.
North West got to go to France and Italy around and during her parents' wedding while Prince George got to go to Australia and New Zealand on his first royal tour. They both even spent some time off by themselves while Mommy and Daddy did important things like get married and run the world.
8. They come from huge, iconic families.
The British Royal Family is as huge as it is complex. Just try sorting out the British Royal family tree, which goes back literally centuries. The Kardashian clan seems manageable by comparison, but even that family is incredibly large — especially if you include the Jenners, as everyone does.
9. Their parents had highly publicized royal weddings.
Let's face it. The Kimye Wedding was the most highly-anticipated celebrity wedding since, you guessed it, the royal wedding between Prince William and Kate Middleton. Apparently, we won't get to watch the Kimye wedding like we did with the Royal Wedding, but if you need any clue that North West is the American Royal Baby, then this is really the only point to focus on.
Image: Getty Images; Vanity Fair; kimkardashian/Instagram