Is Dating in Kim's Game Worth it?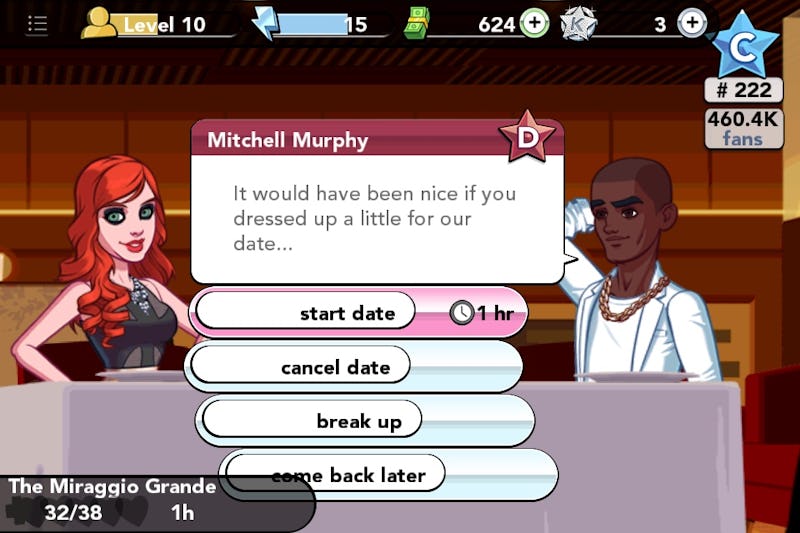 One of the boasted-about features of the Kim Kardashian iPhone game is the ability to "date and dump other celebs." After all, are you really famous if you don't break some other famous people's hearts? Considering Ray J still isn't over Kim Kardashian, I think the answer to that is "Yes." But real life celebrity dating comes with the perks of press attention, fancy parties, and expensive bling. (Never forget that Kim's engagement ring was bigger than North West's hand.) Compared to that, dating in Kim Kardashian: Hollywood just isn't worth it. In fact, if you're going to spend your in-game money on something kind of worthless; you should invest in a digital house instead of in a digital date. Though you can't interact with your house in any way, standing in your living room is way better than going on a date. Trust me.
I've reached 1,000 points with my model significant other and I hated every minute of our relationship. True, you do get some media attention for going out on dates, and you can eventually work your way up to visiting their apartment, but there are way more drawbacks than upsides to having a relationship. Consider these 8 dating downsides and see if you'd still like to take your S.O. out after this. Chances are, you won't.
1. IT'S EXPENSIVE
There are ways to make dating a less expensive, but mostly it's not worth it to waste that cash. A three-hour date cost me $705, which is like a really nice dress in the game. But noooo, you have to spend it on someone else. Psh. (I'm too selfish for Kim Kardashian's lifestyle, which is a sentence I never thought I'd say.)
2. IT USES YOUR ENERGY
Dates are pretty high maintenance because they require like, 1-3 hour dates and suck all your energy lightning bolts away. Recently, I went on a three-hour date and it took me 53 lightning bolts. That takes 265 real minutes to earn, or four and a half hours. That's right, it takes more time to earn the energy for your date than the date actually lasts. Count me out.
3. YOUR DATES ARE ALWAYS RUDE
Maybe I'd like going on dates better if they didn't always insult my outfit. Seriously, at the top of the date they're always like, "Um, wow, you didn't dress up," or "I wish you would have looked nicer for me." It doesn't matter what you wear; I change my outfit before every date and I still get slammed. It's starting to give me a complex. Virtual dating shouldn't be more stressful than real-life dating.
4. THEIR APARTMENT IS BORING AS HELL
If you reach 1,000 points with one date you get to visit their house. This is the reason I even tried dating in the first place. I actually sacrificed my career for it. But when I finally reached the point where I got to visit my S.O., I was sorely disappointed. All you and your date do is stand in their apartment. Their one-room, blandly decorated apartment. Seriously, so lame.
5. YOU HAVE TO PAY FOR EVERYTHING
Every time you go out, you have to pick up the tab. Like, excuse me? You insult me and make me pay? I don't think so.
6. YOU CAN SEND THEM GIFTS BUT THEY WON'T SEND YOU ANY
Next to your date's name is a button that allows you to send them a gift. Basically, you can spend your own money on clothing and send it to them. Another pointless waste of money, especially since your date is never going to send you anything back. This is a one-way relationship. There is a slight upside to this feature though, which is that they're required to wear what you give them, so you can dress them in something really ugly when they're pissing you off.
7. IT'S TIME CONSUMING
If you ignore your date for a day, they call to break up with you. You can spend 5 K stars charming them back into your relationship if you really want to, but like, it's not worth it. It's just not. If they're so needy they can't go for one day without you, it's time to let them go for good.
8. IT TANKS YOUR CAREER
There are not enough energy bolts or time in the day to sustain both a romance and a career and the game makes that very clear. If you want to rise to the top of the A-list, it's best to leave dating to the D-list. You're too good for this game's loser guys anyway.
Images: dumblewhore77, mrs-specialk/Tumblr; Kim Kardashian: Hollywood (2) wifflegif; gossipcandy; imgur; elitedaily