25 Kim Kardashian Game Hairstyles Recreated IRL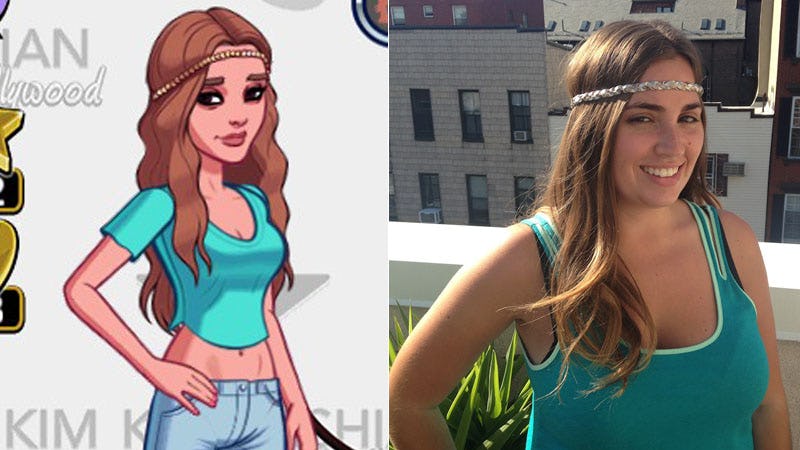 About a month ago, I had the pleasure of serving as a bridesmaid in one of my best friend's weddings. And though I was not the only bridesmaid who was instructed to bring in a photo of the updo for the hair and makeup team that day, I guarantee I was the only bridesmaid who seriously considered bringing a screengrab of the Kim Kardashian: Hollywood iPhone game. Because, as any addict of the game knows, the hair options from Kim Kardashian: Hollywood are nothing short of fabulous. If a bit ridiculous, unrealistic, and extremely expensive, of course. (Seventy-five K stars? Who am I, game?! The Queen?!) Still, I avoided the embarrassment of providing a hairstylist with an avatar on my friend's wedding day for one reason and one reason only: It was impossible to recreate these looks. Right? But one month later, I found myself once again pondering the question as leveling up allowed me to view more hair options: Could I actually do the Kim Kardashian iPhone game's hairstyles in real life? One curling iron and hundreds of bobby pins later, I decided I was ready for the job, no prodding from Simon required.
It was not an easy task, and it definitely didn't provide me with a new sailor hat or pair of shoes once executed. But the four-hour challenge of recreating the Kim Kardashian: Hollywood hair on my co-workers proved one thing: It actually is possible to look as good as your avatar in real life. And that my co-workers are willing to do embarrassing things for me and in the name of hair science.
Not to say that every look was as easy as a one-hour date at the Miraggio Grande. See below to see which hairstyles would make Willow Pape weep, and which just made my long-suffering co-workers weep.
Hairstyle No. 1: The Basic
The Look: You know it: It's the hairstyle your avatar was slapped with as soon as you signed your life away to the game all those weeks back. Shoulder-length hair, flipped-out at the ends — it looks like a slightly updated version of the Farrah Fawcett-inspired throwback 'do that was all the rage in the late '90s.
Level of Ease (from 1, the easiest, to 5, the hardest): 1, clearly. All this should take is a few run-throughs of a flat iron (providing you already have shoulder-length hair), and you're looking Hollywood-ready.
Execution Rating (from 1, great-looking, to 5, why the hell is this on my head?!): 1, clearly, based on Bustle's Christine DiStasio here. Get this woman over to PopGlam, stat.
Hairstyle No. 2: The Sleek Bun
The Look: Your avatar wears it to interviews and formal events, even if you haven't worn it since ballet class when you were eight years old.
Level of Ease: 2. The hairstyle is simple enough: slicked back hair with a side part, and a bun (possibly aided by a bun form) in the back. But, then again, you haven't worn it since ballet class when you were eight years old, so your skills are no doubt a bit rusty.
Execution Rating: 1. Bustle's Samantha Rullo models the look from the front...
...and the beautiful twist in the back. (No avatar could match that ombre.) Of course, I came with a little bit more experience in tow — I took ballet class until I was 20.
Hairstyle No. 3: The Bob (Or Bowl)?
For the next Kim Kardashian: Hollywood hairstyle, I needed bangs. But, I had a conundrum: No one at Bustle had bangs. Therefore, I spent the next half an hour trying to transform poor Kelsea Stahler's hair into bangs. The result? Donald Trump-meets-'80s rock star, which I still think is an improvement on just Donald Trump. Hey, not everyone has the skills of Rita Ora.
That said, should I really blame myself, considering the fact that Kim Kardashian: Hollywood sets up an unrealistic expectation for its users? That it makes it seem easy to transform from long, flowing bang-less locks, to short, cropped, Blade Runner locks? It seems only Kim, a woman who turned a career as unemployed friend of late night joke target Paris Hilton into a multi-million dollar industry, can achieve the impossible.
But wait! We made an important discovery! Bustle's new Senior Web Culture Editor, Jessica Blankenship, had bangs!
The Look: A short bob with bangs that you've always wanted — such easy upkeep! — but you remember last time you tried to rock this, you were in second grade and ended up having an accidental bowl cut and spent three hours crying under your bed, so you will never try it again.
Level of Ease: 5. Considering Jessica has shoulder-length hair, and was not quite ready for a dramatic makeover straight out of the ANTM franchise, we're talking quite difficult.
Execution Ranking: 4. So, I forgot to establish that Jessica also has long bangs, so we gave the hairstyle a bit of a Cousin It-chic vibe thanks to some flat-ironed bangs and a low, tucked-in pony simulating the look of a bob. Whatever, I dig it.
Hairstyle No. 4: The Pinterest
The Look: You've pinned it on Pinterest, but could never quite execute it as well as the gorgeous women with mermaid and waterfall braids that dominate the platform's stock photography. Who were you kidding anyway? You don't have nearly enough mason jars and crayon murals to pull it off. That said, you could easily match your avatar's look.
Level of Ease: 2. Thank god we're not talking french braids here.
Execution Rating: 2. It's by no means an exact match (one segment of Sam's hair ended, keeping me from continuing the braid — and, yes, I am just lazy enough to not simply start over), but the hairstyle could get at least, like, one repin from someone, right?
Hairstyle No. 5: The Funky Bun
The Look: For a casual night at Miami's Lif busting a move and tapping some birds.
Level of Ease: 3. We've already established the bun is simple enough, but executing that poof without making it look like a rejected Jersey Shore hairstyle?
Execution Ranking: 2. No Bumpit required — just a lot of bobby pins shoved into a twisted midsection of Sam's hair. Definitely more Dina Manzo than Snooki on the classy scale.
Hairstyle No. 6: Cascading Curls
The Look: Long and curly, with side-swept bangs. Never quite looks as good with formalwear as you'd expect — you'll inevitably always choose the sleek bun and pine for the The One You Can't Afford (100 K stars?!) instead.
Level of Ease: 2. If you have a large barrel curling iron and a comb, you should be set to go. (At least until the wind blows all the curls out.)
Execution Rating: 1. In fact, I'd argue Sam's look is even better than her avatar's! Who needs 100 K stars? (If you answered "me," sorry, I don't have them — just bought the cat in a bag, sorry!)
Hairstyle No. 7: The Basic Bullock
The Look: Basic, All-American, and very, very Sandra Bullock, who has, just like you, fallen on and off the A-list faster than you can say, "Stop calling me, Simon!" throughout her career.
Level of Ease: 1. All you need is a comb and some bangs.
Execution Ranking: 1. Mostly because Jessica's modeling prowess infused the basic Bullock look with some necessary April Ludgate-esque attitude. Love it. Want it. Don't hate talking about it.
Hairstyle No. 8: The Frizzy Princess Leia
The Look: You're not entirely sure what this is. Stylish Ronald McDonald? Rejected Star Wars hairdo? Two cheerleader pom-poms affixed to the side of one's head? Either way, it somehow manages to sort of work on your avatar, even if you could see some poor soul on an upcoming cycle of America's Next Top Model being forced to wear it.
Level of Ease: 5. Because, like, what is it?
Execution Ranking: 4. For this look, I made sure to recruit resident Star Wars devotee Kelsea Stahler, because what Star Wars devotee wouldn't want to look like Princess Leia slamming into a '50s housewife? And that's exactly what the hairdo, completed with an insane number of pin curls, looked like. Still, I refuse to give myself a 5 on this — because, come on, what is it?!
Hairstyle No. 9: The "Is That Hair Gel?"
The Look: One half funky pony, one half There's Something About Mary . Hey, the '90s are back, after all.
Level of Ease: 5. The reasons are twofold: 1) Who on my staff would be willing to shave the sides of her head? And 2) Can you even find Dep these days?
Execution Ranking: 5. Jessica wouldn't allow me to buzz the sides of her head (lame), and Dep really is best kept in the back of our memories, along with twin sets and mini backpacks shaped like teddy bears. That left me with one option: To attempt to hack upright bangs using bobby pins and plenty of poof. But, hey, like I said — the '90s are back?
Hairstyle No. 10: The Pony & Poof
The Look: It's one of the only hairstyles you can buy with money, but you still haven't bought it, because how different is it really from the Funky Bun and the even funkier "Is that Hair Gel"? Plus, the only poofs we like to come in contact with are cheesy poofs.
Level of Ease: 2. The ponytail is a cinch, but how do you execute a part that wraps around the entirety of the head?
Execution Ranking: 4. You can't, is what I discovered. Instead, you'll end up sacrificing the part and spending a good 20 minutes trying to keep a poof up, despite gravity pulling the entire ponytail down. With far too many bobby pins, as the back proves.
Yikes.
Hairstyle No. 11: The One You Can't Afford
The Look: You want it. Your avatar needs it. But you'll never be able to afford the long, wavy hairdo, no matter how many free video offers you watch. One hundred K stars?!
Level of Ease: 2. In fact, the curling iron-supported look is far easier than sitting through an ad for the latest Sims rip-off.
Execution Rating: 1. Sam looks like 100 K stars, does she not?
Hairstyle No. 12: The High Pony
The Look: A long, long ponytail that would fit in great at Sydney's Black Rabbit, but spending 30 K stars on it? In the game, it's hard to have too much Ginuwine (sorry, sorry) interest in this one.
Level of Ease: 1. Duh.
Execution Ranking: 1. Duh.
Hairstyle No. 13: The Side Part
The Look: Side part. That's it. Apparently, that's worth 10 straight days of watching free video offers.
Level of Ease: 1. Side part.
Execution Ranking: 1. Side part. Next.
Hairstyle No. 14: The Blair Waldorf
The Look: Straight from the Upper East Side into your iPhone. XOXO.
Level of Ease: 1, if you're referring to the hair itself. 4, if you count the attempt to find a headband that looks like your avatar's.
Execution Ranking: 1, thanks to some major DIY skills. Of course, things might have been much worse — until we realized the other side of Sam's glittery stretch headband was white, we actually considered tying an iPhone charger around her head to complete the job. Crisis averted, however, and we got a look that I approve of more than Leighton Meester and Adam Brody's marriage. Even if the back of the hairdo is as bloated as Chuck's ego.
Hairstyle No. 15: Williamsburg Chic
The Look: Only 75 K Stars to give your avatar that I-just-met-a-guy-with-flower-beards-and-a-ukulele-on-the-L-train-look. You can pull it off in Soho, but don't even dare trying it out in Tribeca.
Level of Ease: 3. The curls are easy. Finding a headband that matches your avatar's?
Execution Ranking: 1. Well, only easy if you work in Williamsburg. Off to find some flower beards!
Hairstyle No. 16: The Combover
The Look: For those times when you're just aching to look like Christian Bale in American Hustle.
Level of Ease: 4, because how does a combover work on a full head of hair?
Execution Ranking: 5, since this hairstyle looks just like what it was: A series of bobby pins randomly placed in Sam's hair. But, really, who wants this look anyway? Buy a telescope instead.
Hairstyle No. 17: The Nothing
The Look: Like, do absolutely nothing with your hair, and you have one of the game's expensive hairstyles.
Level of Ease: God, I'm going to give this a 0, because, literally, it required zero work at all.
Execution Ranking: 1. God, I'm good.
Hairstyle No. 18: The Willow Pape
The Look: You get filled with bouts of stress every time you look at this hairstyle. Because you know what it feels like to lose hundreds of thousands of fans for no reason and to lose eight energy bolts for no reason.
Level of Ease: 2. The curls are easy, but getting the wind-swept look on the top of the head? As difficult as nailing an interview about, you know it, Willow Pape.
Execution Ranking: 1. Who wore it best? Sam. Eat your heart out, Willow. (Oh god, am I going to lose fans just by saying that?! Uh, just kidding... no comment.)
Hairstyle No. 19: The Crimped Bun
The Look: Crimping is so '90s, but the '90s are back, but the 2000s are even more in, so the '90s are out? Or does that make them back in again? Either way, for just 30 K stars, you could look prom chic in 1997.
Level of Ease: 4. The bun is easy, but do you actually own a crimper? No you don't. Therefore, this one is difficult.
Execution Ranking: 4. Poor Kelsea. Not only did she have to endure the Princess-Leia-goes-to-Bellevue look earlier, but she also had to rock a look that was symmetrically off, thanks to my confusing my left and my right. #WhoListensInKindergartenAnyway
Hairstyle No. 20: The Messy Pony
The Look: Basic pony with bangs that would fit right in during a casual date at Panino with someone you'll be forced to break up with when you haven't played the game for 48 hours.
Level of Ease: 2. Not quite as easy as a simple messy pony, but definitely not as hard as clicking a bottle of wine at Oak.
Execution Ranking: 2. I got it mostly right, but thanks to a set of bangs that refused to bunch right, we'll call this an opposite day success.
Hairstyle No. 21: The Modern Regency Braided Hairdo
The Look: Fun fact: It might seem like I know what I'm talking about here when I name drop "regency hairdos," but I had no idea what "regency hair" was until, while trying to identify this look, I Googled "1800s hairdo braids Jane Austen movie." Which roughly translates to "regency hair," apparently.
Level of Ease: 3. The bun? Easy. The braids and ear thingies? (I know I used the word "thingies," but, come on, I only can only have so much success on Google.) Requires a bit more maintenance and several tries.
Execution Ranking: Until you give up on the thingies. Which means I'll rate this one a 3 for failing at the mission, but still looking good enough to wear out on the street. Hey, Jane Austen herself said, "Pictures of perfection make me sick and wicked." And I know that, because I googled "Jane Austen quotes."
Hairstyle No. 22: The Bettie Page
The Look: Well, sort of. If Bettie Page had shorter hair that was 50 percent completely flat, 50 percent nonsensical poof.
Level of Ease: 5. Because unless the hairstyling process involved me rolling out of bed after going to sleep with damp hair, this look is near impossible to actually achieve.
Execution Ranking: 5, mostly because it just looks exactly like the Basic Bullock. Still, if you could see Jessica's eyes, you'd be able to tell how excited she was that she didn't end up looking like the avatar above.
Hairstyle No. 23: The Jessica Rabbit
The Look: Do kids even know who Jessica Rabbit is anymore? No? How about Veronica Lake? No? Then we'll just go with the avatar hairstyle that hinders visibility. (Hey, at least then you don't have to look at your rapidly decreasing ranking after you've put the game down and decided to have a life for a few days.)
Level of Ease: 3. Though the curls are simple, getting the hair to actually stay in front of one's face is far more difficult, particularly sans hair spray and with a desire to see traffic while crossing the street.
Execution Ranking: 3. A win for the swept-back right side of Sam's hair and a win for peripheral vision is still a loss in perfectly duplicating the avatar's look.
Hairstyle No. 24: The Movie Star
The Look: Side-swept elegance perfect when you're pretending to be a movie star at Mirimount Pictures. (Hey, if Kim can "act," why can't you?)
Level of Ease: 3, if only because this is another one of the game's confounding hairstyles. Is that a side pony? Or should I simply shove all the hair to one side?
Execution Ranking: 2. I shoved all the hair to one side, thanks to a few well-placed bobby pins.
Hairstyle No. 25: The Top Knot
The Look: The only hairdo more basic than the basic, the top knot is surprisingly expensive (30 K stars?!), but essential as soon as the game adds Coachella to its locations.
Level of Ease: 2, if only because dear Sam has a lot of hair to pack into that tight knot.
Execution Ranking: 2. I would say 1, because look at that knot!
But without a Pumpkin Spice Latte and a pair of denim cut-offs, we're not really properly executing the top knot look.
Now, excuse me while I do the most basic thing of all — return back to my iPhone and eat up 60 percent of my battery life trying to get a free pair of shoes at the Black Rabbit.
Images: Kim Kardashian: Hollywood (25); Kate Ward (33)