Frankie Finally Got What He Deserved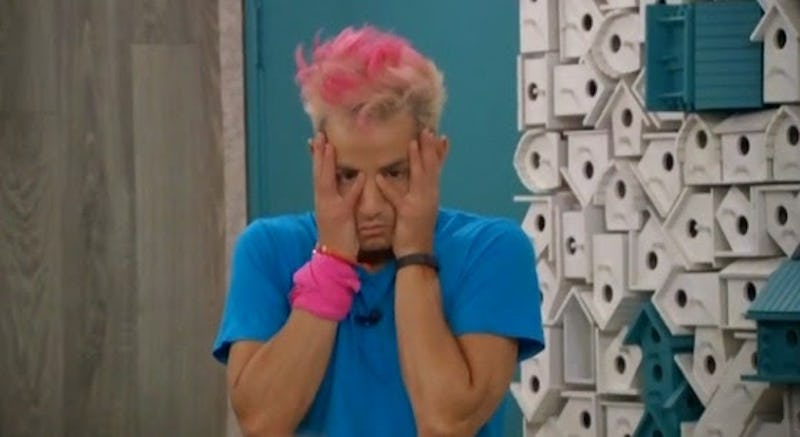 MWAHAHAHAHA. I'm sorry, I just can't seem to stop maniacally laughing ever since learning that not only did Frankie Grande lose America's Favorite Houseguest to Donny (yay!!), but he didn't even make the top three. MWAHAHAHA. After Frankie didn't get the studio audience booing he deserved upon eviction, we were waiting for the day he'd finally realize he wasn't quite as beloved by America as he thought. And that day has come.
Not even Frankie's "social media mogul" status or tweets from his megastar sister Ariana Grande could help him earn the prize. The best part? Frankie was beat out by Nicole. Nicole! You go, girl! Absolutely no one saw that coming. It wasn't surprising that Donny won America's Favorite Houseguest, nor was it a shock that Zach was in the top three. But to hear that Frankie was beat out by Nicole, who never seemed to leave a very big impression on viewers, was the most delightful surprise of the night. If anyone was going to beat Frankie for that third place slot, I would've guessed Cody, or maybe Caleb, who went from Beast Mode Creep to Beast Mode Comic Relief once Amber was evicted from the house.
But in a season brimming with sexism and controlled by a giant, literal boys' club, it's nice to see that Nicole beat out someone who had fans before even entering the house. And Frankie. Oh, Frankie. I hope this is just the first of many realizations that come in the days ahead. You did everything you could to get viewers attention and it worked. They noticed you. They just didn't like what they saw.
Image: CBS