Casey Wilson Isn't Just Known For 'Happy Endings'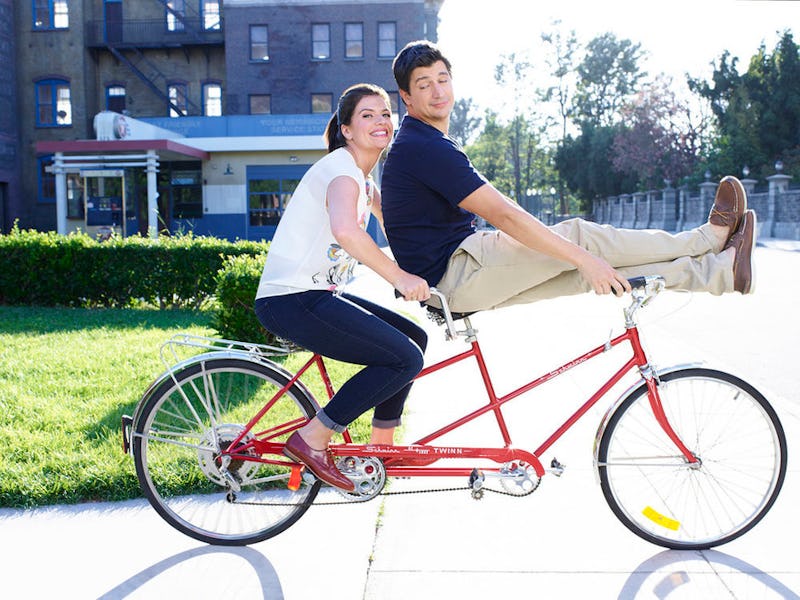 I may never, ever forgive ABC for robbing us of many more years of their delightfully zany sitcom Happy Endings (although this season's Shonda-themed Thursdays are going a long way towards making it up to me)... but I have to give credit where credit is due: at least ABC managed the admirable feat of introducing the hilarious SNL and Happy Endings alum Casey Wilson to the wider audience that she deserves. The comedienne stole our hearts as the perennially single Penny Hartz, and we're so happy that she'll finally be gracing our television screens again.
Starting this Tuesday night, Wilson stars on NBC's new comedy, Marry Me ... and it's almost like having Happy Endings back in more ways than one. Not only does Marry Me star Wilson, but it was created by Happy Endings creator David Caspe. Caspe is also, coincidentally, Wilson's real-life husband. Or not coincidentally at all since they met and fell in love during production of Happy Endings. In fact, Caspe reportedly based Marry Me on his own relationship with Wilson... which probably gives the actress recurring incidents of déjà vu.
But before we dive headfirst into Wilson's newest project, let's take a moment to look back at her career so far. There are probably some titles on this list you didn't know she was in, and there are some you may have heard of but not had the time to check out yet. So without further ado, here's the Essential Casey Wilson:
Saturday Night Live
With several short films, failed pilots, and one small part as Young Actress in the Christopher Guest comedy For Your Consideration under her belt, Wilson joined the cast of SNL for two seasons in 2008-'09. During her short time on the sketch show, the actress was unfortunately largely relegated to supporting roles and thus never got the chance to launch a trademark character fans could latch onto. Thus, her stint on SNL is mostly remembered now for the controversial way in which it ended: after Wilson was fired, reports came out that producers had demanded she lose 30 pounds... and when she didn't, they showed her the door. Wilson herself remained mum on the subject, but at least she kept her sense of humor when it came to mean internet commenters (as evidenced in this post- SNL Funny Or Die clip).
Julie & Julia
After SNL, Wilson continued appearing in shorts and sketches, but starting adding a roster of small film roles to her resume as well, including parts in the Katherine Heigl/Ashton Kutcher romcom Killers, the David Sedaris comedy C.O.G., and the Barbra Streisand vehicle The Guilt Trip. But she was perhaps most memorable as Amy Adams' insufferable friend Regina in 2009's Julie & Julia , in which she complains about her assistant's inability to purchase black pantyhose and gives thoughtful toasts like, "Enough about you, here's to me!"
Happy Endings
Oh, wait. You're already familiar with Wilson's work in Happy Endings? My bad. A list of the actresses's work without mentioning her best role just felt incomplete somehow. Moving on...
Ass Backwards
Even if you did have the good fortune of enjoying Wilson's antics as Penny for three seasons, you still might not know that the side-splitting actress is also an accomplished writer. Although the first feature film on her writing resume is the stringently awful Anne Hathaway/Kate Hudson "comedy" Bride Wars, we won't hold that against her — especially since her second effort, the terrific Ass Backwards , is so good it practically erases all memory of that unfortunate bomb. Backwards was a collaboration between Wilson and June Diane Raphael (Anchorman 2), who co-wrote the film and star as childhood friends who return to their hometown to win a beauty pageant.
The Hotwives Of Orlando
Wilson was a series regular on Hulu's original Real Housewives parody series, where she starred as trophy wife Tawny St. John alongside Hotwives creator Danielle Schneider (who's also a writer on Marry Me), Kristen Schaal (Flight Of The Conchords), Joey McIntyre, and Kate Walsh.
Gone Girl
And, of course, if you happened to see that little film that no one is talking about right now (except for absolutely everyone), then you know that Wilson has a supporting role in David Fincher's Gone Girl. She plays Noelle Hawthorne, Nick and Amy Dunne's next door neighbor (and mother to triplets) who despairs when her self-proclaimed "best friend" goes missing.
Images: Jeff Lipsky/NBC; Sony Pictures Releasing; Wifflegif; junedianeraphael/tumblr; blog.hulu; 20th Century Fox