5 Explanations for Thea's "Corto Maltese" Training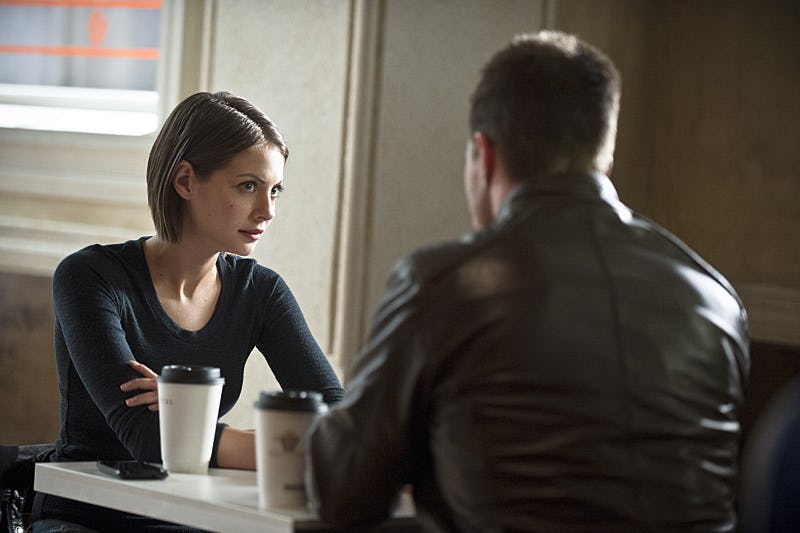 Our little Thea Queen is certainly growing up fast. She very much took on the role of the troublemaker sibling for the first two seasons of Arrow, from having a perpetually bad attitude, to experimenting with drugs, to simply choosing to disobey her mother every chance she got. However as we enter into Arrow Season 3, Thea isn't that same little sister. She's very much taking on a new persona, and one that Oliver might not be ready for. During her extended summer vacation at Camp Dark Archer, Thea's been in Corto Maltese, and she's training for something. We got a quick glimpse of what she's been going through for the last five months with her biological father, Malcolm Merlyn. Let's just say it doesn't look like her vacation has been filled with arts and crafts, friendship bracelets, and making s'mores.
Considering we just lost Sara Lance, it's only right to keep the status quo and introduce another butt-kicking girl who can swing a bō staff. I think it's awesome that Arrow is one of the few shows on TV to give us these strong, independent, fighting females (but what's taking everyone else so long?). And while I love Thea and I'm really loving her new haircut, I can't help but wonder why she's going through all of this hardcore training. Wednesday's episode will certainly shed some light on what Thea's been up to for the past few months, and why she she'll (probably) return to Starling City with Oliver. But you don't just learn to fight off skilled warriors for nothing when you could have been sunbathing on what appears to be a private beach just outside your gigantic mansion.
It's been suggested that Thea might turn to the Dark Side this season on Arrow, and maybe her training is just a bigger part of that story arc. Arrow loves to throw surprises our way, so what could Thea's summer at Camp Dark Archer really translate into?
JOINING UP WITH THE LEAGUE OF ASSASSINS
The League is coming back, but then again they never really left. Ra's al Ghul is the big bad guy of Arrow season 3, and we won't only get an appearance from him, but also his daughter and Sara's former girlfriend, Nyssa. Thea's someone who doesn't really have a female figure in her life right now. She could lean towards Laurel Lance, but I think Laurel's in a position to push everyone away right now, including Thea. I can't really see Thea and Felicity having much in common either. But Nyssa al Ghul is coming to town, and she might be the perfect friend for Thea at a time like this. Just like Sara, maybe Thea will decide to leave with the League for parts unknown.
THE BIRDS OF PREY MAKE A COMEBACK
I feel like Arrow keeps trying to make Birds of Prey (a DC comic series focused on a variety of female heroes, lead by Black Canary and Oracle) happen, but just like fetch it's still not catching on. They've already got BoP member Black Canary on the show, and Huntress is out there somewhere. Maybe Thea's training has bad intentions, but she ends up using them for good and Arrow can finally make their little BoP family. Originally, the Arrow episode focusing on Felicity's backstory was supposed to be called "Oracle," however the title was changed to "The Secret Origin of Felicity Smoak." But Oracle still might come into play later in the season. Maybe it all has to do with Thea's reintroduction.
THIS IS WHAT HAPPENS WHEN YOU BREAK UP WITH ROY HARPER
Have we stopped for a second to consider that Thea's only training hardcore because she's so mad at Roy? I know they say after a breakup you're supposed to go get a new haircut and try to start anew, but maybe Thea literally took that a step further and didn't just get an adorable bob, but also the skills to take down Roy if she ever got the chance. Her training might be her only outlet for anger right now, so why not learn how to destroy objects and people? I mean, I'd be really mad at Roy too, if I were in her position.
STARLING CITY NINJA WARRIOR
In an epic TV crossover, Ninja Warrior comes to Starling City and Oliver is the first to sign up, obviously, but Thea doesn't want all of the fame and glory only going to one Queen sibling. Maybe this scenario only happens in my dreams.
EVERYTHING THAT'S HAPPENING IS SETTING UP SEASON 4
Arrow is a TV show to be reckoned with. They are really into big, sprawling stories with complex characters and some incredible fight scenes that are usually reserved for movies. It wouldn't surprise me at all if they are laying the groundwork for whatever they're going to do come Season 4. The themes of the show have really been Oliver vs. himself and Oliver vs. Starling City. The big bad for Season 3 has already been established, but I could very much see Arrow already looking ahead to the future, where they set up Oliver vs. Thea. The Queen family still has lots of secrets left to uncover, and big ones might take an entire season.