Sherlock's 'Elementary' Protegé Has Marvel Ties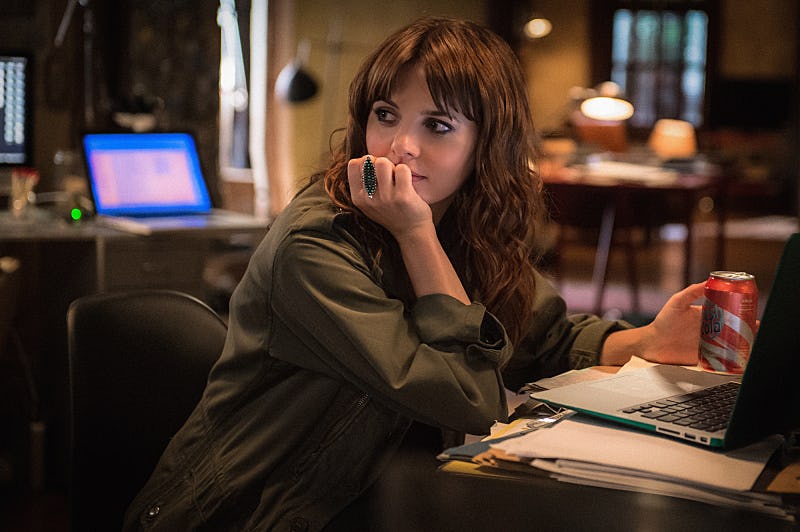 Just like her namesake household pet, people either love or hate Elementary 's newest addition, Kitty. And again, just like a cat, she could care less what you think of her. Brought on in the Season 3 premiere as Sherlock's new protegé, some viewers were quickly enamored by her sarcastic tongue and rebellious attitude; others were quickly turned off by what they perceived as an unnecessary "Watson replacement." But whichever particular camp you happen to fall into, during the season's first two episodes you've likely found yourself scratching your head and wondering just where you know this newcomer from. Kitty is played by Ophelia Lovibond, a 28-year-old London native.
Though the CBS crime show is the actress' American television debut, she's been appearing on both the big and small screens for the past 14 years, mostly in the UK. On that side of the pond, she most recently starred in the six-part series Mr. Sloane, from the creator of Curb Your Enthusiasm, alongside such big British names as Nick Frost (Shaun Of The Dead) and Olivia Colman (Broadchurch).
Her first project to garner much attention stateside was the 2009 John Lennon biopic Nowhere Boy, in which she appeared as Marie, the future-Beatle's object of affection:
The success of that film spurred Lovibond into a string of supporting roles in American films like No Strings Attached (in which she played the very young girlfriend of Kevin Kline's character), Mr. Popper's Penguins (in which she played Jim Carrey's assistant Pippi Pepenopolis), and A Single Shot (as Sam Rockwell's neighbor in need of rescuing from Ozarks thugs).
If you're a fan of British indie folk music, there's a chance you might recognize Lovibond from last year's music video for Gabrielle Aplin's "Please Don't Say You Love Me." Fun fact: her co-star here is Iain De Caestecker, who's now known to American audiences as Agent Leopold Fitz in ABC's Marvel's Agents Of S.H.I.E.L.D.
Of course, there's one role that pretty much every citizen of the United States has seen Lovibond in, although chances are fairly high you didn't recognize her. She appeared in the post-credits scene of Thor: The Dark World as Carina, the pink-skinned assistant to Benicio Del Toro's Collector — a role she reprised in this summer's smash hit Guardians Of The Galaxy .
In an interesting twist, Carina isn't Lovibond's only connection to the Marvel Cinematic Universe. The actress has appeared not once, but twice alongside another future member of the MCU: Aaron Taylor-Johnson, who debuted as Quicksilver in the post-credits scene of Captain America: The Winter Soldier and will be featured prominently in next year's The Avengers: Age Of Ultron . Taylor-Johnson was the Lennon to Lovibond's Marie in Nowhere Boy, and they costarred again the following year in the techno-thriller Chatroom (which also featured Dorothy Atkinson, Imogen Poots, and Michelle Fairley, aka Game Of Thrones' Catelyn Stark).
Though Lovibond has had a steady career for a decade-and-a-half already, it seems as though her star is finally about to rise, thanks to her exposure in such high-grossing films and popular television shows. Expect to see much more of her in the years to come — hopefully in roles less divisive and more universally loved than poor Kitty.
Images: Jeff Neumann/CBS; Marvel Studios