We're Giving 12 Stars These Books For Christmas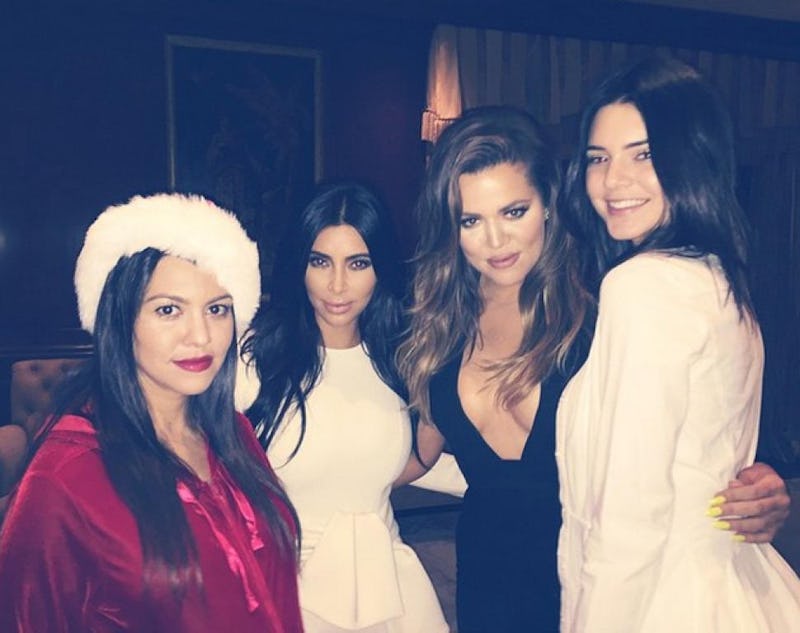 In the spirit of the season, I want to share a a secret obsession I don't frequently make known: I am a celebrity gossip fiend. I mean, I do know that celebrities are "just like us" (thanks, Us Weekly), and I all-too-often consider whether my useless celeb knowledge may be might be rotting my brain, but it doesn't matter — I can't get enough.
When I'm getting started on an article and the juices just aren't flowing (like, oh, say, five minutes ago), or I'm staying up past my bedtime procrastinating, or I'm late for work in the morning and lingering over coffee, or even on the train going into the office, I'm all about the gossip sites. And, oh, is Christmas season the best time to be a celebrity secrets fiend.
Towering trees bedecked in the tackiest of baubles (I'm looking at you Paris Hilton), holiday parties that produce lineups a Hollywood producer couldn't dream up, presents pouring in from rich and famous friends — celebrities seem to have it all this season. But there's one burning question that hasn't yet been answered — what will they be reading as they're holed up in front of their fires snuggling under designer slankets?
I'm going to answer that once and for all. I've made my list and checked it twice, and now I'm here to share with you exactly which books our favorite celebrities should be unwrapping this holiday season.
Kim Kardashian
Not That Kind of Girl by Lena Dunham
Whether or not you like it, Kimmy K has come to define modern womanhood in more ways than we can even imagine, and she's stuck coming to terms with herself as a wife, a mother, and a woman in the glaring eye of the all-seeing public. So, what better way to share a little wit a wisdom with one of the world's most-watched celebrities than by gifting the elusive reality TV icon Lena Dunham's extraordinary book of essays Not That Kind of Girl. Maybe Dunham's raw, honest prose will offer Kim a way to unwind in the public eye, or a new form of feminism to consider — there are a lot of possibilities lingering in this unconventional mashup, but one thing is certain: When Mrs. West unwraps Dunham's devilishly funny book of essays Christmas morning, she will be guaranteed a good laugh.
Kanye West
How to Build a Girl: A Novel by Caitlin Moran
Let's linger a moment under the Karashian/West Christmas tree and imagine what Kanye will be unwrapping Christmas morning. After considering (and rejecting) a signed copy of Jay-Z's Decoded, I've decided the perfect present for the newly married megalomaniac is Caitlin Moran's How to Build a Girl: A Novel. The irrepressible Mr. West has been quick to talk up his blushing bride's many strengths, but what has received less attention are the ways in which Ms. Kardashian has been shaped by her oh-so-serious icon of a significant other. So Kanye, let me give it to you straight — if you're going to go all pygmalion on us and build yourself the perfect woman, give Moran's wickedly funny and insightful new novel a quick read before you go too far. You may just pick up a few important safety tips along the way.
Demi Moore
To Rise Again at a Decent Hour by Joshua Ferris
As Mila Kunis and Ashton Kutcher set the world on fire with their passionate PDA and their newly released baby girl, surely Demi Moore has been left with a lot to think about. It's hard to see yourself so publicly replaced, which is why Joshua Ferris' brilliant new novel depicting the power of a doppelganger to reshape your idea of yourself might just be the perfect read for the indomitable Ms. Moore this holiday season.
Charlie Sheen
Little Failure: A Memoir by Gary Shteyngart
Oh Charlie Sheen, how I feel for you and your insane "winning" ways — this cannot have been an easy year for you. And so, underneath your Festivus pole this holiday season, I gift you Gary Shteyngart's hilarious memoir of mistakes made and lessons learned: Little Failure. We all fall down from time to time, and remembering that there is a way up, out, and towards the light can sometimes be the greatest gift of all. Read well and prosper, Mr. Sheen.
Taylor Swift
Can't and Won't by Lydia Davis
Is it a problem that I can't help but feel sorry for Taylor Swift? She's blond, beautiful, talented beyond belief with legs for days and a Rhode Island mansion that makes The White House look quaint, yet poor Ms. Swift can't even walk down the street without someone accusing her of getting too cozy with that particular sidewalk. Her friendships, failures, and even trips to the local fro-yo shop are so fraught with over-examination, it's hard to imagine how she even gets up in the morning. That's why Lydia Davis' gorgeous, strange, and even sublime short stories exploring the extraordinary magic of the ordinary are the perfect present for the pop-princess.
Seth Rogan & James Franco
The Orphan Master's Son by Adam Johnson
Surely, it's time that Rogan and Franco get a sweet treat under blinking lights of the menorah this Hanukkah after Sony pulled their unreleased film The Interview thanks to an absolute thrashing from North Korean hackers. What could be better than Adam Johnson's Pulitzer Prize-nominated novel following the life of a government-sanctioned kidnapper adrift in a totalitarian regime awash with cruelty, casual ignorance, and bitter repression? After all, nothing says "happy Hanukkah" like a good hard poke of fun at the strange, surreal, and ultimately hilarious situation they've found themselves in.
Beyoncé
Bad Feminist: Essays by Roxane Gay
Some say 2014 was the year of the horse; others would argue that 2014 was the year of Beyoncé. As for me? I'm team Beyoncé all the way — her video album, that VMAs performance — is there anything the woman can't do? I mean, other than advocate for equality between men and women without setting the Internet on fire. Forget the debate over sending troops to Syria or the question of NSA spy satellites; clearly, the most pressing question of 2014 is whether or not Beyoncé can really call herself a feminist. So, in the spirit of reconcilliation, this holiday season I offer Beyoncé Roxane Gay's Bad Feminist. Maybe a few hours with one of the world's most astute cultural observers and feminist thinkers will be enough to help Beyoncé put to rest the lingering question of female equality once and for all. After all, it's the season for miracles, right?
Reese Witherspoon
Still Life With Bread Crumbs by Anna Quindlen
It's been a rough couple of years for America's Sweetheart — there was an unseemly arrest, an indelicate suggestion that special treatment should occur at the time of said arrest, and a withdrawal from the public eye in the wake of the scandal and spectacle that ensued. With her star once again on the rise, this holiday season marks the perfect occasion for a book celebrating waning fame and the life that can emerge from the wreckage of such shifts in fortune. With Anna Quindlen's deeply felt and beautifully developed novel Still Life With Bread Crumbs awaiting her under the tree, Ms. Witherspoon can take this Christmas to examine what lies on the other side of fame and fortune from the comfort of her newly regained perch atop the mountain of America's most-beloved icons.
Kristen Stewart
Prince Lestat by Anne Rice
In this the year of Fifty Shades of Grey and The Hunger Games, our beloved Twilight feels so far away. And so, with hope clouding my better judgment, this holiday season I present to Kristen Stewart Anne Rice's latest work of vampiric genius, Prince Lestat. If there's anything that can bring the reluctant teen queen back to the screen as Bella, it's Rice's immortal work. It is the season of hope, after all, so what's wrong with a Hail Mary pass?
Channing Tatum
On Such a Full Sea by Chang-Rae Lee
After the magnificence of Magic Mike I think we're all familiar with the rags to riches tale of Channing Tatum's meteoric rise from male stripper to box office phenomenon, so why not help him celebrate this holiday season with a similar tale of making it in America. From Chang-Rae Lee comes the story of a female fish-tank diver who leaves her home and risks the perils of the lawless "Open Countries" of a future America on quest for her one true love.
Ellen DeGeneres
Olive the Other Reindeer by Vivian Walsh
Olive the Other Reindeer is the story of one young pup named Olive who hears the story of Santa, Rudolph, and all of the other reindeer, mistakes herself for the "olive" of the tale and sets off to save Christmas. With her love of puns and all things adorable, what could make a better holiday gift for Ellen DeGeneres? The only thing better than watching her open unwrap the book would be hearing her read the story on air — fingers very tightly crossed.
Kristen Bell
Mermaids in Paradise by Lydia Milet
Ahhhh Kirsten Bell, how I loved you in Veronica Mars, how I adored you as the voice of gossip girl, how I laughed so hard I nearly cried while watching that viral video of your sloth meltdown — what you deserve this Christmas is a story as fantastic, funny, cute and quirky as you are. So, without further ado, I present Lydia Milet's Mermaid's in Paradise, the story of a marine biologist, a mermaid, and a corporate parent company swooping in to corner the market on mythological half-humans.
Images: Khloe Kardashian/Instagram; Paris Hilton/Instagram; Giphy (13)