9 Books For 'How To Get Away With Murder' Fans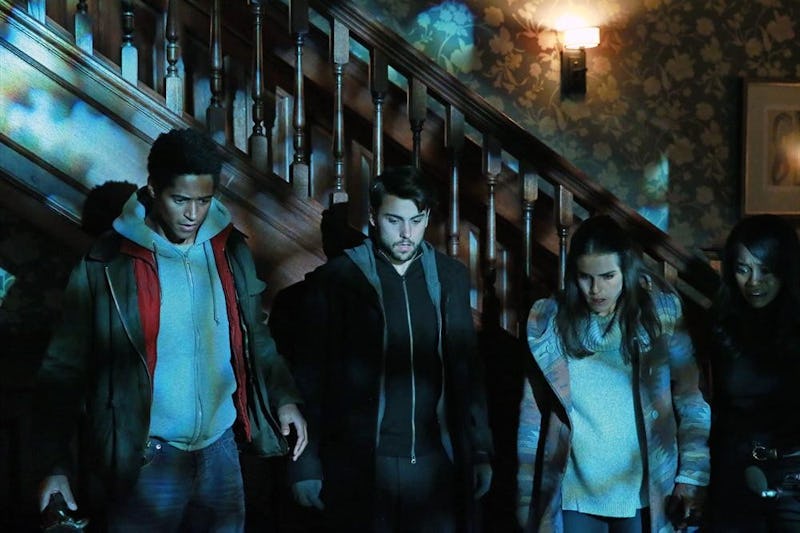 If you're like me and believe Shonda Rhimes is the TV gods' gift to primetime, then by now you're probably experiencing some serious TGIT withdrawals. Are Derek and Meredith really over this time, and is McDreamy leaving Grey Sloan Memorial Hospital for Washington? Speaking of the nation's capital, when will we find out who kidnapped Olivia Pope, DC's most powerful gladiator, and what exactly they plan to do with her? Grey's Anatomy and Scandal once again left viewers hanging off the edge of a metaphorical cliff — in spectacular fashion, I might add — but the midseason finale that really has me itching for its January 29 return? How to Get Away with Murder .
Viewers finally know who killed Sam and what exactly happened on the night of the bonfire. But with those mysteries solved (well, sort of solved) HTGAWM fans are left with even more questions now then they had before finding out that Dean Thomas — I mean Wes Gibbins — was the one to cast the deadly blow that killed the Sam. How involved are Wes and Annalise, and what is their plan? Whose side is Professor Keating really on, anyways? What's the deal with Bonnie sleeping with Asher? And who the hell killed Lila Stangard?
With the midseason premiere right around the corner, here are some book suggestions to get you psyched for the Keating Five's return. The best part about this list? You don't have to wait a week between chapters.
The Secret History by Donna Tartt
In Donna Tart's first novel, six closely knit classics students unravel the details of a murder from years before. College setting? Check. A murder within a murder? Check. Love affairs, secrecy, inner demons, vying for a professor's attention? Check. This one has it all, and it might even help you figure out who killed Lila Stangard.
Black Chalk by Christopher J. Yates
At Oxford University, six friends play a dangerous game of truth or dare that quickly turns deadly. This dark and sexy novel's broken narrative and fragmented timeline give readers a mystery that, like HTGAWM, has everyone trying to solve it along the way.
Two couples share a delicious meal and polite conversation on a warm summer evening in Amsterdam, but it's what's not being said that moves this dark suspense along. Knowing looks, unsure allies, and unspeakable acts, this tense novel shows how far people are willing to go to protect the ones they love. Only unlike Wes and Rebecca, the characters in this book have know each other for longer than a few weeks.
It's always the English teacher who gets the axe, isn't it? Think How to Get Away with Murder, but set in high school, in this tale of angry students taking revenge on their unfair teacher. Complete with a spoiled brat, an outsider, and someone about to snap under pressure, this cast of characters could very well be the Keating Five, only younger.
Libby Day testified against her brother Ben in the "Satan Sacrifice of Kinnakee, Kansas," sending him to prison for the murder of their mother and two sisters. But 25 years later, can Libby be sure of what she saw? The flashbacks and multiple accounts of the same dark evening slowly that recreate the central murder in this book will have the night of the Middleton bonfire looking like kiddie fun.
Ten strangers, each with a dark secret of their own, are killed off one by one in Agatha Christie's most beloved mystery. The murderer decides to take justice into his own hands and give these guilty parties what they deserve — or, what he thinks they deserve. You know, kind of like how Annalise is totally fine Wes killed her lying, cheating husband.
Sarah and her best friend Jennifer avoid taking risks at all costs, but when, against their best instincts, they get in a car, the results are deadly. Ten years later, Sarah is free, and living with the guilt of Jennifer's untimely fate. But not everyone in this book is as innocent, or as guilty, as they seem.
Dare Me by Megan Abbott
Beth and Addy's new cheerleading coach is the epitome of cool, and the entire squad will do anything to get her attention. But when someone ends up dead of apparent suicide, Addy questions everything she thought she knew about her world. A dark tale of ambition, friendship, and just how far girls are willing to go for power and attention, Coach Colette French might have you questioning the unyielding loyalty of Annalise's students and their hunger for the trophy.
What will happen when Wes and the gang leave Middleton and start practicing law? Well, if it is anything like this John Grisham novel, they'll be faced with more criminal forces, blackmail, and a questionable future. This thriller shows the darkness and drama of the highly competitive world of lawyers.
Images: Mitchell Hasseth/ABC; htgawm-gifs, stardust-rain, jonescastillo, connorsoliver (2), octaviaravens, francis2369, nastykarg/Tumblr; Giphy (2)