Please Let 'Vanderpump' Come Back To Us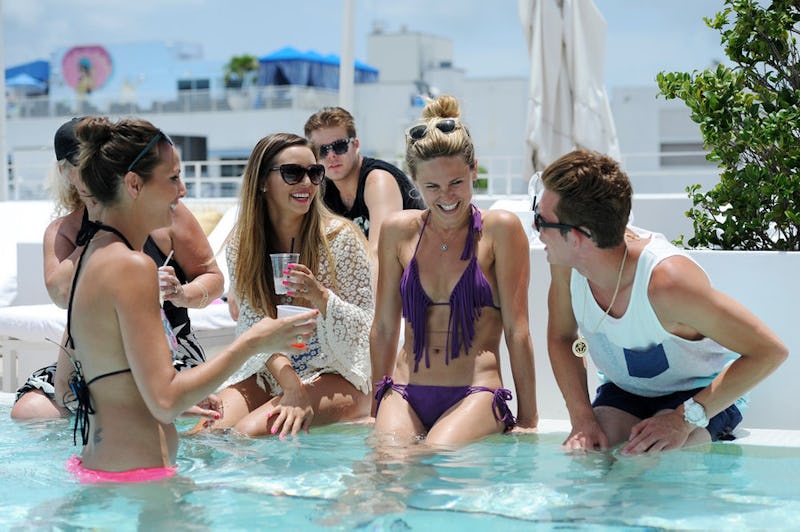 Scheana Marie and Shay's wedding is drawing very near and Stassi and Jax have once again alienated all of their respective friends, and that can only mean one thing: We're coming to the end of yet another season of Vanderpump Rules . Following the lives (and assorted dramas) of Lisa Vanderpump and her SUR restaurant staff, the show, now in its third season, certainly shows no signs of slowing down. But will there be a fourth iteration of these pretty people and their ugly problems? Bravo hasn't officially renewed Vanderpump Rules for Season 4, but with fairly steady ratings and plenty of tweetable moments, why wouldn't they renew Vanderpump Rules? (They better — I need my weekly Vander-fix, y'all.)
Now that I've declared my love for #PumpRules (over and over again, I might add), it's time for an airing of the grievances: There is one reason Vanderpump wouldn't be renewed...
The third season of a reality television show is typically the show's zenith, only to plummet into jump-the-shark stunts and boring new cast members in the fourth season and beyond. Need an example? Let's talk about another dearly departed love of mine. Remember how great The Real Housewives of New York was when Ramona took all the ladies to Scary Island? They had "turtle time"; Kelly brought up for the 300,000 time that she didn't think Bethenny was a chef; Jill Zarin, in her most Jill Zarin move, crashed the party and was shocked when no one wanted to see her; and Alex was the most likeable she has ever been. This all happened in Season 3, and when Season 4 came around, half the cast members had departed and it was all the same arguments in different Jimmy Choos. And it was boring.
So should Vanderpump get a fourth season, I have some demands. In order to save my new reality love, Vanderpump Rules, from the fate of RHONY (among other shows), here's what the producers need to make happen:
We Don't See Kristen Ever Again
Kristen Doute has played the part of the scorned ex very well this season, even if she wasn't exactly scorned: She did sleep with her then-boyfriend's (Tom Sandoval) best friend (Jax), who also happened to be her then-best friend's (Stassi) ex-boyfriend (still Jax, if you're with me). While her antics of trying to destroy Sandoval at pretty much any cost have been the driving drama of Season 3, she needs to be retired. Kristen's been fired from SUR because she is a nuisance and doesn't take responsibility for any of her own problems. Her vendetta against Sandoval and his girlfriend, Ariana, however justified or not (it's not, by the way), is tired. We need a fresh drama queen on this show. Bye, Kristen: I'm sure they'll love you back in Michigan.
James Wises Up
Kristen's sort of long-suffering boyfriend, James, is a 23-year-old DJ/producer from jolly old England, so it's possible that this whole Los Angeles life of dating a hot waitress, er, actress (what is Kristen, anyway?), is what he thinks is part of being in L.A. But for a whole season now, we've watched James watch Kristen do everything she can to get back together with her old boyfriend. Have some self-respect, Jamesy, and dump her ass so she is really not on the show anymore. I would be fine with James not being on the show either, but sometimes his Jimmy Neutron hair and thirst to cut a record for Scheana (oof) amuse me. Just get rid of Kristen. There's probably another girl in L.A. without so much baggage that you can go to Ultra with.
Stassi Gets Away From SUR & Gets Her Own Show
Stassi moved to New York at the end of Season 2 in a burst of "I never needed you guys, anyway — I'm going to start a new life in the big city!" only to move back at the beginning of Season 3 with her new boyfriend, Patrick. Talk about walking in with your tail between your legs.
Because Stassi is so hard to get along with and has pushed away 98 percent of her SUR friends, there's really no point for her to be a featured player on Vanderpump Rules. This season, we learned that another person (this time, Kristen) could be the drama ignition switch, and because of that, Stassi was barely missed.
That being said, I do like Stassi and want to see her sassy hair and blingy jewelry on TV. The solution, Bravo producers? Stassi gets her own spin-off. This time, we feature her boyfriend (who doesn't want to be involved on #PumpRules), her life, her blog, whatever, and we stay the hell away from SUR. These two worlds can both exist, and I would be very happy to watch them both... separately.
Jax & Sandoval Button Their Shirts To The Top
I know that Jax and Sandoval you both work at SUR, a place where the girls wear a dinner napkin as their uniform. The guy's uniform, however, looks to consist of a shirt and pants, which is great. I doubt Lisa is telling these guys to unbutton their shirts down to their navels. Jax and Sandoval are both too old for this (pretty sure Jax is actually 53 and bathes in virgin's blood to stay so fresh) show of flesh. How about we try like, one or two buttons undone from the neck, and that's it? Let's try that out for a few shifts.
Schwartz Stops Lying To Katie
There are some who say that Katie is a doormat, but I'm a big fan. This season, she stood up to toxic best friend Stassi and made decisions that would — gasp — make her a grownup, which is a thing that most people at SUR don't know about. Her only weak link is her boyfriend/fiancé/live-in idiot Tom Schwartz.
Schwartz has this thing where he made out with a bunch of girls at some point in his relationship with Katie and then denied it all, and now his best friend (yeah, right) Jax is dropping each indiscretion out like breadcrumbs to a pigeon at his convenience. It seems like every five episodes we get Katie crying because Schwartz lied about something else. Katie: fish or cut bait. You would be well within your rights to kick Schwartz to the curb.
However, adult relationships are complicated, so I'll propose this: Have Schwartz confess everything stupid he's done all at once, in private, so we don't have to see him awkwardly tug at his hair while you cry in a private cocktail bar. No muss, no fuss.
Katie Keeps Working Those Brows
I mean, obviously. Katie has the best eyebrows on television, and I say that as a monumental fan of Peter Gallagher's Sandy Cohen on The O.C. Keep that look, girl — it's working for you.
Image: Jeff Daly/Bravo; vanderpumprules/Tumblr (4); giphy (2)