7 Stars Perfect For A 'Fashion Police' Recast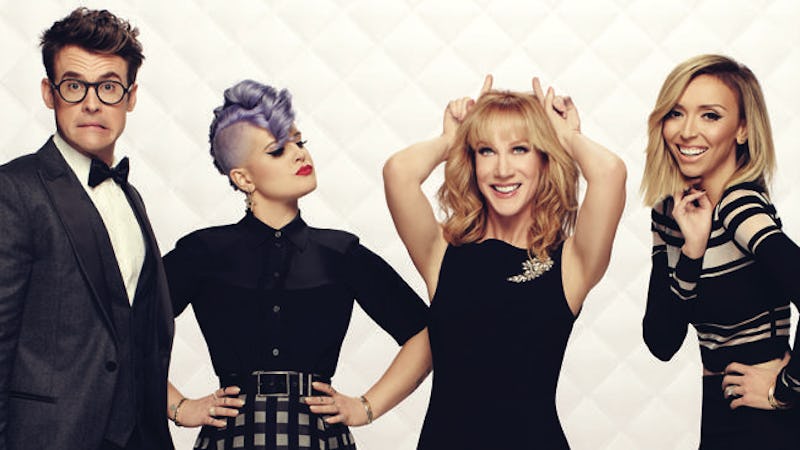 Let's be honest: Fashion Police on E! hasn't been the same since it lost Joan Rivers last September. Rivers, the iconic red carpet fixture and late Fashion Police host wasn't a stranger to controversy, but now the show seems to have found itself in a controversy of its own following current host Giuliana Rancic's comments about Zendaya's red carpet hairstyle at the Academy Awards last Sunday. Though Rancic has since apologized for saying Zendaya's dreadlocks made her look like she "smells like patchouli oil", both Zendaya and Fashion Police co-host Kelly Osbourne were deeply upset by the insensitive comments. Osbourne, who tweeted that she and Zendaya are friends, has since decided to leave the show in the aftermath of Rancic's comments. At this point, there hasn't been any official word on who Osbourne's Fashion Police replacement might be, or if a replacement will be cast at all. The show certainly won't be the same without her, but having lost two critical cast members in such a relatively short time, this could be a moment for E! to consider a full-out recast of Fashion Police. The show could certainly use a fresh start, as well as a break from the controversy.
Instead of an Osbourne replacement, what Fashion Police needs now is a fresh new cast, and here are seven fashion-forward reality stars that would be perfect for the job:
Lindsay Lohan
Lindsay Lohan isn't technically a reality star, unless you count her brief series on OWN , also known as one of the most beautiful gifts Oprah has ever bestowed upon the world. If Lindsay taught us anything, it's that despite Lohan's reported run-ins with the law, Lohan wants to get back to work. The time is now for a serious Lohan comeback, and being on Fashion Police could do the trick.
Khloe Kardashian
Fashion Police needs a Kardashian, like, yesterday. Khloe Kardashian also needs her own reality show starring her and only her, but that's an entirely different article altogether. If any Kardashian could ever be described as "real" and "down to earth", it's this Kardashian, which is exactly what Fashion Police needs. Don't the Kardashians own everything anyway? Why not bring the whole family and make it the Kardashian-Jenner Fashion Police? Seems like the next reasonable step to keep Fashion Police going because when in doubt, cast a Kardashian.
Kylie Jenner
Speaking of Kardashian-Jenners, she may be young, but Kylie Jenner seems set on breaking into the fashion world. She's already famous for being a famous-for-being-famous person's sister, but if she's serious about a future career, Fashion Police could be a start. Plus, casting both Khloe Kardashian and Jenner would no doubt add some Kardashian-Jenner sister drama to the mix. Ratings gold.
Bethenny Frankel
Star of The Real Housewives of New York City on Bravo and fine purveyor of Skinny Girl Cocktails, Frankel knows her way around the red carpet and has enough sass to go around the whole Fashion Police cast.
Lauren Conrad
You might remember her as the sweet blonde from The Hills, but if you really watched, you'd know that Conrad has Fashion Police-worthy attitude for days.
Snooki
Now that Snooki's got a kid and she's all responsible and whatnot, she might not be as fun as she was back during her Jersey Shore days. I might be the only person in the world who genuinely and unironically enjoyed The Jersey Shore because she seems like a genuinely sweet person on the inside, but here's hoping she doesn't disappear forever.
Nicole Richie
Nicole Richie is hilarious, amazingly fashionable, and has always been the only half of The Simple Life that really mattered to me. If she can manage to squeeze this in between seasons of Candidly Nicole, Fashion Police needs her, and it needs her bad.