Claire Underwood Would Probably Read These Books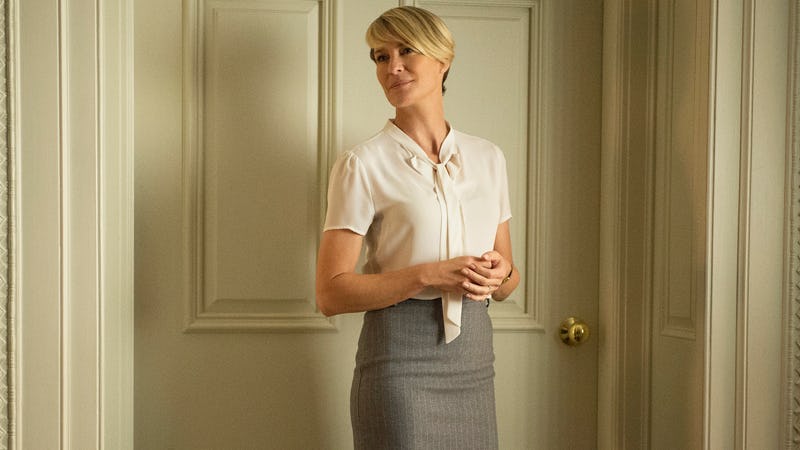 "I love her more than a shark loves blood." Sound familiar? Anyone currently in the throes of binge-watching House of Cards would likely agree with Frank Underwood (or shall I say, Mr. President) when he murmurs these words in praise of his wife.
There's no doubt that over the past three seasons of HoC, Claire Underwood has emerged as one of the addictive show's most fascinating characters, and much like Frank Underwood, we've all fallen under her spell in some way. Admittedly turned off by the notion of leading a quiet life, or marrying a man whose wish it is to have "a& couple of kids and count the days until retirement," Claire clearly has an agenda of her own when it comes to putting the Underwood name in history books. When we first meet Claire in Season 1, she's running a successful environmental nonprofit while supporting Frank in his ascent to power. Cut to Season 3, and the now First Lady has set her sights even higher — far higher — as she aspires to become the U.S. Ambassador to the United Nations. ;
So, what is it exactly that makes this woman so perpetually captivating? What makes her tick, how does she manage to look impossibly stylish at all times, what does she think about on all those late night runs, and, most importantly, what does she read? This begs the question: Which 10 books would Claire Underwood bring with her to her new home at 1600 Pennsylvania Avenue?
At long last, the Underwoods have finally arrived at the White House — not too shabby for a new place to call home. Claire's decision to keep a room of her own takes on a symbolic nature as she vies to carve out a place for herself in Washington's political web. There's no doubt that Virginia Woolf's classic feminist essay, which calls for women to claim a place for themselves in a patriarchal world, would prove motivating to Claire in her quest.
Claire and Frank's unusual marriage is made all the more complicated by Mrs. Underwood's heartbreaking love affair with photographer Adam Galloway. Claire may seek self-reflection in Graham Greene's somber examination of the aftermath of an illicit affair, and its emotional and psychological impact on those involved.
In Season 3, Claire's interest in global issues fuels her campaign to become U.S. Ambassador to the UN. Azar Nafisi's incredible story of risking it all to make women's literary education possible in Iran is the perfect read to remind a new member of the UN to keep women's issues in the global landscape at the forefront of her mind.
Claire Underwood needs a man to explain anything to her? Yeah, right! Rebecca Solnit's razor-sharp take on contemporary gender politics doesn't merely sit on the First Lady's bookshelf — it's on her nightstand.
Macbeth by William Shakespeare
How often have the Underwoods been compared to Macbeth and his Lady? The answer: Very often. There's a reason for that, though. Claire makes one steely Lady M, and she knows it. Much like the wavering king, Frank could never have climbed the political ladder as high as he did without his wife's cunning support. Shakespeare's play sits on Claire's shelf as a reminder of her power.
Blonde by Joyce Carol Oates
From one legendary blonde to another, Claire may see some of herself in Oates' complex, moving exploration of the inner workings of Marilyn Monroe's mind. In her epic novel, Oates shatters the simplistic notion of Monroe as a ditzy, sexy blonde, or for that matter, the notion that any of us are solely what others take us for at surface value.
The Prince by Niccolo Machiavelli
Frank Underwood may be a classic example of a Machiavellian politician, but Claire isn't exactly a spring chicken when it comes to using manipulative tactics to get what she wants. On the contrary, Niccolo Machiavelli's infamous how-to guide to ruling can provide plenty of vital advice for the woman who will stop at nothing to achieve her goals.
Now, for a much nicer look at succeeding in politics, Claire can take a little inspiration from Sonia Sotomayor's remarkable life story, and the perseverance that led her to becoming the first Latina Justice of the Supreme Court. Take note, Claire, sometimes playing fair can take you places!
Claire knows what she signed up for when she married Frank. In fact, Claire knows things — ugly things — about her husband that the rest of the American public wouldn't guess of their President in a million years. Oscar Wilde's infamous tale of one man's decision to sell his soul in exchange for eternal youth rests on Claire's bookshelf as a warning of what may come from the path Frank has chosen.
Whew! Enough of the drama. Even "ice queens" need to make room for some laughter in their lives. Comedy goddess Tina Fey's hilarious look back at climbing up the ladder in the world of entertainment (which, not unlike politics, is oft dominated by men) might be the breath of fresh air Claire needs in her drama-filled life.
Images: Giphy (11); Netflix