The Dress Made A Cameo On 'Idol'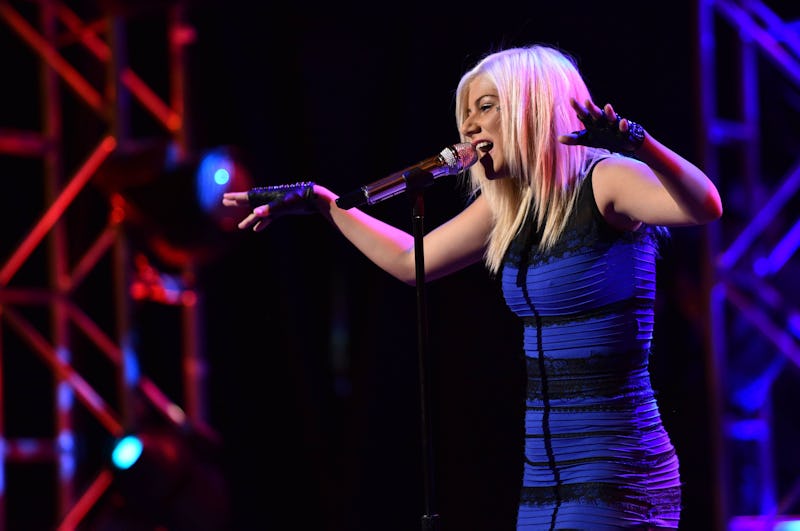 The dress is ruining my life and making me question all that is good in the world — yes, I still see white and gold. But one thing it is not making me question is my love for Jax. The American Idol contestant took the Fillmore Theater stage in the dress and it made me love her so much more. She'll obviously be trending on Twitter later for this amazing stunt, but she has more to celebrate — because Jax has earned herself a spot in the American Idol Top 16. Seriously, let's end this season now because Jax deserves to win this whole competition.
Yes, the dress is pretty ugly — and black and blue — but the fact that she found it and wore it on national television shows how amazing her personality is. Fun resonates through her wardrobe, performances, and Twitter feed. Jax is one of the strongest and most original artists of Season 14 — rivaled only by Quentin Alexander and Qaasim Middleton. Though the judges weren't big fans of her arrangement of the classic "Ain't No Mountain High Enough," it was a great example of her talent. At age 18 she was confident enough in herself to rewrite one of the most iconic Motown songs of all time. And I'm so glad she did, because I really can't picture her performing a Motown song the way it was written — it's just not her.
It's obvious by now that I'm drinking the Jax Kool-Aid, so it won't shock you when I say that Jax will win this competition. Yes, she has a lot of competition — so many performers have shown their strengths this week — but her originality will shine through and make America fall in love with her. Jax is just the right amount of weird to make it in the music industry — she stands out from the cookie-cutter pop stars but isn't too over-the-top that she puts off her audience. Stay tuned because it's going to be amazing to watch Jax's journey to the top.
Image: Michael Becker/FOX