Elizabeth Banks Wears Everyone's Dream Leggings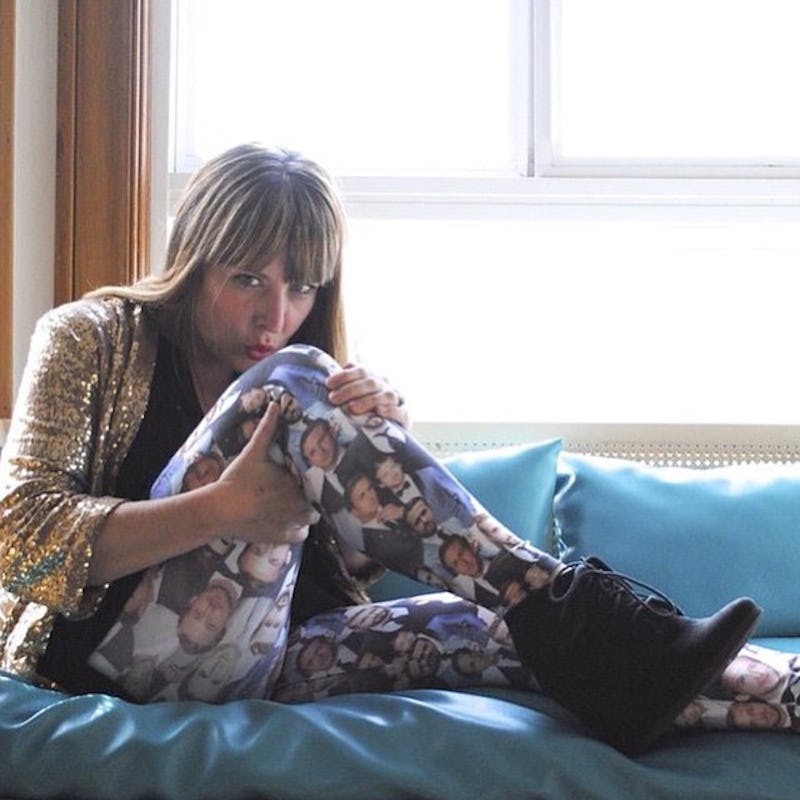 Eva Mendes may not want to ever be in sweatpants in front of her husband Ryan Gosling, but what about a pair of leggings with Gosling's face all over it? I mean, technically they're not sweatpants and they have her hubby's beautiful, chiseled face all over them. Oh, what's that Eva? Still no? That's okay because Hunger Games actress Elizabeth Banks decided to rock them proudly on her Instagram.
Banks put up the caption "Ryan Gosling, all night long, in my bed? Sure, thanks @clashist." And I couldn't agree more. Clashist is known for their cheeky and quirky print designs that they tile over on their tees, socks, swimwear and more. From James Franco onesies to Zach Galifianakis t-shirts (in all his bearded glory), Clashist has so many different celeb heads and cute comics that make the perfect statement top. But out of all of Clashist's prints, I'm going to have to go with Banks' choice because I mean, how can anyone resist the opportunity to rock a bajillion Gosling faces all over your legs?
Since these statement leggings scream out, "Hey girl," you might want to prepare yourself because it's an instant chick magnet. If you're digging these leggings, then you'll for sure love these Gosling-faced threads too:
1. Dapper Ryan
Oh my Gos...your feet will mesmerize everyone. (Clashist, $14.50, clashist.com)
2. Ryan Gosling Paparazzi 3D Fun T-shirt
Be prepared for people staring at nothing but your chest when they talk to you. (Ebay, $9.99, ebay.com)
3. Ryan Gosling Tank
Hey girl, I'm all over you. (Human, $27, lookhuman.com)
4. Ryan Gosling wearing a shirt of Macauley Culkin wearing a shirt of Ryan Gosling
Culkling-ception... (Red Bubble, $21.84, redbubble.com)
5. Gosling Panty
Panty dropper. (Etsy, $10, etsy.com)