Would These Literary Couples Still Be Together?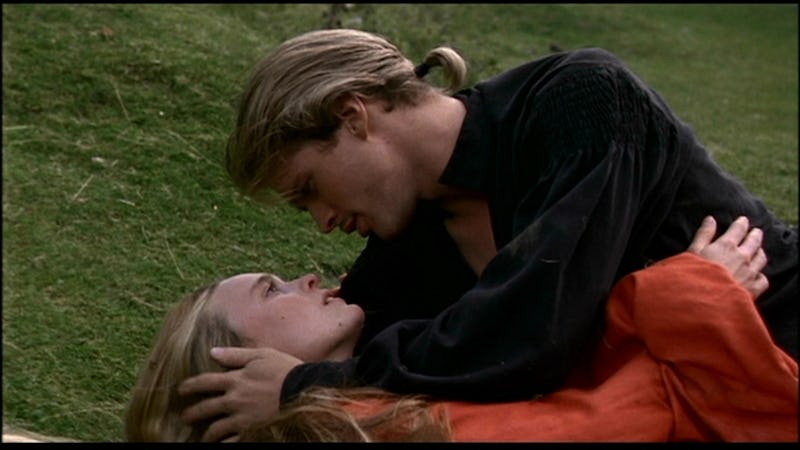 Sometimes a book's final pages will leave us on the edge of our seats; other times, endings are tied-up so completely they leave us no room for interpretation. But no matter how satisfying the resolution, the fictional characters we fall in love with don't cease to exist after flipping that final page... not for anyone with an imagination, at least.
People spend so much time speculating — in the realms of academia as much as in the realms of fan fiction — about what came next for especially compelling characters. (Now that we live in the age of sequels, speculation happens less in our heads and more on actual pages!) And when there's a literary duo that we spent 300-plus pages shipping, it's especially hard not to imagine what happened to them.
So many recent books probe into what happens in the months and years after "I do": the different courses romantic love can take within a marriage, how people can grow and evolve together — or completely apart. Amazing novels like Jenny Offill's Dept. of Speculation , or Courtney Maum's I Am Having So Much Fun Here Without You dwell upon the ever-knotty question of what makes love last.
Still, many of our all-time favorite stories end at the altar — or at least with vows of eternal love. In a recent interview, Mindy Kaling, reigning queen (because let's be real, Nora Ephron is the true queen) of the romantic comedy, shared her thoughts on what the lives of rom-com couples would have looked like after the ending credits rolled. You've Got Mail's Joe Fox and Kathleen Kelly? Mates for life. Cher and Josh from Clueless? Not so much.
Kaling's interview got me thinking about some of literature's most iconic couples. I love inhabiting characters' complicated, wrenching, pulse-quickening love stories — but when all is said and done and promised, would many of these couples really have spent their entire lives together? Would Darcy have made it through all those Bennett family reunions, his relationship with Elizabeth unscathed? Would Pip still have loved the elusive Estella after listening to her snore all night or trying to kiss her through bad morning breath? Would Westley and Buttercup really have all that much to talk about apart from the siege? And (I'm sorry, I had to) would he have gotten tired of saying "as you wish"? Here's my take on some of these duo's fates:
Darcy and Elizabeth, Pride and Prejudice
Definitely still together and very much in love. (And I'm not just saying this because I want to avoid, you know, having tomatoes thrown at me by angry Jane Austen fans — I'm one of you!) Darcy and Elizabeth's efforts to meet each other halfway despite their differences in background and temperament are central to the plot of Pride and Prejudice. I'm confident that these two would have continued to challenge each other to be better throughout the course of their lives — and yet would have found ways to grow and evolve together. True, Elizabeth calls all the shots when it comes to life at Pemberley, but a smiling Darcy is always happy to oblige.
Westley and Buttercup, The Princess Bride
These two fell in love awful quick — in fact, part of what makes this story so funny and nonsensical is how much Westley and Buttercup are willing to sacrifice and endure for a person that they don't know all that well. But after (literally) riding into the sunset, would the stable boy slash pirate really have all that much in common with the princess, almost queen? Westley and Buttercup definitely tried to make their relationship work and they never gave up on each other entirely, but they realized pretty quickly that they couldn't make each other happy. Westley set off on more Dread Pirate Roberts adventures while Buttercup — tired of being the damsel in distress — learned to ride her own horse and wield her own sword. But when these two get together, it's all laughs — they love reminiscing about the battle that brought them together, even when mawwiage drove them apart.
Marius and Cosette, Les Miserables
Another couple who had not exchanged a word before deciding they were in love. Can love at first sight last? Maybe — but not for these two. Haunted by his memories of the revolution, Marius began to drift apart from Cosette a few years into their marriage. Marius spends most days in a curtained room, writing his memoirs and political meditations. Cosette found another way to cope with the pain in her past: music. An avid singer and piano player, Cosette became a prominent composer — though partly due to the male-dominated world she inhabits, she signs her pieces "Valjean."
Jane Eyre and Mr. Rochester, Jane Eyre
Can we decipher this one? We lit majors sure love to try. Despite their tumultuous beginning, Jane and Rochester's love does indeed last a lifetime. They both have their own demons to contend with, but even so, they are capable of loving one another deeply and completely. Why? They understand and respect each other. It takes a lot of pain and heartbreak for them to get there but in the ashes of Thornfield, Jane and Rochester finally began to understand how to be each other's soulmate and companion.
Mr. Maximilian de Winter and Mrs. de Winter, Rebecca
In many ways, their story mirrors Jane and Rochester's, but Max de Winter and his dove-eyed bride don't share the same unearthly connection as Bronte's illustrious couple. While the novel is written retrospectively and thus suggests that these two were in it for the long haul, du Maurier's narrator would never felt at peace after unraveling the mystery of Max's first wife. As for the former owner of Manderley: he would never admit it to his pristine second wife, but life got a whole lot less exciting after moving away from his beautiful estate and the world he once inhabited with the lovely but poisonous Rebecca — pretty much an earlier version of Gone Girl's Amy Dunne. I guess it takes two to tango.
Ella and Char, Ella Enchanted
Hell yes. Admittedly, these crazy kids were kind of young when they first met, but their connection was undeniable and grew even deeper as time went by. Ella proved that she loved Char more than anything else when she defied her obedience vow to keep him safe. Char was only happy to make it up to her by promising she'd never be expected to do anything else she didn't want to do. The first few years of their marriage were difficult as Ella grew addicted to exercising her right to say no, but Char's patience won through. These two not only had a long and loving marriage, but also a fantastic tenure as Kyrria's best and most beloved rulers.
Meg Murry and Calvin O'Keefe, A Wrinkle in Time
Another couple who were pretty young when they met, but I'm confident that Meg and Calvin would have gone the whole nine yards. They both saw something great in each other before they were able to see it in themselves — and realized how desperately the other needed something to believe in. L'Engle's sequels prove my point: Meg and Calvin had a long and successful marriage and partnership.
Estella and Pip, Great Expectations
Definitely not. (It seems Dickens himself was ambivalent about this one, given the many revisions he made to the ending of Great Expectations.) The years changed both Pip and Estella for the better — yet after a brief later-in-life tryst, they both understood that they had never been meant to end up together. Pip stopped seeing Estella as the girl on the pedestal and Estella realized she was worthy of being loved by someone other than Pip — someone who realized she was dark and twisty and her own person. These two did, however, forge a lifelong friendship — a shared history of Miss Havisham will do that to you.
Orsino and Viola, Twelfth Night
I'm not the only one who thinks Viola could do better, right? After her stint as Cesario, Viola was never satisfied with a simple life as a duke's wife. At first, Orsino tried to keep up with her and her escapades, but he soon grew weary at her penchant for cross-dressing. (Surprisingly, Sebastian and Olivia are still going strong.)
Florentino Ariza and Fermina Daza, Love in the Time of Cholera
Yes — but only because 'till death do us part wasn't really all that far away for these two. After a lifetime of loving Fermina, Florentino died in her arms, satisfied that his journey was finally, truly over.
Images: MGM; Focus Features; 20th Century Fox; Universal Pictures; Selznick International Pictures; Buena Vista Pictures; Lionsgate; DreamWorks Pictures; New Line Cinema.