Which 'Bridesmaids' Star Has The Biggest Career?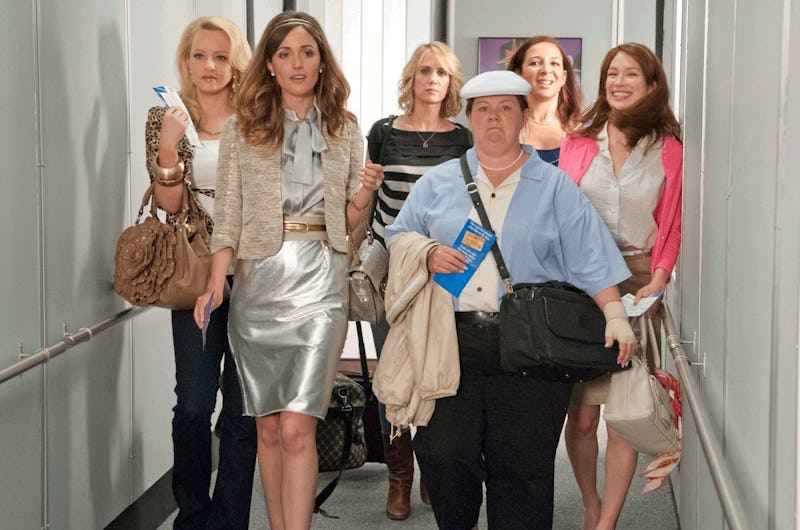 It's hard to believe that nearly four years have passed since Bridesmaids , Paul Feig's groundbreaking, hilarious, female-driven comedy, arrived in theaters. So much has changed since the movie's release back in 2011, from the way we view women in comedy to the popularity of Wilson Phillips to the frequency in which we take our friends to sketchy Brazilian restaurants.
And then, of course, there's the fame of the cast. From Melissa McCarthy to Chris O'Dowd, practically every member of Bridesmaids' ensemble, whether already well-known or just breaking through, has seen their celebrity skyrocket in the past few years. Some used their appearance in the movie to showcase a side of their talents fans had never before seen, while others used it to take their already great comedic skills to a whole new level — no matter the reason, Bridesmaids gave lift-off for a gaggle of A-list talent.
Yet while each member of the cast has certainly benefited as a result of being cast in the film, a few of the stars have seen their fame soar higher than anyone could've predicted. Here's how nine Bridesmaids stars have fared since the movie's release four years ago, from "really, really successful" to "holy crap, you're a superstar."
9. Wendi McLendon-Covey
Role: Rita, the tired, jaded mother of three "I cracked a BLANKET in half" teenage boys.
Pre-Bridesmaids: Best known for Comedy Central's Reno 911!, McLendon-Covey frequently guest-starred on shows like The Office and Cougar Town.
Post-Bridesmaids: The actress has appeared in several movies, including Blended and What to Expect When You're Expecting, and spent a few years on Rules of Engagement, but it's her starring role on ABC's The Goldbergs that's earned her the most success — and a Critics' Choice nomination for Best Comedy Actress.
8. Maya Rudolph
Role: Lillian, the bride-to-be torn between old friends and new.
Pre-Bridesmaids: Rudolph spent seven years on Saturday Night Live, winning raves for impressions of people like Beyonce and Oprah. She also had roles in films like Away We Go and A Prairie Home Companion.
Post-Bridesmaids: A few months after the movie, Rudolph began co-starring in TV's Up All Night, but the show was cancelled midway through its second season. Since then, she's appeared in movies as varied as Big Hero 6 and The Way, Way Back, and last year, spent a night headlining the Maya Rudolph Show for NBC.
7. Chris O'Dowd
Role: Officer Rhodes, the kindhearted police officer who falls for Annie.
Pre-Bridesmaids: Well known in Britain for the sitcom The IT Crowd, O'Dowd hadn't yet made it big in America, despite appearances in films like Dinner for Schmucks and Gulliver's Travels.
Post-Bridesmaids: O'Dowd is everywhere, appearing as Jessa's husband on Girls, Dave in The Sapphires, and Lennie in Broadway's Of Mice and Men , for which he was Tony nominated. In 2012, he created, wrote, and began starring in Moone Boy, an Irish sitcom based on his life. Next up is a Lance Armstrong biopic, plus a role in Tim Burton's newest film.
6. Rebel Wilson
Role: Brynn, Annie's terrible, rude roommate.
Pre-Bridesmaids: An up-and-coming Australian comic, Wilson caught attention for her characters in comedy shows Pizza and The Wedge.
Post-Bridesmaids: There's been Bachelorette, This Means War, and the short-lived comedy Super Fun Night — but to most fans, Wilson is best known as Fat Amy in Pitch Perfect and its upcoming sequel.
5. Rose Byrne
Role: Helen, Lillian's rich, classy new friend.
Pre-Bridesmaids: An accomplished Australian actress, Byrne had many films under her belt, but was best-known for starring in FX's Damages.
Post-Bridesmaids: The actress has appeared in X-Men: First Class and The Place Beyond the Pines, but she's won the most attention for her recent forays into comedy in films such as Neighbors (in which she stole every scene) and the upcoming Spy.
4. Kristen Wiig
Role: Annie, the film's lonely, depressed heroine.
Pre-Bridesmaids: One of Saturday Night Live's biggest stars, Wiig also had roles in films such as Despicable Me and Forgetting Sarah Marshall.
Post-Bridesmaids: Wiig has altered between comedy and drama, choosing most recently to work in the middle with movies like The Skeleton Twins and the upcoming Welcome to Me . She hasn't yet found a starring role as good as Bridesmaids, but she's been keeping plenty busy, with several films and a possible Lifetime movie up next.
3. Ellie Kemper
Role: Becca, a naive, innocent new wife.
Pre-Bridesmaids: Relatively unknown to most audiences, Kemper was just starting to gain fame, thanks to a role in The Office and a viral video on CollegeHumor.
Post-Bridesmaids: After a few small appearances in 21 Jump Street and on The Mindy Project, Kemper made it big with the lead role in Netflix's Unbreakable Kimmy Schmidt . The show's a massive hit, with Kemper's performance as a cult survivor winning raves.
2. Jon Hamm
Role: Ted, Annie's rude, self-absorbed fling.
Pre-Bridesmaids: Hamm was the super-famous, Emmy-nominated star of AMC's Mad Men.
Post-Bridesmaids: Hamm is the super-famous, Emmy-nominated star of AMC's Mad Men . Showing off his comedic chops in Bridesmaids has opened up doors for the actor, and in the years since, he's made guest appearances on 30 Rock, Parks and Rec, and Unbreakable Kimmy Schmidt.
1. Melissa McCarthy
Role: Megan, the brilliant, raunchy sister of the groom.
Pre-Bridesmaids: Best known to audiences as Sookie on Gilmore Girls, McCarthy had just started starring on CBS's Mike & Molly.
Post-Bridesmaids: Thanks to her Oscar-nominated role in Bridesmaids, McCarthy is one of the most in-demand actresses today. Not all of her movies have been hits — Tammy, anyone? — but she's shown extraordinary staying power, and anticipation for her latest movie, Spy , is huge. There's also the upcoming Michelle Darnell, a voice role in a DreamWorks film, a starring role in the Ghostbusters reboot — you get the point. McCarthy is Bridesmaids' biggest star.
Images: Universal; Getty Images