The 'RHOMelb' Hens Night Is No Match For Janet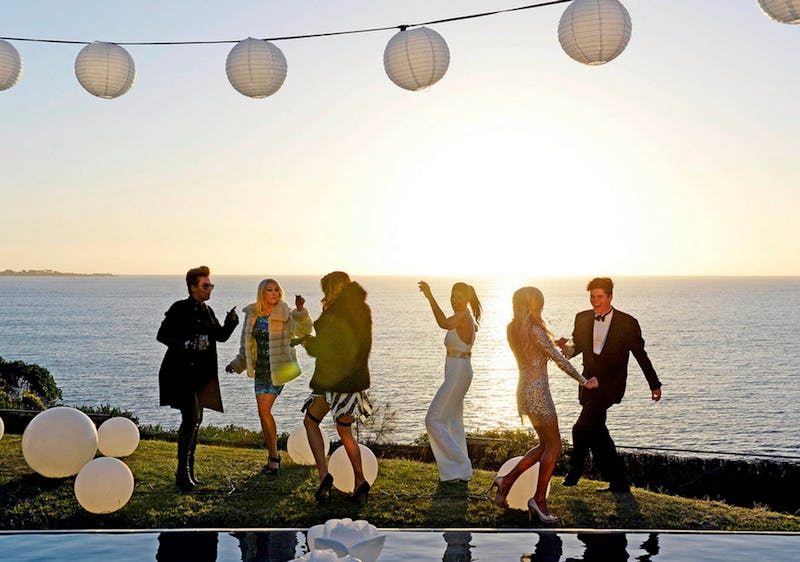 The gods of reality television smiled down upon me Thursday night: This week's episode of The Real Housewives of Melbourne was one amazing costume change after another. And as I've said before, my heart grows two sizes when the Melbourne Housewives go all out with an ensemble. What did I do to deserve a Derby Day party, a book launch party, AND a hens night? What did I do to deserve THREE events that required glamorous outfits?
Yes, Gamble's Bond girl-themed hens party (FYI: I refuse to call bachelorette parties anything but "hens parties" from now on) happened. And what a party it was! As Gamble's pool (the event was hosted at Gamble's perfect house) reflected the gorgeous sunset, the Melbourne Housewives danced. Pettifleur waved a fake gun in the air. Everything was beautiful, and nothing bitch switched.
And then, two buff and shirtless servers presented the attendees with trays of appetizers. And then, the two buff and shirtless servers turned into shirtless and pantsless strippers. Snacks AND strippers? The name is Party... ExcellentHens Party.
While Gamble was visibly uncomfortable with the lap dances (she later told Chyka that she has had a "stripper phobia" after an encounter with some "greased up" male strippers years ago), Janet was not. To say Janet embraced the lap dance would be an understatement. Janet pulled down one of the dancer's briefs AND PROCEEDED TO PLAY HIS BUNS LIKE A SET OF BONGO DRUMS.
The moment had me like:
Images: Martin Philbey/Bravo; tvhousehusband/tumblr