How To Find The Best Hair Color For Your Skin Tone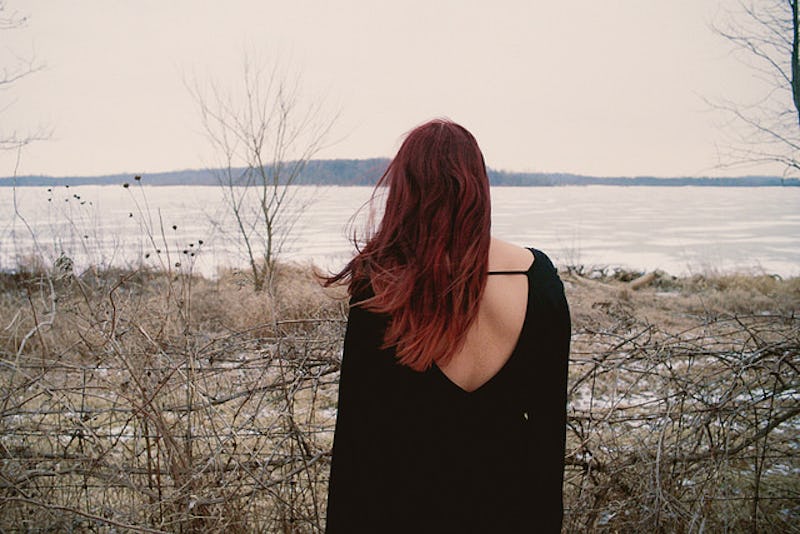 When it comes to dye jobs, finding the perfect hair color for your skin tone can definitely be challenging, especially if you're trying to customize a celebrity trend to suit your own face. Before you vow to give up and never try for that delicious auburn shade ever again, know that the best hair color for your skin tone is out there waiting for you — you just have to do a little research before you dye.
Just like how selecting the perfect shade of lipstick can make you glow, the right hair color can perk up your complexion, while the wrong one can dull you down. Sure it's tempting to use your eye color or pre-existing hair shade as helpful precursors, but skin tone always seems to be the best indicator to predict any possible color outcome.
"The tones of your hair color must complement the tones of your skin," says Keith Shore, Colorist at Sally Hershberger Downtown. "It's really a pretty simple science."
So, if you're on the hunt for a brand new shade for summer, these expert tips below will ensure you end up with a color that complements your undertones, rather than washing you out. We're focusing on brown, blonde, and red for now, but the same principles apply if you're opting for an oh-so-trendy head of rainbow-colored strands.
Brunettes
Whether you want a deep chocolate or light golden brown shade, selecting your ideal brunette color always starts with your skin tone. The general rule of thumbs is that fairer tones should go warm, medium tones should stay neutral, and darker tones should remain cool.
"I find that clients with fair skin almost always looks better with warm tones in their hair color. The warmth or golden tones sort of create a reflection, as in they tend to add warmth to the skin as well," says colorist Keith Shore. "In most cases, ash tones cause those with fair skin to look a bit washed out. Think Giselle or Jessica Biel — they both have fair skin but different levels of warm colors."
Got olive skin? For medium tones, it's important to stay neutral, which means neither too warm or too cool.
"Medium skin tones should stick towards a more neutral palette. This means selecting a color that's not too warm, but not too cool — more neutral means a little of both," explains Shore. " For example, I just took my client, Bella Hadid [pictured above], darker. She has a medium complexion so we went for a perfectly neutral palette – pretty, shiny neutral brown."
To contrast a deeper skin tone, it's always best to remember to stay on the cooler side of the spectrum. Not only will this help your overall look pop, but it will also keep your locks from looking flat.
"Darker skinned clients should stick to the other side of the spectrum, a cool palette. This means they should go a bit ashy, but not to the extreme," adds Shore. "Too much ashiness can make hair look flat. Zoe Saldana is a great example of this — she has cool subtle hues in her brown which look fantastic with her skin."
Blondes
From platinum whites to buttery blondes, going blonde can already a big challenge, especially when don't know which shade to choose. To make this confusing process earlier, always remember fair should go cool, dark should go warm, and medium can go any shade in between.
"If you have fair skin with cool tones, you should choose cool, pale tones. For example, platinum, baby, even some light cool golden blonde shades. Fair skin with warmer tones should stick to more light golden and honey hues," explains Cassondra Kaeding, Colorist at Sally Hershberger LA "Kate Hudson, who I work with, is a perfect example of a fair skinned celebrity who can pull off those baby blonde highlights, as well as some light cool golds for dimension."
Unlike fair or deeper tones, those with a more medium skin tone can enhance any blonde shade easily with the right highlights.
"This type of skin tone looks great with light to medium warm tones or light and medium brown tones," says Kaeding. "Jennifer Aniston is someone who can pull off a richer blonde with a light brown base and light brown highlights!"
To find that amazing shade of blonde, darker tones should remember to stick to buttery, beige and golden tones.
"Dark skin can pull off darker buttery, beige, caramel or dark golden tones. This skin type can be little more versatile and can even pull of some medium to dark cool tones too," states Kaeding. "A great celebrity example for dark skin would be Evelyn Lozada. Her blonde highlights vary from some light to medium dark golden tones. This creates movement and dimension so the color does not look flat."
Redheads
If you've ever dreamed of having fiery red locks, getting that perfect shade of red doesn't have to be difficult. From strawberry blondes to deep auburn shades, there's a suitable shade of red for any skin tone.
"Fair skin definitely look best with hues that fall between a light, golden or strawberry blonde to a bright copper red," explains colorist Cassondra Kaeding. "For your perfect celebrity inspiration, think Julianne Moore."
Medium tones can find their perfect red, by flattering their skin tone with either a medium coppery blonde or auburn. Julia Roberts for example, always seems to nail this shade of red.
"Medium tones look great with medium coppery blonde to medium auburn shades, and should try to stay away from the deeper purples," adds Kaeding.
Finally, darker tones should opt for deeper, striking reds. For celebrity color motivation, think Rihanna when selecting that come-hither hue.
"Darker skin pairs perfectly with chestnut brown and some deeper Auburn shades," concludes Kaeding. "But that's not to say they can't also rock deep red tones. Rihanna always nails her red hair."
Hair color is all about self expression, so feel free to explore any color family of your choice. But, in using your skin tone as a guide, it's definitely easier to find the shade that works best for you. Whether it's a cool blonde or warm red, using your tone will definitely have you saying goodbye to bad color forever.
Images: Holly Lay/Flickr, Getty Images (6)