I Recreated My Mom's Favorite '70s & '80s Looks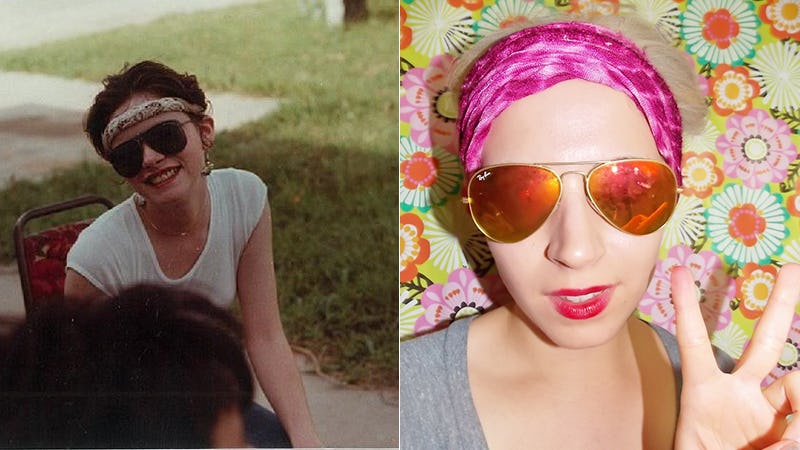 As we all know by now, beauty tips from mom are some of the best beauty tips you'll ever receive — even if they're received as more of a passive reminder as you scroll through old photos, rather than something drilled into your head while you were growing up. As I dread my 26th birthday arriving in exactly two months, I've definitely done my fair share of reflecting as of late. Not only does the uncertainty of the coming future haunt me late at night, but my uncharted thoughts have also drifted back to the past, wondering what on earth my mom was doing at my age.
Unlike this introverted single female who has more eyeliners and lipglosses than most people, my mom was already a social, married woman in her early 20s. And even though she didn't have access to BB creams, colored liners and rotating curling irons like I do, she had her own beauty favorites that she used to her advantage.
Putting my insomniac thoughts into action, I decided to indulge in the notion of #throwbackbeauty, and resurrect my mom's beauty looks she happily wore in the '70s and '80s. Raiding all the photo albums I could find, here's what I gleaned from trying to recreate all of my mother's faves in 2015.
Look One: The Curly Cutie
Unlike my mother, who was blessed with a full head of glorious curls, my straight-with-the-occasional-weird-bend hair can hold some sort of curl, but surely need some extra help. I knew it would take some work to get that natural oomph and bounce, so I asked my mum what she did to get that effortless result without the help of a curling rod.
Unlike the generations of today who have been spoiled with twirling and spinning irons galore, mom told me that gals in her glory days would result other methods of curling, such as soda can curlers or plastic hair curlers.
Taking mom's advice, I put my bobby pins and seltzer cans to work pronto. And although I waited a good two hours, sadly my curls weren't as pronounced as mom's. At least the photos were kind of cool.
Look Two: Liner and Lips
Unlike her trend-stalking daughter who has rocked purple lipstick, pink extensions, and even grey hair in her twenties, mom kept it a little more basic with eyeshadow, liner, and nude lipstick.
To recreate this look, I immediately grabbed my shadow palettes, eyeliners, mascara and got cracking. Sure I swept on more product than what i'm initially used to, but nothing beats my senior portrait, which had me looking too done up for my own good.
Look Three: Bohemian Waves
Probably my favorite look of all, mom surely wins hands down in the hair department. Having longer hair then I'll have, mom was a master at that '70s Bohemian style girls today still want.
The secret to this look was braids of course. Before bed, mom used to braid her whole head to get that gorgeous wave in the morning.
Putting this theory to the test, I created two braids on each side of my head, and then slept in them overnight. Upon waking up the next morning, I was astonished to find flawless waves without the help of sea salt spray or crimping iron. Thanks for the trick ma; I'm definitely adding this one to my beauty arsenal.
Look Four: The Timeless Beauty
Looking classic for church, mom kept her makeup chic and minimal here. And although she got a little crafty with her eye shadow, I thought this was one look that could still be in style today.
I normally don't experiment with silver shadows, as a nude shadow and feline flick is basically the eye routine i'll probably die with. To copy mom's shadow game though, I just added a flash of metallic color at the corners of my eyes.
Mom surely loved her mascara and red lipstick, so I was sure to apply those on too. Also sure to get that bouncy curl, I cheated a bit, and used a curling iron this time to get those come-hither ringlets.
Look Five: Off Duty Chic
Mom even managed to look good with just aviators and a bandanna, so I was eager to try out this off duty sort of look for sure. Although my aviators are a bit modern in comparison to her vintage eyewear, I knew that my bandannas and scarves could definitely make up for that.
Sweeping on some lipstick, and tying a funky tie-dye scarf around my head, this look literally only took me five minutes to create; no joke! Now tell me, who wouldn't love that?
Conclusions
Although I'm definitely spoiled by the amount of available beauty innovations that are available today, it was fun to step back into the past, and test out the styles my mom has definitely loved most. Sure the trends were different back then, but women still wore the same amount of makeup we do now.
Just look at how much came off my face at the end of the day.
I'll definitely try to wear silver shadow and braid my hair before bed more, but I think I'll stick with the moody '90s throwback for now.
Images: Heather Arkell DelBagno (5), Courtney Leiva (8)