What Your Favorite Summer Lip Shade Says About You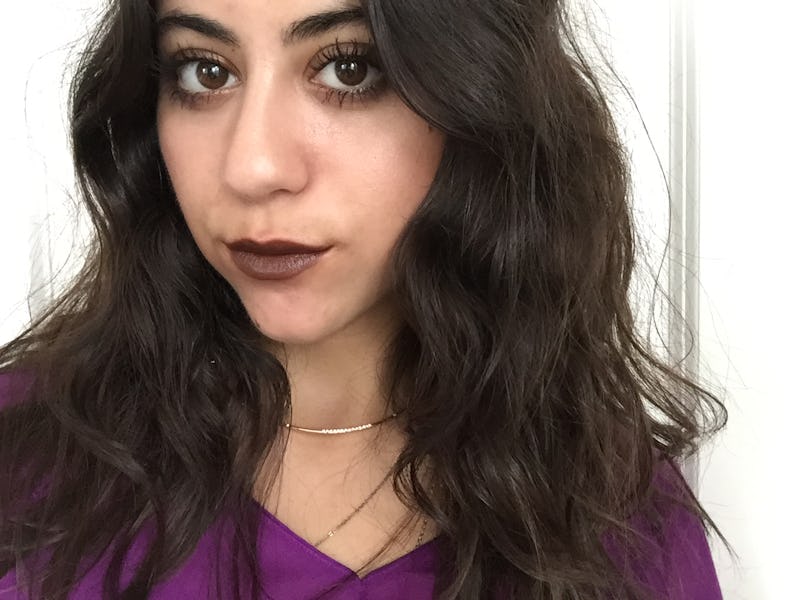 Choosing the right lipstick shade is a feat we all struggle with. There are so many colors, varieties, and textures out there that it's hard not to have a panic attack when trying to narrow it down to one out of hundreds — especially when it comes to picking a summer lip shade.
Since summer is arguably the most colorful season of the year (think lush flowers and greenery, glistening oceans, and, of course, fruity margaritas), it opens the door to so many choices when it comes to lip color. After all, summer is when brands begin introducing their funky purples and coral-inspired reds. And since summer is usually packed with outdoor events and special occasions, we're essentially encouraged to play around with our look, arguably more than any other season. Lipstick, if you ask me — you know, because all it takes is a swipe of a bullet — is the easiest way to achieve this.
So whether you're rocking a '90s throwback brown Kylie Jenner lip shade, or a classic bright red lippie, here's what your favorite summer lipstick shade says about you. And if you have yet to find a summer lipstick shade, here are some suggestions and descriptions to help guide your choice. Because why not treat your lips to some color?
DISCLAIMER: Lots of selfies to follow.
Bright Pink
Revlon Colorburst Lip Butter in Lollipop, $9, ulta.com
If you're rocking a bright pink lipstick this summer, you know you're going to have a season you won't forget. You probably have a schedule packed to the brim with fun activities and vacations, and you plan on looking amazing for each and every one of them. Bright pink captures your flirty, playful, and excited aura for summer. Plus, it makes for an amazing duck lips selfie.
Dark Purple
Revlon Super Lustrous Lipstick in Va Va Violet, $8, ulta.com
And if you're rocking a dark purple lip, you're probably anti-summer and can't wait for the hot, humid weather to pass. People misunderstand your love for dark colors, and they might judge you for wearing dark purple lipstick to the grocery store in the middle of a heat wave. But that dark purple lipstick gives you strength, makes you feel yourself, and is an ode to your favorite singer, Lorde.
Orange
NYX Butter Gloss in Cherry Cheesecake, $5, nyxcosmetics.comYou're one who likes to stand out. You believe every day is a special occasion, and your personal motto is YOLO. In terms of your fashion sense and style, you like to keep on trend and update your wardrobe often. But when it comes to lip shades, you're all about brightness. The brighter the better, and your summer is epitomized by a colorful, glossy orange shade. Orange you glad I didn't say banana? Okay, I'm done here.
Brown
NYX High Voltage Lipstick in Dirty Talk, $6, nyxcosmetics.com
Wearing jelly shoes? Got a choker around your neck? The chances that you're also rocking a brown lip are high, because you're all about the '90s fashion revival. You addictively check Kylie Jenner's Instagram for style and beauty inspiration and shamelessly tried the Kylie Jenner lip challenge. But big, inflated lips or not, you love the look of dark brown lipstick and nothing can stop you from wearing it all summer long. Even if it takes you five years to apply it. Yes, it's that difficult.
Nude
NYX Extra Creamy Lipstick in Honey, $4, nyxcosmetics.com
It's not that you're opposed to color on your lips. It's just that you would rather stick to the absence of color, and not have to worry about lipstick application and longevity. You're not too concerned about your lip color for summer, because frankly you'll be sipping too many cocktails to worry about reapplying any type of makeup. Nude lipstick is simple, it's easy, and it's quick. Plus, it goes with everything.
Berry
Revlon Super Lustrous Lipstick in Plum Velour, $8, ulta.com
A berry lip color means one thing and one thing only: You're down for some fun. Summer keeps you on your toes, so you're encouraged to try out the new things you were not be inclined to experience during winter. That goes for your glossy, berry lip that thankfully matches all of your floral-print shift dresses and crisp, all-white ensembles. While you might typically wear a basic pink gloss or a classic nude pink lip, berry is your new staple for summer.
Bright Red
NYX Extra Creamy Lipstick in Chaos, $4, nyxcosmetics.com
You're not willing to sacrifice a classic red lip for a different shade of lipstick this summer. You feel naked without red lipstick on, and, of course, there are 10 extra red lipsticks in your bag because you never know what shade you will need throughout the day. Your spirit animal is probably Taylor Swift, and you likely identify with the line "red lip classic thing that you like" from her song "Style." No one really understands your obsession with red lipstick. But it's okay because no one has to. No one but you.
Dark Red
Rimmel London Lasting Finish Lipstick in Bordeaux, $5, walmart.com
You like red lipstick, but you're more into a sophisticated look. But not too sophisticated, because you also love to look a little disheveled, especially in the heat of the summer. You would describe your style at messy yet put together, clean yet dirty, girly yet tomboyish, so you're all about the style oxymorons. The thing about dark red lipstick is that it gives off an alluring vibe, with a hint of mystery. If you had the chance, you would totally be a Bond girl.
Neutral Pink
Essence Cosmetics Long Lasting Lipstick in I Am Yours!, $3, ulta.com
And lastly, if you're rocking a classic, neutral, everyday pink shade on your lips this summer, you're probably too busy to think about lip colors. Chances are that you're working your ass off and making bank are high, and you simply reach for a staple color that you know you can count on. You're a loyal user, and you know your favorite neutral, dusty pink lip color won't let you down. While you might get adventurous and try one of the aforementioned shades, you know you'll always come back to your classic pink. Because classic is always in style.
But it's always fun to switch it up once in a while, too.
Images: Melodi Erdogan; Giphy