'Big Brother 17's James Seems Very Familiar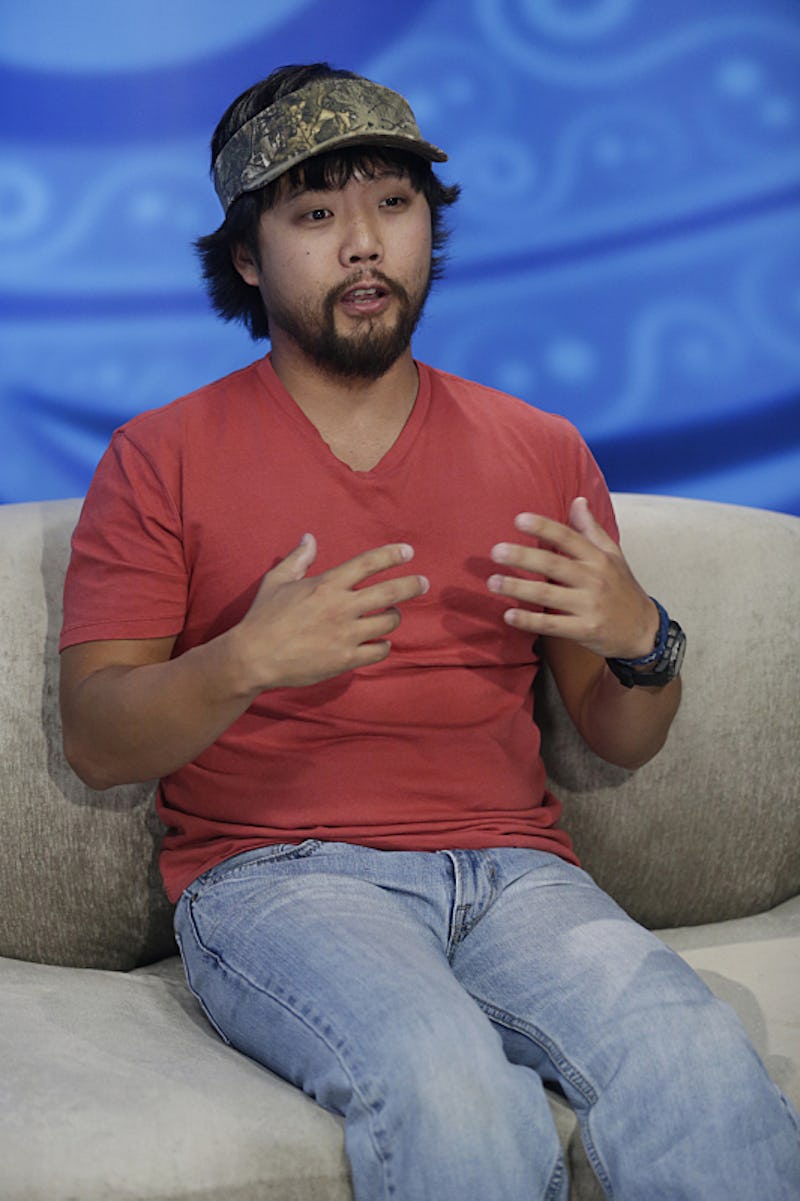 There was a lot to take in during last Wednesday night's season premiere of Big Brother 17 . We met eight new houseguests, learned about three — count 'em, three — big twists for the season, and crowned one of two Heads of Household for the week as the Battle of the Block twist returned to the Big Brother house for another summer. And yet, Big Brother kept up the craziness right until the very end with a nail-biter of an HoH competition that eventually resulted in James being the first houseguest to snag the title this season. If while watching James emerge victorious you couldn't help but think of BB16's Donny, I totally wouldn't blame you.
From the moment James appeared on screen, I thought Big Brother is getting pretty lazy this season, basically casting a Donny lookalike and all. However, I can totally see why the show would want a houseguest that has the essence of one of the most lovable houseguests in recent memory. I think all of America would love a second helping of Donny. He was funny, selfless, and had way more tricks up his sleeve than it seemed, which always kept things interesting. He wasn't crowned America's Favorite Player last season for nothing.
Time will tell if James proves to be as big of a fan favorite as Donny was last season, but now that he has won the first HoH competition, all signs point to him at least being memorable. Since James shares so many similarities with Donny, from the way he looks to the way he sounds to his early gameplay, it seems likely that he'll be a contender for America's Favorite Player by the time the season finale rolls around. James even has the Donny seal of approval, and who could argue with that?
Here are six reasons why James will fill the Donny-sized hole in our hearts this season.
1. He's A Carolinian
Donny was from Albemarle, N.C. James is originally from Sumter, S.C., although his current home city is Wichita Falls, Texas. I know both of the Carolinas aren't the exact same state, but they're neighbors, and neighbors like each other, right? You can already tell that like Donny, James is a country boy with a fun sense of humor, and where they came from must have something to do with that.
2. He Has A Sweet Southern Drawl
It's not surprising that James and Donny have thick southern accents to match their home states. Big Brother contestants often have distinct ways of speaking, which range from the annoying to the endearing. James and Donny's accents definitely align with the latter, and thank God for that since we have to watch these people three times a week for an hour at a time, am I right? I wouldn't be surprised if the BB17 houseguests kept James around just to keep hearing his adorable voice.
3. He Would Fit In On Duck Dynasty
With his long, gray beard and hunting camo shirt, Donny always looked like he had just gotten back from hanging out with the Robertson clan. James similarly looks the part with a beard and always seeming like he can whip out a duck call at a moment's notice. His beard may not be as impressive as Donny's or as the guys on Duck Dynasty, but he's got all summer to work on it, so just give him some time.
4. He's Not In A Group
Donny was often in danger of going home during BB16. That's mostly because he never really became a part of a solid alliance. Everyone really liked Donny, but he was constantly on the outs because no one really had his back in the game. Though BB17 has just started, James is already a bit of an outcast among the group. One group of men and one of women seem to be sticking together, but it doesn't look like he has really gelled with anyone in the group, even if he knew Taylor Swift lookalike Meg was trouble when she walked in. Maybe these two copycats should pair up and form the Doppelganger Alliance. Oh, but that's another twist altogether, isn't it?
5. He's A Secret Threat
Donny may have had a tendency to say some pretty silly things every once in a while, but he was actually a formidable opponent in competitions and had a solid social game too. The BB17 houseguests underestimated James as well during the season premiere. With a former college football player, beach bum, and pro wrestler among the other male competitors, you can't really blame them. But can we talk about how unbelievably amazing James was during the first HoH competition? He was so good at catching those rotten tomato balls rapidly flung at him and remaining balanced on his board that he earned the title of HoH. I actually don't remember being so impressed with a houseguest's performance in a competition. The other houseguests better watch out. James is coming for them.
6. There May Be More To Him Than Meets The Eye — Or So The Houseguests Think
Donny told everyone in the Big Brother house last season that he was a school groundskeeper, which was his real job. However, his fellow houseguests thought there just had to be more to Donny because no one is that genuinely nice and likable. Conspiracy theories ranged from Donny being an actor to a spy to a college professor, which everyone at home knew was completely false. Speculation about James' background is already starting. Contestants joked that James must be a baseball coach or a member of the New York Yankees because he was so skilled at catching during the HoH competition. However, Austin said later in the Diary Room that he earnestly thought there could be more to James than he's letting on.
That could just be Austin's paranoia talking (all of the houseguests seem to be more on edge than usual this season), or James could have us all fooled and really be hiding that he's an Olympian/astronaut/trapeze artist. Just because Donny ended up being a pretty straightforward houseguest doesn't mean James will be as well. This could be one place where the two Big Brother houseguests differ.
Images: Sonja Flemming (2), Cliff Lipson/CBS; big-bro17/Tumblr (2); Art Streiber/A&E