An Official Timeline Of Kaitlyn & Nick's Romance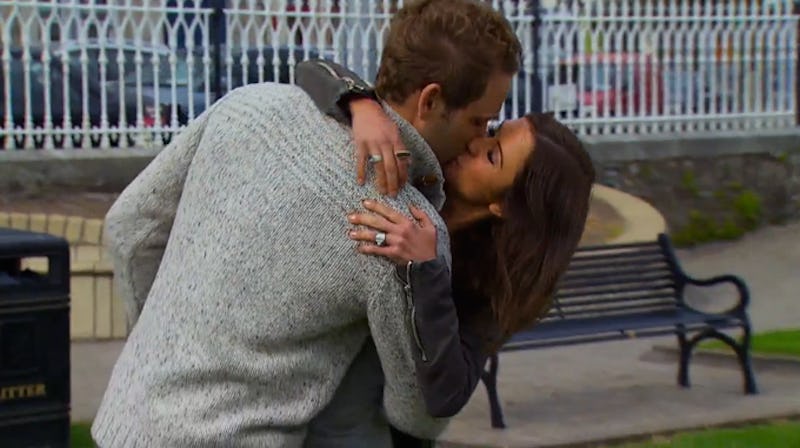 When Chris Harrison said that Kaitlyn Bristowe's season of The Bachelorette was going to be the most dramatic one ever, he wasn't kidding. Is it just me, or has Kaitlyn had to kick someone out before the rose ceremony even happened, like, every week so far? And, when people aren't leaving, new contestants are showing up... like Nick Viall. Whether or not the producers orchestrated the entire thing, these two have real feelings for each other. That doesn't mean that the rest of the contestants actually believe that, though, and they're all pretty convinced that Nick's just trying to be on TV again. If that applies to you, I have the antidote. Their feelings for each other are definitely legit, and this timeline of Nick and Kaitlyn's relationship should prove it.
OK, so their romance is off to a pretty rocky start, but very few relationships (if any) are actually perfect. And contrary to what the Twitter haters might think, Kaitlyn's just following her heart, and she's definitely within her rights to explore what she has with Nick. After all, would it be fair to whatever guy she chooses in the end if she wasn't 100 percent sure about her choice? Kaitlyn should have no regrets, and exploring what could exist between her and her surprise guest is important to making that happen.
Love Nick or hate him, there's definitely chemistry happening here, and it started way before Kaitlyn was ever the Bachelorette.
1. Nick Noticed Kaitlyn On The Bachelor
While Chris Soules' season was airing, Nick offered his commentary up every week — and a lot of it had to do with Kaitlyn. His crush on her started early, but honestly, didn't it happen that way for all of us? I wanted Kaitlyn to be my best friend from the first time she stepped out of that limo and offered up her infamous "plow my field" line.
2. They Started Talking, But Never Met
According to our Bachelorette herself, Kaitlyn and Nick chatted after her time on Soules' season was over (as Bachelor Nation folks tend to do) but they were just friends. And it sounds like, at the time, Kaitlyn didn't really see a potential for more, unless, of course, she's just being coy with us. Kaitlyn explained it this way on to E! Online:
We had a friendship before I came on and had that chance of being the Bachelorette, and we had talked a lot and had this connection that we both only understood as a friendship. After I was gone, I guess he was missing that friendship and thinking maybe it was more than just a friendship connection.
3. They Met For The First Time, Face To Face, On The Bachelorette
Nick (strangely paired up with Ashley I. from The Bachelor) surprised Kaitlyn during her group improv date in NYC and watching the two of them meet in person for the first time was adorable, no matter how you feel about Nick. She lit up when she saw him and got all giggly. Kaitlyn's right: If you feel that way about someone, which is so rare, you should probably go with your gut and find out where it goes.
4. Kaitlyn Asked Nick To Stay
Much to the rest of the guys' dismay, of course.
5. They Slept Together For The First Time
There's no way you missed this, because promos hyped up the Bachelorette sex like nobody in the world had ever slept with someone they were dating before. Really, it was NBD — one-on-one date, it goes well, she asks him back to her hotel room, and the entire world suddenly starts having opinions.
6. They Lived Happily Ever After
I mean, we'll see. Even if Kaitlyn does choose Nick, the lifespan of a Bachelor Nation romance isn't so much "happily ever after" as it is "happily ever six months." But hey, anything can happen!
Images: screengrab/ABC, mic/Tumblr, yahooentertainment/Tumblr (2)