What To Do If It Rains On The Fourth Of July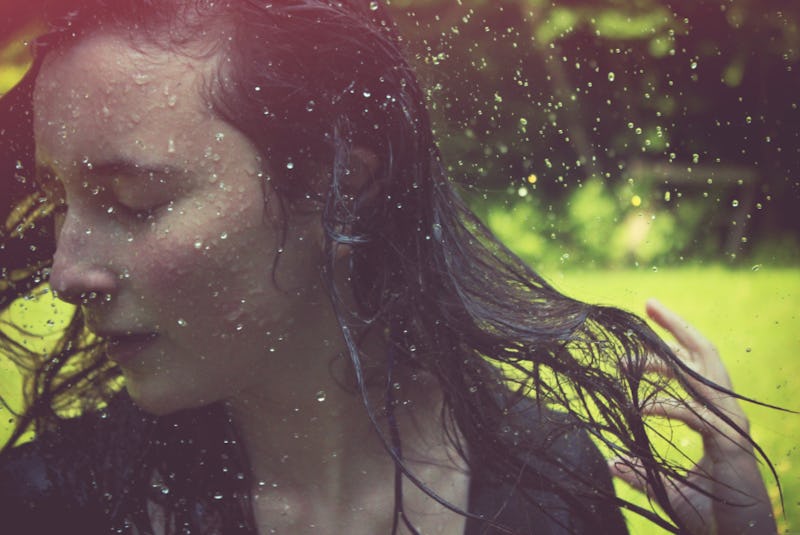 When you think of the Fourth of July, you likely think of barbecues, backyard games, laying in the sun, and fireworks. Or, maybe you're all about parades and relaxing on the deck of a pontoon boat. Either way, these outdoor activities pretty much make up the quintessential Independence Day celebration. And, it's all a ton of fun — as long as there's no rain on the Fourth of July.
But, what do you do if the weather takes a turn for the worst, and you're suddenly stranded inside on one of the best outdoor holidays of the year? You may think your entire holiday is ruined, but that doesn't necessarily need to be the case. While I don't recommend lighting fireworks indoors, there are still plenty of non-weather dependent things you can do to celebrate.
Whether you want to whip out your old favorite board games, throw together some festive drinks, or plop down on the couch in favor of a relaxing movie day, there are tons of entertaining indoor activities that will help you enjoy the day.
If the forecast for your Fourth of July is looking grim, have no fear. I've rounded up some activities that are perfect for celebrating the holiday, rain or shine!
1. Put together some festive snacks and drinks
Nothing says "Fourth of July" like a bunch of red, white, and blue drinks and treats. So, make some patriotic jello shots, or a classic apple pie. Or, just add some red or blue food coloring to your favorite snacks. Either way, tasty and festive eats are the perfect way to celebrate our nation.
2. Host a themed movie day
The Fourth is the perfect time to kick back and relax. And, what's more relaxing than a day full of Fourth of July themed movies? Get your hands on the classics — like Jaws, The Patriot, and Independence Day — and enjoy a day of relaxation and incredibly cheesy special effects.
3. Pull out your favorite board games
When was the last time you had a good old fashioned game night? Whether you want to play Scrabble or Monopoly, a little friendly competition is always fun. Plus, you can pretty much turn any board game into a drinking game. So, dust off your favorite ones, and get ready for a fun night!
4. Bring the barbecue inside
Let's face it, some tasty barbecue is crucial for a successful Fourth of July celebration. So, don't let the weather deter you from preparing the holiday's standard cuisine. Make a few adjustments to your menu, and bring the deliciousness inside.
You can cook burgers in the microwave or on the stovetop. Or, heat up some shredded BBQ pork in a Crock-Pot, and add some baked beans and coleslaw to your spread.
5. Embrace the weather
Sure, you'd probably prefer if the weather was sunny and gorgeous. But, why not just embrace the cards you were dealt?
Have your friends bring over their swimsuits, and set up a slip 'n slide in your backyard. Or, play a rainy round of beanbag toss or bocce ball. As long as there's no lightning, you can still enjoy the holiday outdoors. You'll have tons of fun, and you'll still get to rock your patriotic swimsuit.
Images: Martinak15, AngelaEngel, John Morgan, Jeff Lautenberger, John McGough, La Tete Krancien/Flickr