'New Girl' Season 4 Better Be On Netflix This Fall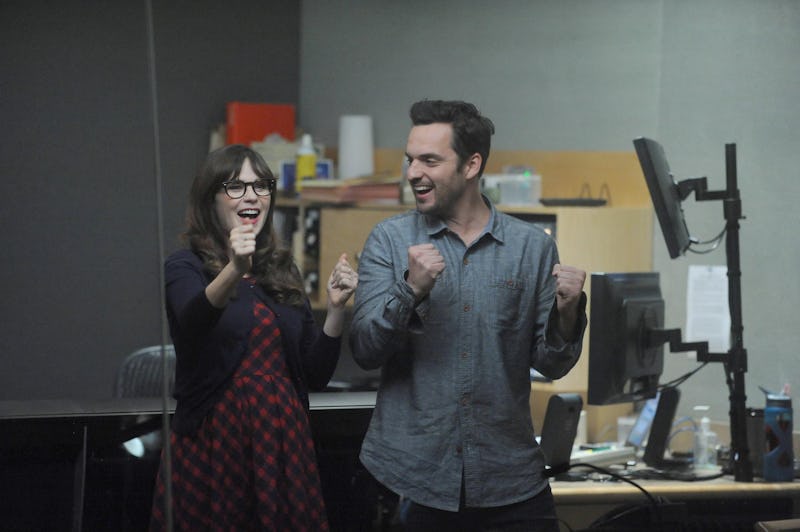 Besides all of the reliable, off-the-wall comedy that New Girl provides, Season 4 also had its share of heartbreak and romance. When it aired on Fox this past year, the show and I were still recovering from the Nick and Jess breakup, but with other loft mates finding love by the end of the season, I'm emotionally prepared to watch Season 4 of New Girl on Netflix. The finale focused on "clean breaks," with Coach moving to New York to be with his girlfriend May, but as to be expected, nothing was really ever completely "clean" with the lovable and ridiculous gang of Jess, Nick, Winston, Cece, Schmidt, and Coach. Update: Netflix announced in a press release that New Girl Season 4 will be available to stream on Jan. 5, 2016.
Two years ago, Netflix got exclusive rights to stream New Girl, so Seasons 1 through 3 are already available on the service, but anyone trying to either re-watch or see Season 4 for the first time has to wait a few months. Last year, Season 3 of New Girl became available on Netflix the day that Season 4 premiered on Fox. Since it's July and Season 4 still isn't on Netflix, it can be expected that Netflix and Fox will be doing the same tag-teaming, with each season being released on its respective platform on the same day.
Although it's fabulous that New Girl is available on Netflix, I'm not a fan of having to wait until the new season premieres to see Season 4. Hey, wouldn't it make more sense to have fans of the show catch up on last season before Season 5 airs? But I'm no TV executive and will not claim to understand how a TV exec's mind works. (After all, Fox did cancel The Mindy Project .) So to know when Season 4 will be on Netflix, New Girl lovers need to know when it will return to Fox.
Season 5 of New Girl doesn't have an official premiere date yet, but the show will be returning in the fall. Us Weekly reported that it will start with an engagement party for Cece and Schmidt, and though I normally balk when people on sitcoms get engaged or married too quickly, I'm so excited they're together that I'm just going to accept it. Plus, it will make for an exciting Season 5 with wedding planning and an even more exciting Jess and Nick dynamic, since they will most likely be the Maid of Honor and Best Man at their friends' wedding. And all reports look like the show will still be premiering in the fall even though the filming schedule for Season 5 has been a bit funky since leading lady Zooey Deschanel is pregnant in real life and the show will not have Jess be pregnant on the series.
So though Netflix and Fox aren't advertising the New Girl release dates, be prepared to wait until fall. All four previous seasons of New Girl have premiered in mid-to-late September and so Season 5 on Fox (and thus, Season 4 on Netflix) should follow suit. Just embrace the rest of your summer and get ready to get your New Girl on in September.
Images: Ray Mickshaw/FOX; Giphy (3)