5 Tips For Organizing Your Jewlery Collection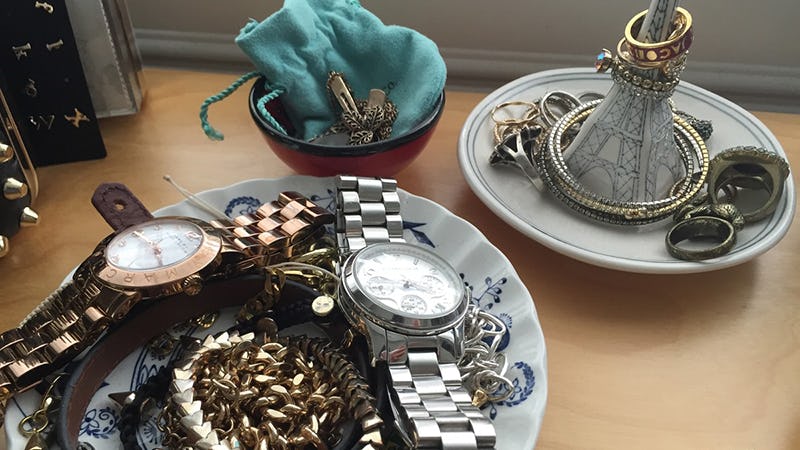 There's no challenge quite like the challenge of organizing jewelry. With chains, hooks, clasps, and embellishments, the whole strategy is set up for disaster. And no matter how many times we try and sort and clean through them, they always get tangled up with each other.
While no one can deny the ease of statement-making through jewelry, it's always a struggle when trying to find the pieces you want. With all the chains, clasps, and hooks, jewelry is prone to getting caught in places, pulled apart, and tangled, proving to be not easy at all to access. But because it's so crucial to the success of every outfit (a little far-fetched, but you know what I mean), it's a necessary factor.
Thankfully, there are easy ways to organize your jewelry so you're not cursing out different pieces for being tangled up with another early in the morning when you're getting dressed. Even though it does take a strategic process, and very good upkeep, your pretty jewelry pieces can stay beautiful, untangled, and in one piece with some helpful tips and tricks, as well as different ideas for displays.
In an effort to make your accessorizing process much smoother, and to help revamp your jewelry wardrobe, here are five easy tips for organizing your jewelry. Because frankly, it needs it.
1. Sort Them Accordingly
This tip might seem a little like a no-brainer, but it's always a good place to start when you're organizing anything. Sort your jewelry in a way that best suits your lifestyle and how you wear those pieces. For example, I like sorting my jewelry according to type, so all my rings stay in one place, all my bracelets stay in another, and so on. You might like sorting the jewelry you know you wear together, or sorting them by texture, color, or make (gold, silver, rose gold, bronze). Depending on what's easiest for you, sort your pieces and set them aside for the next step.
2. Find Containers
Next, find different organization boxes, containers, or plates to help organize those sections of jewelry you sorted beforehand. Since I prefer pairing my bracelets together, I bought an inexpensive, small plate and placed them all there. My earrings went into another coffee cup plate. I raided my kitchen, but you can use whatever you think is best. I like plates because the jewelry lays flat and you can see them well. Although, earrings would also work in small bowls, as would would rings.
3. Decorate With Them
Just like containers, you can get creative with the way you store your jewelry. I love when I see small to medium sized decorative boxes holding larger statement jewelry pieces, laying flat. And I also love when jewelry boxes don't necessarily look like jewelry boxes, but rather decorative home pieces and pretty ornaments in a bedroom. Don't think that just because it's not deemed a jewelry box that it can't be used as one. Even old candle holders with the wick and wax removed could make great containers. Just be sure to keep them sorted as you did in tip 1 so you know where you can find each and every piece.
4. Get Creative
If you prefer keeping your jewelry out of boxes so you can see them and know what you have, there are plenty of ways to display your pretty pieces without it being overwhelming in a bedroom or dressing room space. Just like when you're seeking other decoration or organization tips (or really, just tips on life), searching Pinterest can't hurt. Hanging jewelry on boards, using bars, or even making your own display case are all creative and pretty ways to showcase your jewelry while keeping it organized and easy to access.
5. Buy Organizers
Magical Thinking Pyramid Jewelry Stand, $29, Urban Outfitters
Stores like Urban Outfitters, Forever 21, and Target also have cute little ornaments and organization helpers for jewelry as well, so you can always get some help from those as well. Of course, these items may not be ideal for all of your pieces, but they can help display your favorites that get the most wear. And while some of them might be pricey, remember that they can easily last for a very long time, and will help you get dressed almost every single day.
Three Tier Jewelry Tray, $19, Target
And that, my friends, is even better than Cher's virtual closet in "Clueless."
There, I said it.
Images: Melodi Erdogan; Courtesy Brands; Giphy