Poorna Jagannathan Says This Serum Is "Liquid Gold"
The actor shares her go-to skin care and makeup products.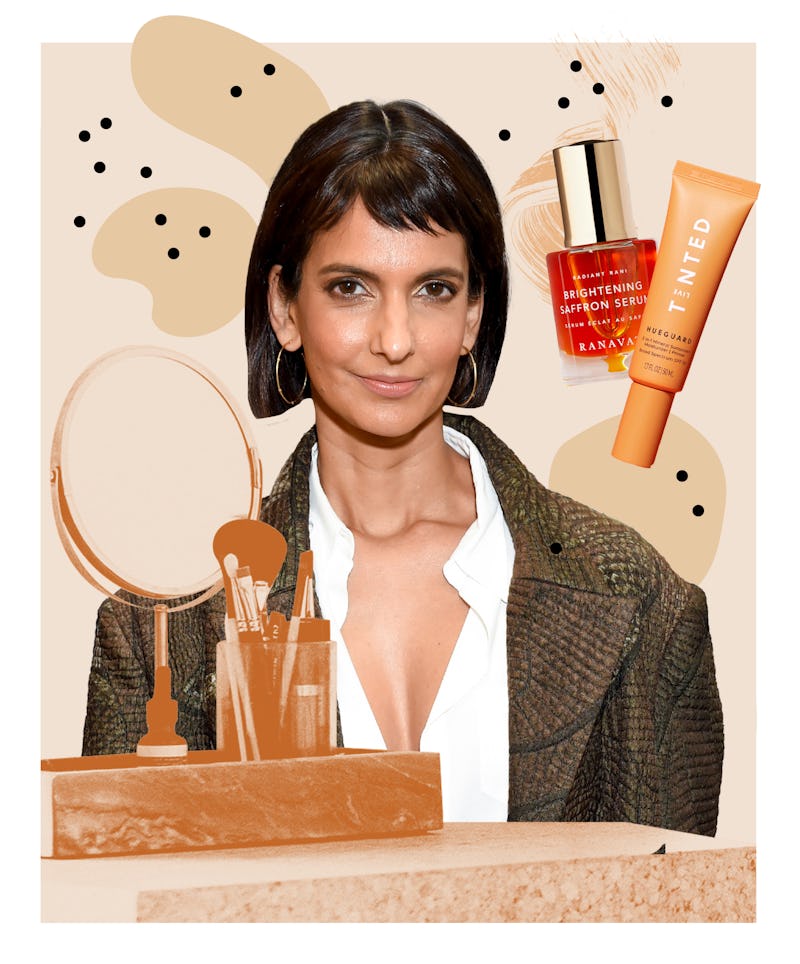 Getty Images
Beauty Detail
We may receive a portion of sales if you purchase a product through a link in this article.
In Bustle's Beauty Detail, we dive into the beauty bags of our favorite talents for intel on the rituals that keep them glowing. Here, Poorna Jagannathan tells Bustle all about her Ayurvedic beauty roots, the serum that's majorly brightened her skin, and the SPF she swears by.
When Poorna Jagannathan was growing up, she was getting the best beauty treatments — and she hated them. "I was steeped in Ayurvedic beauty involuntarily," she tells Bustle. "My mom would make me a face mask with turmeric and yogurt, and I was like, 'Please, can someone who goes to America get me a Clean & Clear?'"
Though the Never Have I Ever star, who grew up in India, Ireland, Brazil, Pakistan, and Argentina, admits to rebelling against the all-natural ingredients her mother and aunt would put on her skin and hair, things have recently come full circle. As of this month, Jagannathan has joined forces with cult-favorite Ayurvedic beauty brand Ranavat as its first celebrity ambassador. "When I grew older, I finally understood that these ingredients [my family used] were actually the most natural and effective," she says. "Of course, in Ayurvedic beauty, it's not packaged in any way — there's a DIY element that exists. With Ranavat's products, you get to use all of these good ingredients, like amla and saffron, and they're already mixed together."
Take, for instance, Ranavat's Mighty Majesty hair oil, which is packed with amla and jasmine. This is a product Jagannathan now loves using to style her hair with — despite dreading her family's Sunday hair oiling tradition in the past (which, surprise, involved amla). "I used to hate having oil in my hair. No amount of shampoo could wash it off," she says. "But I'm seeing it become more mainstream and that people even know the notion of it, which is exciting."
While her beauty routine looks a lot different today than when she was a kid, Jagannathan does have high standards for the skin care and makeup she uses. "I want to use mostly natural formulas, I want the brands to be female-founded, and I want products that are inclusive and have thought of me and my skin's needs," she says. Oh, and she doesn't want to waste any time on formulas that don't work.
"Look, I'm 50. I'm not using any product that is not effective," she says. "I will eat a placenta if someone says this will take care of your skin." In the meantime, she's relying on tretinoin. "It's really powerful. I'll use it once every two weeks, and otherwise use my [Ranavat] Bakuchi Crème," she says.
Below, Jagannathan shares more must-haves in her beauty routine, including the hydrating serum she always applies before makeup.