The Best Sunscreen Products For All Skin Tones, As Chosen By Our Editors
Meet your new beach bag essentials.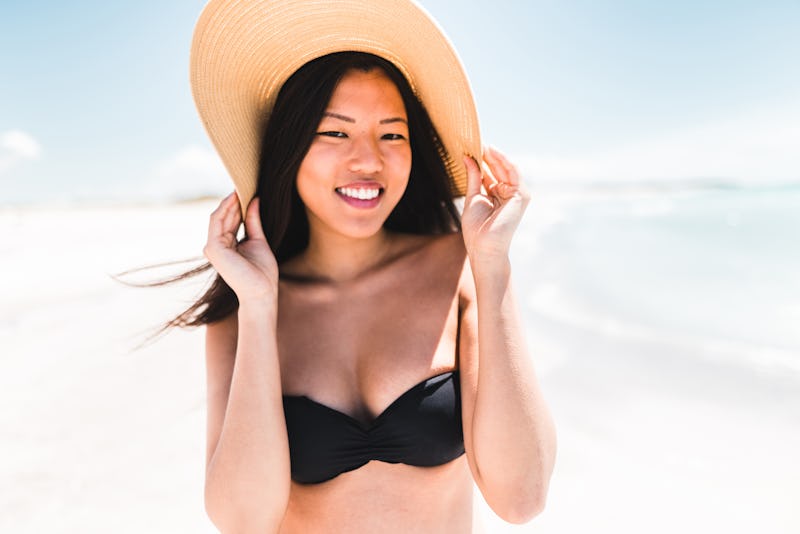 Getty Images/franckreporter
From double cleansing to serum layering to slugging, keeping up with skin care rules can be exhausting. Fortunately, the most important part of caring for your complexion is more memorable and applies to all skin types: Your daytime beauty regimen should always end with sunscreen. And now it's easier than ever to find the best one for you, because there are so many amazing sunscreens for all skin tones.
Over the years, SPF formulas have gotten smarter: They're now increasingly packed with skin-nourishing ingredients, found in products that double as makeup, and meant to blend in without leaving a white cast. Basically, sunscreen is now something you can look forward to applying (and reapplying).
Ask any dermatologist and they'll only reinforce how essential wearing sunscreen is for your overall skin health. It does so much more than simply preventing sunburn. "Sunscreen is one of the essential ways to protect your skin from the sun," Dr. Marisa Garshick, M.D., board-certified dermatologist, previously told Bustle, adding that UVA damage can contribute to signs of aging, while sunburns can increase one's risk of sun cancer. Thus, you should sport adequate SPF on days it's not necessarily sunny, and consider wearing it while you're inside, too: The infrared light from phones and/or computer screens is reported to cause skin inflammation and premature aging. Furthermore, extensive exposure to sunlight can harm your hair, and even cause color to fade (yes, your scalp needs sun protection too).
TL;DR? Wear SPF everywhere, all the time — especially now that the summer season is upon us. Below, see Bustle editors' favorite sunscreen products for all skin tones, from to skin tints to scalp powders. Happy shopping.
We at Bustle only include products that have been independently selected by our editors. We may receive a portion of sales if you purchase a product through a link in this article.
Studies referenced:
Amaro-Ortiz, A. (2014). Ultraviolet Radiation, Aging and the Skin: Prevention of Damage by Topical cAMP Manipulation. Molecules. https://www.ncbi.nlm.nih.gov/pmc/articles/PMC4344124/
Mahmoud, B. (2008). Effects of visible light on the skin. Photochem Photobiol. https://pubmed.ncbi.nlm.nih.gov/18248499/