11 Beauty & Wellness Brands Grounded In Eastern Philosophy
All celebrate — rather than commodify — Eastern practices.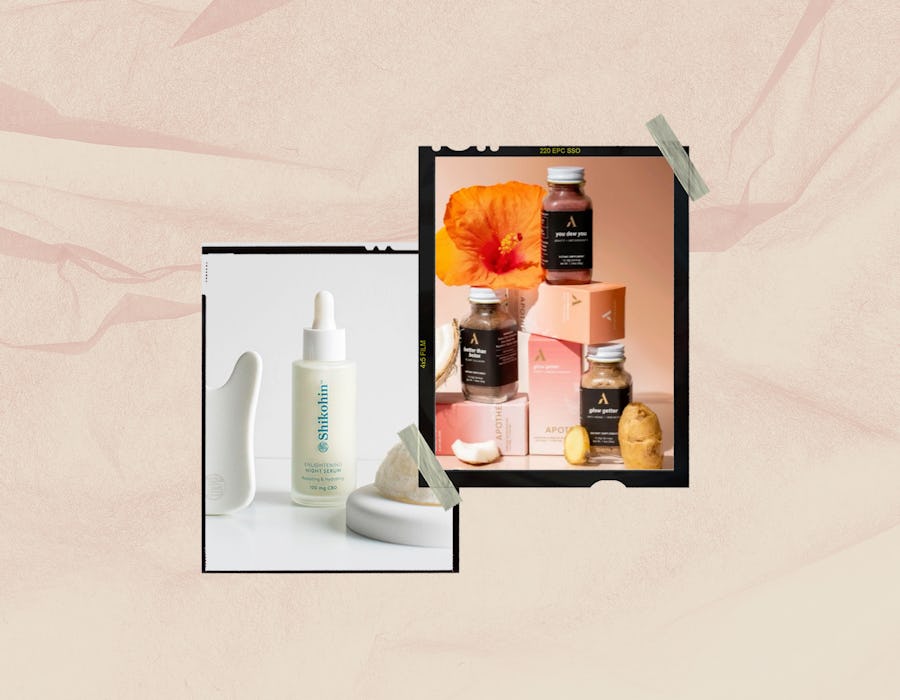 Shikohin; Apothekary
It sounds hyperbolic, but we've firmly entered a bold new age of beauty, with an explosion of brands rooted in ancient Eastern beauty and wellness practices. It's so different from a decade ago, when the Western beauty industry was dominating the conversation and knew little about the centuries-old beauty cultures and traditions of the East. Then, Korean beauty exploded — and the rest is history. American consumers (and those across the world) extolled the superior texture and finish of Korean sunscreens and the 10-step skin care ritual became the baseline. This opened up the idea that beauty traditions and products from the Eastern world could be incorporated into Western habits.
K-beauty's success ushered in an influx of brands rooted in holistic Eastern medicine and self-care modalities like Traditional Chinese Medicine, Ayurveda from South Asia, Japanese Kampo, and Indonesian Jamu, to name a few. Today, the landscape is rich with an array of brands whose founders draw from their heritage in one way or another. From Japanese bath rituals to a perfume line aiming to reclaim South Asia's colonial past, here are the AAPI beauty and wellness brands you need to have on your radar.
This luxury brand is an effortless mélange of Japan's traditional bathing rituals, ancient botanical wisdom, and reverence for nature, fused with the power of high-quality CBD.
Shikohin's founder and CEO Takashi Nobuhara learned the value of herbs and botanical remedies as a child when he went foraging for mushrooms and edible plants with his father. He's channeled that wisdom into this collection, which combines CBD with a thoughtfully selected array of plant-based ingredients. For instance, the hand and foot massage cream includes CBD paired with copaiba balsam and maritime pine bark, which both boost cannabinoid receptors and support CBD's anti-inflammatory effects. The line also offers a rice powder and hemp body scrub, an antioxidant-rich body oil, bath tablets infused with magnesium, sulfur, clay, yuzu, and CBD, and Tsubo-Oshi, a silicon massage tool to stimulate reflexology points. Nobuhara's overall goal with the brand? To encourage people to take their time when engaging in self-care — a mindful practice Japanese culture highly values.
Tanaïs, the founder of their eponymous beauty line, draws deeply from their South Asian culture and its troubled colonial past, and from a life spent in America, from the Midwest to New York. All the triumphs and travails of their personal and family history — and those of the lands that nurtured them — have been woven together to shape them into the identity they hold today: that of a proud, Bangladeshi Muslim femme. They use fragrance as a medium to "wrest back our memories, bodies, stories and smells from the hard damage of colonialization," as they write in their book, In Sensorium.
Inspiration for each of their perfumes — all of which are created with ethically-sourced essential oils of flowers, fruit, tree resins, and absolutes — is pulled from this living history. They use ingredients that you will rarely find in commercial perfumery, many of them indigenous to the Indian subcontinent: betel leaves, Ganges mitti attar, roasted seashell, coconut milk, and henna. The compositions are original and one-of-a-kind, like Tanaïs themselves. Grab their excellent book, too, to get a taste of their relationship to fragrance and how it ties to everything that came before them and all that lies ahead.
Yina is rooted in Yang Sheng, a core practice of self-care promoting longevity and vitality in Traditional Chinese Medicine. Both Yina's founders, Angela Chau Gray and Ervina Wu, have studied TCM and Chinese medicinal plants, and centered this line of products and tools around those teachings. The line consists of an exfoliating cleanser, a prebiotics, tremella mushroom, and ginseng-infused mist that loads skin with hydration and micronutrients, and a series of oil-based serums to tackle different skin concerns. There are also body and décolletage balms that stimulate circulation and prevent Qi stagnation, aka blocked energy pathways within the body. To celebrate AAPI Heritage Month, the brand is donating 20% of profits from their bestselling Gua Sha Discovery Box to an AAPI charity.
Plantkos is the first pharmacist-developed, clinically tested, Ayurveda-inspired brand that addresses three major concerns of people with melanated skin: hyperpigmentation, dehydration, and inflammation. Pharmacist Sejal Patel founded the brand after her daughter was diagnosed with a melanin disorder called pigmentary mosaicism. She married the Ayurvedic wisdom she grew up learning with her science education, and as a result, Plantkos' products include both Ayurvedic herbs and modern skin care actives working in synergy. The Vitamin C serum is powered by three varieties of the melanin-regulating ingredient, including one derived from amla. The facial essence calms and soothes with rose water, chamomile, and licorice, while ashwagandha, gotu kola, bakuchiol, and caffeine power the eye cream.
When your grandmother has been jade rolling and practicing gua sha for over 50 years, you don't need TikTok for self-care tips. Esthetician Stephanie Zheng grew up watching the women in her family use their skin care routines as an opportunity to press pause on their busy lives and focus on themselves. She absorbed that ethos and the power of their skin healing routines, which she channeled into Mount Lai. The brand offers gua sha tools, rollers, eye masks, and acupressure spoons in a variety of semi-precious stones, each one holding different properties: jade for eternal youth, tranquility, and good luck; rose quartz for self-acceptance, healing, and peace; amethyst to calm and relieve stress and anxiety; and black obsidian to draw out blockages, making it good for blemish-prone skin. There's also a line of skin care to complement the tools.
This brand leverages the goodness of moringa, a drought-resistant tree that produces nutritious pods, leaves, and seeds, and partners directly with smallholder farms in India to source single-origin extracts of the plant. The cold-pressed moringa seed oil is a lightweight multi-tasker that can be applied to the face, body, and hair. It contains a hefty dose of Omega 9 fatty acids, which promote hydration and elasticity in the skin, and high levels of beta-sitosterol, a compound thought to prevent hair loss by lowering the production of DHT, an androgen responsible for baldness. There's also the moringa leaf powder, a nutrient-dense caffeine replacement (with antioxidants, nine essential amino acids, minerals, and vitamins), which can do double duty as an ingredient in homemade face and hair masks. It's a brand with super fresh, potent products and its heart in the right place.
Divya Viswanathan and Amy Engel founded Taza after Ayurvedic medicine had a life-changing effect on the health issues they were both suffering from. They work with experts in India to formulate supplements using production techniques that adhere to practices prescribed in Ayurvedic texts. The supplements tackle stress with ashwagandha, amla, and licorice, gut health and digestion with castor root, Ceylon leadwort tuber, ginger, and other herbs, while their restful sleep cure includes valerian root and Indian sarsaparilla. The cherry on top? Its supplements are made with sustainably-sourced wild herbs, harvested by marginalized Indian tribal communities living in forested areas, where these herbs have naturally grown for hundreds of years. The Indian government has reserved access to these lands for tribal groups as a way to provide their livelihood.
This brand marries some of the most ancient herbal medicine modalities like Ayurveda, Traditional Chinese Medicine, Japanese Kampo, and Western herbalism to create its line of plant-based herbal powder blends that tackle common issues like sleep, stress, skin, gut health, immunity, and energy. Founder Shizu Okusa, who has had personal success using these healing modalities for her own health, wanted to create a plant-based pharmacy of sorts that brings powerful botanicals to a wider audience.
Reishi and ashwagandha star in the stress-busting Chill the F* Out, while blue matcha, chlorella, and ginseng power Blue Me Away, which gives a boost to your mind, body, and immune system. For the sleep-deprived, Do Not Disturb combines sleep-inducing and stress-reducing herbs, like holy basil, rose, and mucuna.
Founder Nikita Charuza took inspiration from the South Asian tradition of hair oiling to create her brand Squigs — a line that currently features a hair and scalp treatment, Gooseberry Delight Hair Oil, powered by Indian gooseberry or amla oil, which has been regarded as a hair superhero in Indian communities for centuries. The formula also contains oils derived from coconut, castor, kalonji (black cumin or Nigella seeds), apricot kernel, and orange peel for an elevated head and scalp massage experience which will result in hydrated, glossy hair. Also within the line is a hydrating face serum that uses tulsi, turmeric, and neem extract, all long-time essentials in Indian skin care routines.
Stephanie Tan, NOOCI's founder, wanted to make Traditional Chinese Medicine more accessible to a wider pool of people. To do so, she built her brand's line of supplements based on TCM's holistic approach to treating the mind, body, and spirit via a healthy lifestyle. As a result, NOOCI has a tight but power-packed product collection that features herbal ingredients like jujube, ginseng, and rose to help regulate menstrual flow, and perilla leaf, reishi mushroom, and mint to alleviate allergy symptoms. The brand's ReNoo formula boosts metabolism and helps the body adapt to stressors. At its core, NOOCI offers an accessible way to dip your toe into TCM if you don't know where to start.
Juara centers on the Indonesian healing tradition of Jamu, an art that blends plant-based and homeopathic ingredients into tonics and skin care to prevent illnesses and maintain health. Co-founded by three AAPI women, Juara is powered by many of the potent botanical ingredients indigenous to Indonesia's tropical climate. Candlenut oil infuses many of the brand's products as it's rich in Omega 3 and 6 fatty acids and penetrates the skin easily and deeply. Turmeric, coffee, fermented black tea, tamarind, and Illipe butter round out the list of other star ingredients. Some best-selling products from their lineup include the Turmeric Antioxidant Radiance Mask, Invigorating Coffee Scrub, Sweet Black Tea and Rice Moisturizer, and the Candlenut Glow Body Oil.