Why Women's Shaving Products Are Having A Major Glow-Up
Shaving has never been a 'one size fits all' practice, and the beauty industry has finally figured it out.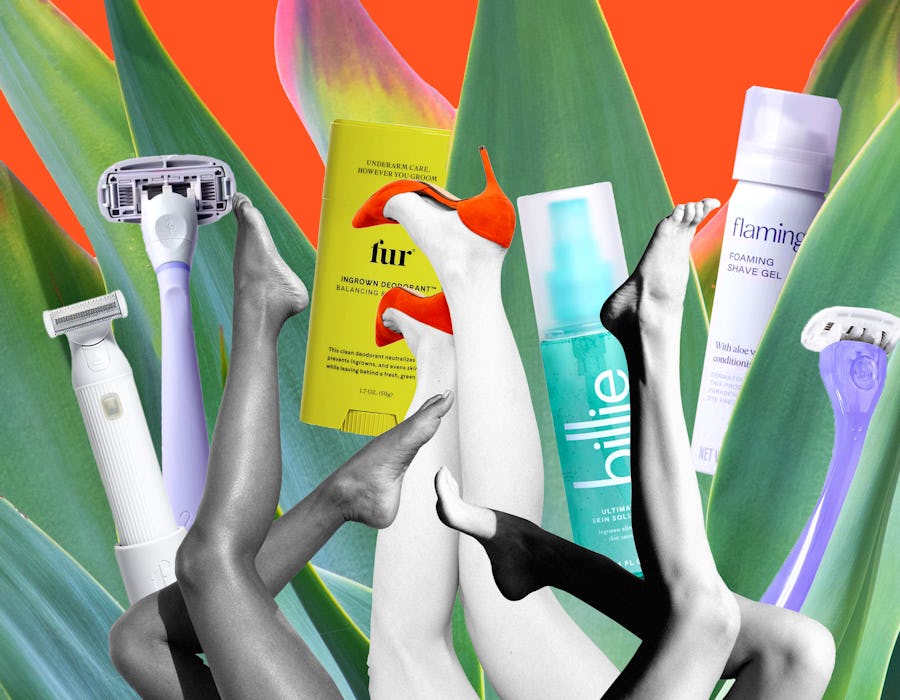 We may receive a portion of sales if you purchase a product through a link in this article.
Until Gillette launched the Venus razor in 2001, the first ever razor to be developed with women in mind, we were stuck with pink versions of whatever men were using on their faces — which didn't exactly bode well for avoiding nicks and irritation. Its three blades promised to deliver a closer, more long-lasting shave; the razor head moved with the natural contours of a woman's legs and armpits; and the handle was ergonomically designed so that users could easily switch their grip to hit hard-to-reach areas and not have to worry about dropping it in the shower. Within three years, the brand had established Venus as a "beauty essential" and projected a billion dollars in sales. Needless to say, it changed the world of shaving as we once knew it.
In the two decades since that revolutionary launch, a whole lot has shifted in the conversation around women's hair removal. Not only are there more options than ever before (Waxing! Plucking! Threading! Depilatory creams! Electrolysis! Sugaring! Professional lasering! At-home lasering!), but there's significantly more choice around whether or not you choose to do it in the first place — if you want to embrace hairy armpits and big bush energy, more power to you. If you do turn to shaving as your method of choice, though, there's never been a better time to do it.
Simply put: Shaving is no longer a one-size-fits-all practice. Though Venus may have opened the door for innovation on women's razors, a recent rise of female-focused design, easier-to-use products, and better post-shave options has paved a path forward for shaving to become more personalized. No matter how — or where on your body — you choose to shave, these days, there's a product for you.
How The Conversation Around Hair Removal Has Shifted
Historically, hair removal has always been positioned as something that women are expected to do, notes Natalie Pace, head of brand communications at Flamingo, a shaving and body-care brand that launched in 2018. "Because the focus is on women removing hair, you'll notice a lot of hair removal products are — and have always been — overtly and stereotypically feminine," she tells Bustle. But now, that's started to shift thanks to an influx of new-ish brands that all have the mission of bringing choice into women's shaving.
"We've always believed that what someone does with their body hair, whether they choose to remove it or keep it and anything in between, should be entirely up to them," says Georgina Gooley, co-founder of Billie, which launched in 2017. "When and if you need or want to shave, we have a great product that won't make you feel pressured to be or look a certain way."
Other brands leading the charge in women's hair removal include Athena Club, which launched in 2017 with affordable, subscription-based razors; Oui the People, which launched in 2017 with razors designed for sensitive skin; and Hanni, which launched in 2020 with a weighted, single-blade razor that has since gone viral. They've all set out to make shaving less of a chore and more of a full-fledged self-care practice. "Being able to have products that feel elevated but also functional is really important to everything we create — even if you only have 30 seconds to shave, we want that moment to feel special," says Hanni founder Leslie Tessler.
The Razor Gets A Glow-Up
If you've taken a peek down the razor aisle recently, you may have noticed that it looks a whole lot different than it used to. Not only are the new generation of women's products designed to work with our bodies, but they also happen to come with a joy-inducing aesthetic.
In 2021, Flamingo redesigned its razors with a water-activated comfort system and a pivoting hinge to "hug every curve," and the result was something that's easy to use, delivers a close shave, and (by no accident) looks great in your shower. "Our ultimate goal is to elevate the shaving experience," says Pace.
Allowing for a chicer shaving experience seems to be the common thread that ties the new class of razor brands together. Flamingo, Billie, and Athena all have a range of candy-colored, moisture-enhanced razors to choose from, and each brand offers a subscription so you don't have to worry about working with a dull blade. Hanni's single-bladed weighted razor is a full-blown luxury experience designed to give you the closest possible shave without irritating your skin. And Venus continues to lead the pack by offering a variety of shaving cartridges and handles to meet every consumer's individual needs — someone with super-dry skin, for example, may want to opt for the brand's gel-enhanced Comfortglide cartridge, while someone who wants to shave quickly and efficiently may choose the brand's Deluxe Smooth Swirl handle equipped with a 360-degree pivot.
"Bringing joy to a previously stigmatized activity is one way to disrupt this 'one size fits all' narrative that has been embedded in shaving."
Another exciting innovation in this space is body-part-specific razors. "People are catching on that different parts of the body require different types of care," says Lauryn Bosstick, founder of The Skinny Confidential. In 2021, Venus launched its Pubic Hair & Skin Collection after learning that 87% of women who chose to remove their pubic hair were dissatisfied with the process. "Pubic hair and skin are much different than the hair and skin on other parts of the body, so it's beneficial to use products that are designed specifically for that area," says Caitlin Orszulak, senior scientist at P&G Grooming, Venus's parent company.
Earlier this year, the brand also launched its first facial razor, following in the footsteps of Tweezerman (which launched a facial razor in 2021) and The Skinny Confidential (which launched its Hot Shave Razor that same year). "Shaving the face is marketed toward men… but women have been shaving their faces forever, there just wasn't a lot of talk about it until now," says Bostwick. The practice has long been a mainstay in Japanese and Korean cultures, and has — with the help of these launches — finally lost its stigma in the U.S.
Curating A Shaving Routine
Any dermatologist will tell you that the art of shaving goes beyond just gliding a razor up and down your legs — doing it properly (and, in effect, getting the results you want) requires a full pre- and post-shave routine. Razor bumps and ingrown hairs used to be embarrassing things that women were forced to (quite literally) suffer in silence. But now, skin care has come to the forefront of innovation, and our shaving sessions are all the better for it.
"We know two things to be true: One, that barrier repair is the key to soothing skin after shaving, and two, exfoliation is the key to avoiding ingrown hairs," says Pace. "Our design team is focused on reducing shave-related skin irritation and ingrown hairs following hair removal."
Though Flamingo, Athena, Billie, and Hanni all launched with razors, the past few years have seen them expand their offerings to include entire shaving routines. Flamingo and Athena each offer a range of shaving creams, body exfoliants, and lotions for pre- and post-shave skin care. In addition to a razor, Billie's Ultimate Shave Set includes a body-buffing bar to prep skin for a smooth shave, a jojoba-and-olive-oil-based shaving cream, and an exfoliating post-shave mist to stave off ingrowns. And Hanni's Shave Pillow, an easy-to-apply shaving cream stick, hydrates and soothes the skin to ensure an irritation-free shave, while the brand's Water Balm is designed to keep skin moisturized long after you step out of the shower.
"Skin care has come to the forefront of innovation, and our shaving sessions are all the better for it."
Additionally, traditional and trendy skin-care brands like First Aid Beauty, Truly, and Topicals have introduced ingrown offerings into their arsenals, showing there's no more shame involved in adding post-shave solutions to your routine.
Megababe, for example, launched its first post-shave product earlier this year. The brand has long been known for destigmatizing beauty concerns like chafing and B.O., and its foray into treating ingrown hairs is no exception. "Ingrown hairs and razor bumps are just one facet of shaving that everyone has experienced before, so we were excited to expand into this new category with Après Shave," says Katie Sturino, the brand's founder. "Our goal was to create a cute and effective product that you wouldn't be embarrassed to have on your counter. Bringing joy to a previously stigmatized activity is one way to disrupt this 'one size fits all' narrative that has been embedded in shaving."
Whether or not you shave is a personal choice — full stop. But if you do decide to remove hair with a razor, there's never been a better time to do it.
Shop Razors
Athena Club's Smooth Operator set comes in a range of cute colors, but that's not the only reason it's worth buying. The razor's five blades work in tandem to deliver a super-close shave and are surrounded by a hyaluronic acid strip to ensure that happens without irritation. The kit comes with two five-blade cartridges, an ergonomic handle of your choice, and a magnetic in-shower holder.
For $14, the Flamingo Starter Set includes two five-bladed cartridges infused with aloe and shea butter, a non-slip handle, a shower holder, and a sample-sized bottle of the brand's shave gel — the latter of which turns into a pillowy foam for softer skin post-shave.
Hanni's razor is unlike any of the others on this list in that it's a single-blade format, which most dermatologists say is less likely to cause irritation than multi-bladed products. The handle is weighted, which means it's designed to do the work for you — no unnecessary pressing into your skin required. Additionally, the curve of the head is specifically designed to fit into the hard-to-reach crevices of your armpits and pubic hair.
According to Orszulak, pubic hair is thicker and denser than leg hair, tends to be curly, and can grow in multiple directions, which is why razors designed to be used on other parts of the body may not work here. This razor solves that with a small head that targets tricky areas, a patented irritation defense bar, and a precision trimmer on the back of the head.
Cleopatra, Elizabeth Taylor, and Marilyn Monroe were all known to shave their faces, and this facial razor is designed to make the experience feel just as glamorous as they were. "There were no sustainable, comfortable, and pretty facial razors available designed specifically for a woman's face," says Bosstick. The Hot Shave Razor checks all of the above boxes with its ergonomic (pink!) handle and changeable blades.
Shop Pre-Shave Skin Care
Designed to replace every product in your shave routine (besides, obviously, the razor), this cleansing bar is a body wash, shave cream, and lotion all in one. "It looks like a bar soap, so people think it's stripping, but it is the most milky, dreamy lather that makes for the best in-shower shave — you'll never use shaving cream again," says Tessler.
By pairing deeply hydrating marula oil and skin-soothing dandelion root with vitamin C, this pre-shave formula leaves skin moisturized and brighter post-shave. It comes out as a gel but transforms into a frothy milk that will actually make you look forward to lathering up.
Start your shave routine with this body buffing bar, which employs the gentle physical exfoliating powers of jojoba beads to slough away dead skin cells. Not only will this make your skin feel baby-soft (even on days when you're not using your razor), but it will also give you a closer shave and help prevent ingrowns in the days ahead.
Shop Post-Shave Skin Care
This easy-to-apply roll-on is infused with ingredients to stop razor bumps before they start. That's thanks to its exfoliating cocktail of apple fruit extract, witch hazel, and beta-hydroxy acids (BHAs), which help treat and prevent ingrowns and bumps — all in an easy-to-use roll-on.
A blend of natural and botanical ingredients come together in this concentrated serum to deliver smooth, ingrown-free hair post-shave. Lavender acts as an antibacterial to keep any bump-causing bacteria away, while primrose fights inflammation and jojoba oil hydrates.
Swipe away ingrowns with these pads, which are drenched in exfoliating acids. The alpha-hydroxy acids (AHAs) work on the top layer of the skin to melt away dead skin cells that trap hair beneath the surface, while the BHAs dive deep down into your pores to clear away dirt and bacteria from the inside out.
Topical's take on an ingrown hair treatment comes in a rollerball format, and it also relies on a combo of AHAs and BHAs for the job. In addition to its power-packed exfoliating acids (namely, glycolic and salicylic), it's got zinc PCA to calm irritated skin.
If you're looking for a full post-shave routine, Fur has got you covered with this bundle. It includes a gentle exfoliant that can be used as a scrub or 10-minute mask to slough off dead skin cells, a hydrating moisturizer designed to soften hair as it grows back in to prevent rough stubble, an all-over body oil, and a concentrated ingrown serum.
Studies referenced:
Mistry, S. (2012). Variations of scalp, pubic and axillary hair. Anthropol Anz. doi: 10.1127/0003-5548/2011/0119.