The Agent Elvis Voice Cast Includes A Succession Star & Presley Family Member
You haven't seen (or heard) Elvis quite like this before.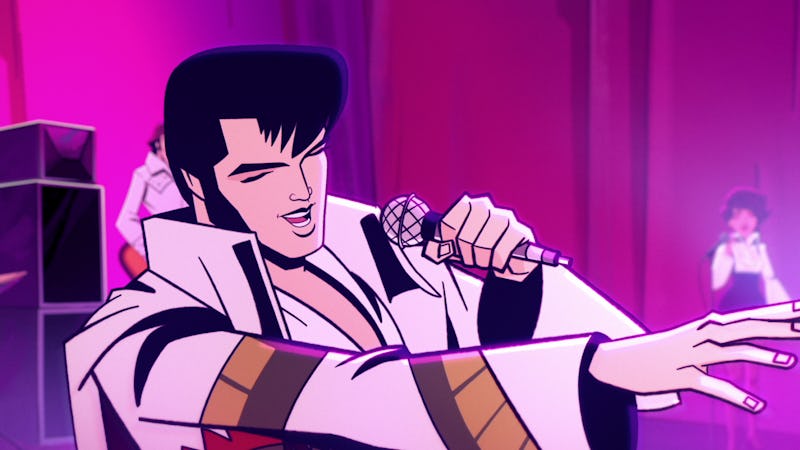 Netflix
Austin Butler's portrayal of Elvis Presley in Elvis earned critical acclaim, several awards, and plenty of ribbing about his accent for the role (which has stuck around well after filming wrapped two years ago). But already, there's a new person taking on the iconic part. Matthew McConaughey plays Elvis in Netflix's Agent Elvis, an animated series co-created by Priscilla Presley and John Eddie.
"As good as the acting job might have been [in other film and TV depictions of Elvis], you never got past the fact that the person never really looked as beautiful as Elvis did as a human being," Eddie, who previously toured with Lisa Marie Presley, told IGN. "And that you never got past the fact that that's not Elvis. So that's why I pitched it as an animated show."
The show blends the musician's real-life musical career with a made-for-TV side gig: special agent for The Central Bureau, or TCB, a nod to Presley's band name — which stands for "Taking Care of Business."
"I know that this is a dream come true for Elvis because this is really what he wanted to do," Priscilla Presley said at a recent Q&A, per The Hollywood Reporter. "He wanted to be a federal agent, and for me, I've always wanted to give Elvis what he wanted and never really quite made it." Apparently, the "Suspicious Minds" singer once told President Nixon he'd studied "communist brainwashing" and asked if he could have a Bureau of Narcotics and Dangerous Drugs badge, according to Smithsonian Magazine.
So, who's on the Agent Elvis voice cast? Here's the full list of everyone you'll hear.
Matthew McConaughey Plays Elvis Presley
"He's got that Southern voice," Priscilla Presley said, per GoldDerby, of casting McConaughey to play her former husband. "That deep voice. We discussed other people, but Matthew just kept coming into mind. He's such a professional and we knew he would do a great job speaking for Elvis. I loved him in it. He has that Southern drawl. Elvis did too in many ways."
Priscilla Presley Plays Herself
In addition to serving as co-creator of Agent Elvis, Priscilla Presley plays herself on the show. She's not the only person who really knew the musician, though. Behind the scenes, longtime family friend Jerry Schilling worked as a consultant, according to The Hollywood Reporter.
Don Cheadle Plays Commander
Don Cheadle plays Commander, who helms the secret organization Elvis works for.
Kaitlin Olson Plays CeCe Ryder
Kaitlin Olson plays Cece Ryder, a fellow member of TCB.
Niecy Nash Plays Bertie
Niecy Nash plays Bertie, described by the streamer as Presley's "strong-willed mother figure," per Variety.
Johnny Knoxville Plays Bobby Ray
Johnny Knoxville plays Bobby Ray, Presley's on-screen best friend.
Tom Kenny Plays Scatter
Tom Kenny (aka, SpongeBob himself) plays Scatter, Presley's chimpanzee sidekick. While much of Agent Elvis is fictional, this character actually existed. "Scatter is to be remembered," Presley said, per GoldDerby. "Scatter did all those things. Scatter escaped. Scatter went into peoples' windows. I was there when that happened. We had a place in Bel Air and he escaped a lot and the neighbors wanted us to get rid of him. Can you imagine him peeking in their windows and they're like, 'What is this creature? Get him out of here!' Scatter is the real deal."
Jason Mantzoukas Plays Howard Hughes
Jason Mantzoukas voices Howard Hughes, a real-life producer and businessman.
Who Else Is On The Agent Elvis Voice Cast?
There are even more guest stars you'll want to keep an ear out for. According to Variety, they include Succession star Kieran Culkin, along with Ed Helms, Christina Hendricks, Chris Elliot, Asif Ali, Fred Armisen, Ego Nwodim, Simon Pegg, Craig Robinson, Gary Cole, George Clinton, Tara Strong, and Tony Cavalero.