Alex Rodriguez Is Spending Time With His Ex-Wife After His Split From J.Lo
He and Cynthia Scurtis called it quits in 2008 after six years of marriage.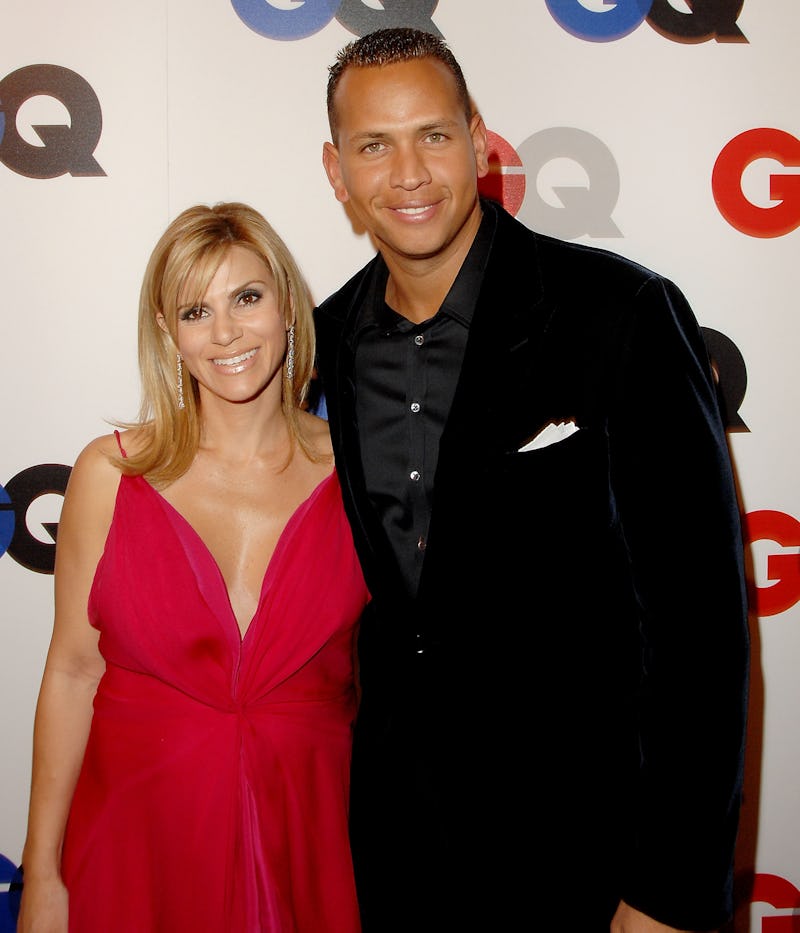 Jon Kopaloff/Getty Images
Following J.Lo and A-Rod's April split, fans have been keeping close tabs on their relationship — or shall we say relationships? Shortly after calling off their engagement, reports surfaced that the "On The Floor" singer rekindled her romance with Ben Affleck 17 years after they broke up. According to E! News, the retired baseball player was "shocked" that Lopez moved on so quickly. But on June 12, Rodriguez posted his workout with ex-wife Cynthia Scurtis on Instagram, meaning that J.Lo isn't the only one spending time with an ex.
"Cynthia is a world class mommy to our girls … wrapping ice though?!?!?! LOL," Rodriguez said jokingly alongside a clip of Scurtis icing his leg after their workout session. The former New York Yankees shortstop also shared a photo with his arm wrapped around his ex-wife's shoulders, proving that they've managed to maintain a solid relationship more than a decade after they split. The former couple called it quits in 2008 after six years of marriage and they share two daughters together, 16-year-old Natasha and 13-year-old Ella.
While a few photos on Instagram don't prove anything, it's possible that A-Rod is trying to get over J.Lo by resurrecting one of his past relationships. "He truly thought they would be able to make it work and reconnect," a source previously told E! about his split from Lopez. "He has been reaching out to J. Lo trying to meet with her and she has been very short with him." The insider added that Rodriguez was "saddened" by the Bennifer news and that he even called J.Lo to let her know how "upset" he was.
Now, it seems that Rodriguez is doing slightly better. Late last month, he took to his Instagram Stories to share a message with his followers about new beginnings. "I am about to step into a new beginning in my life," he said. "Anything that doesn't serve me is clearing out of my life. New energy is emerging. New levels are unlocking for me mentally, physically, and spiritually. I am remaining patient and know that this new phase of my life is coming."
Evidently, J.Lo will not be part of this new phase — at least not romantically. "We have realized we are better as friends and look forward to remaining so," they wrote in their April statement to Today. "We will continue to work together and support each other on our shared businesses and projects. We wish the best for each other and one another's children. Out of respect for them, the only other comment we have to say is thank you to everyone who has sent kind words and support."
Moving forward, it seems that J.Lo is focused on pursuing a romance with Affleck. "She's not interested in rekindling anything with A-Rod and is done," E!'s source added. "They never really had closure and she has always wondered what could have been. The timing was never right and they were in different places until now." That seems like a fair assessment, especially considering the PDA that took place at J.Lo's gym when the Justice League star flew to Miami in late May. According to E! News, they definitely "were not trying to hide their relationship by any means."
Now, things appear to be getting more serious. Last week, a source told the outlet that Lopez is moving to Los Angeles for a "fresh start" with her former fiancé. Per the insider, the singer "is packing up her Miami rental" and moving to be closer not only to Affleck, but to her twins Emme and Maximilian. "She will be between L.A. and the Hamptons this summer, but L.A. will be her base," the insider said. "She is excited about a fresh start and pursuing things with Ben. They will be at their L.A. home soon."