Here's What Happened Between Beaux & Harry After Too Hot To Handle
They left the show still together and a few thousand dollars richer — but did their relationship last?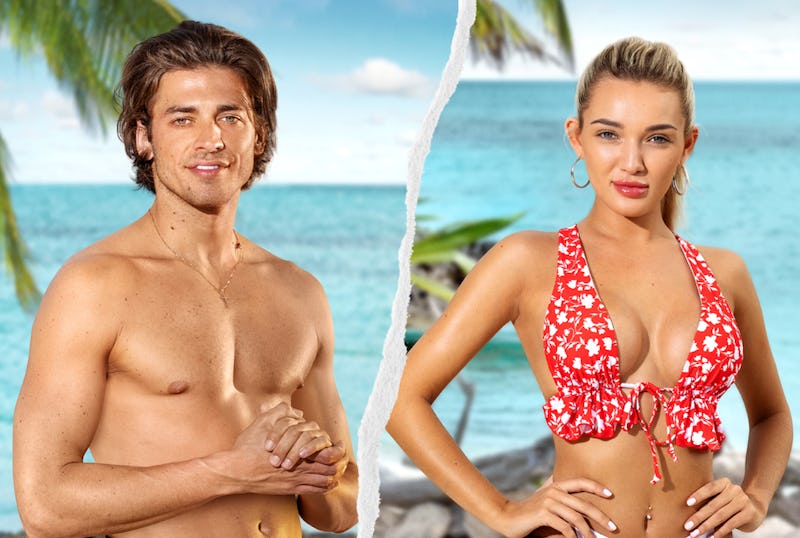 Netflix
Spoilers ahead for the Too Hot To Handle Season 3 finale.
Beaux Raymond and Harry Johnson's relationship was a slow burn. When the 24-year-old legal secretary and 29-year-old model initially joined Too Hot to Handle Season 3, Harry was wrapped up in a love square with Stevan Ditter and Patrick Mullen competing for Georgia Hassarat's affection. He and Beaux shared a bed each night, but weren't interested in each other romantically. Eventually, though, things blossomed. "It's quite hard, especially when you're spending every single day with that one person, like, in bed together, for a whole two, three weeks," Beaux explains of their evolution as a couple. "So when me and Harry [weren't] each other's types and then we built that massive connection, it was really, really nice."
After confessing their feelings, the two began going on dates and deepening their relationship, even becoming girlfriend and boyfriend by season's end. "[Harry is] literally a male version of me," Beaux tells Bustle of their connection. "With me, it's a massive personality thing. I can't just look at someone and think, 'Oh, I fancy you.' I've got to get to know that person."
Ultimately, the two managed to abide by all of Lana's rules — though Harry did get in trouble for self-gratification in the shower at one point — and win the $90,000 prize money. They left the show still together and a few thousand dollars richer.
After returning home, Beaux says she and Harry were "progressing every single day," but transitioning to the real world was difficult. "We're not around the corner from each other so planning to see each other has been tricky," Beaux says, noting that they live five hours apart. "I've never done a long distance ... It is a little bit tricky when you've not experienced that before. It took a while to get used to."
Eventually, it took its toll. During the Too Hot To Handle Reunion special released on Jan. 26, the couple confirmed that they're no longer together, but Beaux assured viewers that they're "still really close." They both still follow each other on Instagram — as do Beaux and Harry's brother, George — and comment on each other's posts.
They're even planning to take a trip together. "I think we're going to [the] Maldives," Harry said in the reunion special. When asked by host Chloe Veitch whether they'd consider getting back together, Beaux responded, "I mean, I don't know. I haven't seen him in such a long time, but you never known though. You just never know what could happen with me and Harry." Harry isn't closing the door either. "I never say never to anything, so, who knows?"
This article was originally published on