Ashton Kutcher Wants Danny Masterson "To Be Found Innocent" In Rape Retrial
"Ultimately, I can't know. I'm not the judge. I'm not the jury. I'm not the DA. I'm not the victim."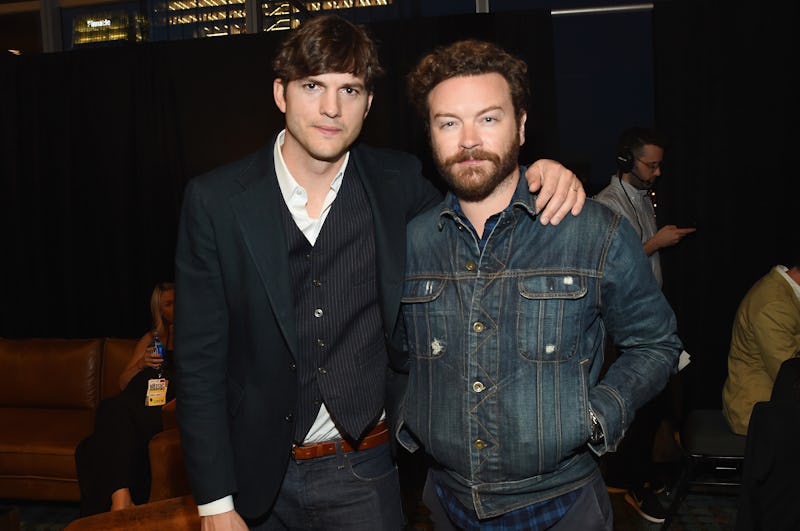 Rick Diamond/Getty Images Entertainment/Getty Images
Trigger Warning: This piece contains mentions of prior allegations of rape. Danny Masterson is the only That '70s Show star to not appear in the new Netflix reboot That '90s Show amid rape accusations, but that doesn't mean his co-stars have cut him off. In his new Esquire cover story, published on Jan. 30, Ashton Kutcher spoke out about Masterson's allegations for the first time, sharing hopes he will be found innocent in his upcoming retrial in March.
Kutcher emphasized that he had empathy for the alleged victims. "I wholesale feel for anybody who feels like they were violated in any way," he said. However, he still wants Masterson "to be found innocent of the charges brought against him." However, that doesn't mean Kutcher wants Masterson to get off scot-free as he genuinely hopes his friend is innocent. "Ultimately, I can't know," he said about what happened. "I'm not the judge. I'm not the jury. I'm not the DA. I'm not the victim. And I'm not the accused. And so, in that case, I don't have a space to comment. I just don't know."
Kutcher confirmed that he still speaks to Masterson, adding that he also frequently talks to his brother and shares concern about how his 8-year-old daughter Fianna will navigate the situation. "Someday, his kid is going to read about this," he noted.
While working together on That '70s Show, Kutcher recalled Masterson as the person that kept the rest of the young cast in line on set. "He's like, 'One f*cking rule: Don't do anything f*cking stupid and f*ck this up. Because if you f*ck it up, you f*ck it up for everybody,'" he said. Their friendship continued long after the sitcom ended in 2006, even starring with Masterson in Netflix's 2016 series The Ranch. Masterson was written off the show after the rape accusations emerged.
Masterson was charged with three counts of forcible rape for alleged incidents that happened between 2001 and 2003, as he was starring on That '70s Show. He pled not guilty and went to trial in October, but on Nov. 30, the judge declared it a mistrial after the jury deadlocked on a verdict and ordered a retrial. A new trial is scheduled to begin on March 27, 2023.
If you or someone you know has been sexually assaulted, you can call the National Sexual Assault Telephone Hotline at 800-656-HOPE (4673) or visit online.rainn.org. If you or someone you know is experiencing domestic abuse, call 911 or the National Domestic Violence Hotline at 1(800) 799-SAFE (7233) or visit thehotline.org.