What's The Worst Pizza Topping? Pete Davidson & His Mom Enter The Debate
His thoughts on pineapple might upset you.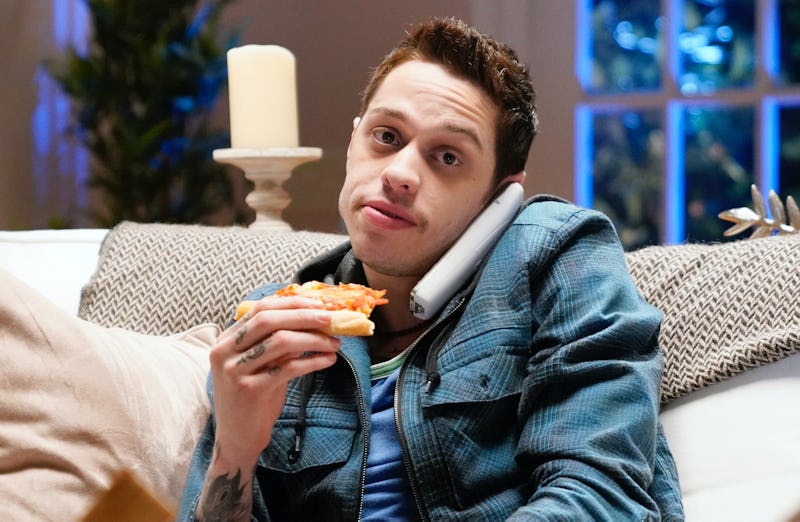 Katie McGowan/NBCU Photo Bank/NBCUniversal/Getty Images
Pete Davidson and his mom Amy have joined the endless debate about pizza toppings. In an ad for Smartwater, the Saturday Night Live alum answers what appears to be fan mail regarding the New York City food staple. Like anyone, the 29-year-old comedian has strong opinions about what does and doesn't belong on pizza.
"Dear Pete, we know you're from New York. What are the best pizza toppings to elevate my pizza?" his mom reads from a notecard. "The best toppings to elevate your pizza are pepperoni, sausage, pineapple, you can throw ham on there," the Bodies Bodies Bodies star replies. "I've seen people go nuts and throw a fried egg on there. That's actually pretty good. You throw some avocado on there. What you don't throw on is anchovies and mushrooms, you sick bastards."
Pizza toppings have long been up for debate. Putting pineapple on pizza is polarizing, along with spinach, barbecue sauce, eggs, and anchovies, according to Mashed.
This isn't the first time Davidson has been outspoken about pizza. In a 2020 Hot Ones interview, Davidson told host Sean Evans about the best places to get pizza in New York City, including his native Staten Island. "L&B's [in Brooklyn] is the best pizza in New York by far, I don't think there is a competitor," Davidson said. "Staten Island has the best overall pizza. Like if you could go to any pizza place over there, you're probably OK."
The comedian and his then-girlfriend Kim Kardashian memorably concluded the Met Gala with a hotel room pizza party. "You guys, I haven't had carbs or sugar in almost a month," Kardashian said, referencing how she prepared for the Met Gala. "Definitely three weeks. This pizza — I'm so excited!"
In another commercial for Smartwater, Davidson talks about how he's "a little more elevated" but still the "same old kid" from Staten Island. "I still chill with my mom," he adds, as a chef brings him a grilled cheese sandwich — topped with truffles.