Pete Davidson Mentioned Kanye West & Ariana Grande In His Last SNL Sketch
Plus, Kim Kardashian's supportive message.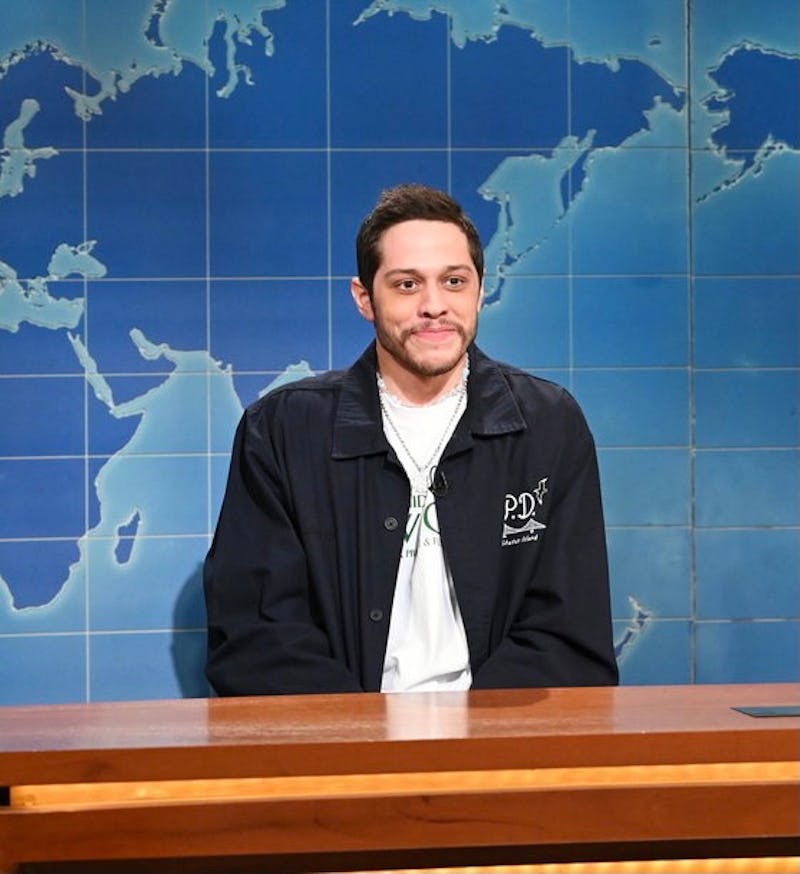 Will Heath/NBC
The Saturday Night Live season finale on May 21 marked the departure of four long-running cast members: Aidy Bryant, Kate McKinnon, Kyle Mooney, and Pete Davidson. And yes, there were tears. Each SNL grad got to have a bit of a swan song moment during their final episode — like McKinnon, who stole the show before it even started with one last "Close Encounter" cold open. Or Davidson, who correctly guessed that at least some viewers would be tuning in to see if he had anything to say about his relationship with Kim Kardashian (and accompanying drama with her ex, Kanye West). "Hello Colin, and Che, and millions of people only watching to see if I bring up Kanye," he said during a Weekend Update segment.
If you're one of said millions, you might have been a little disappointed that Davidson didn't go into specifics — though he did reference news coverage of his relationship in an SNL music video that was later uploaded to YouTube, in which he rapped about being "on the cover of Page Six daily."
Davidson also opened up about another high-profile relationship that came and went during his time on SNL — his engagement to Ariana Grande in 2018 — and thanked show creator and producer Lorne Michaels for his words of wisdom at the time. "He always gives the best advice ... I called him when I got engaged, and said, 'Lorne, I just got engaged to Ariana Grande after dating for two weeks,' and he said, 'Oh! Hold on for dear life,'" Davidson remembered. "That's a true thing he said."
Davidson, who joined the show when he was just 20 years old, also expressed his love for the show in a letter shared by SNL writer Dave Sirus. "I got to share so much with this audience and literally grow up in front of your eyes. We were together through the good and the bad, the happiest and the darkest of times. I owe Lorne Michaels and everyone at SNL my life."
Kardashian showed her support from abroad, as she was in Italy ahead of Kourtney Kardashian's wedding while the episode aired. "Goodbye SNL," she wrote atop a collage of Davidson's moments throughout his years on the show.