Everything To Know About Bling Empire Season 2
Not all of the cast members are returning.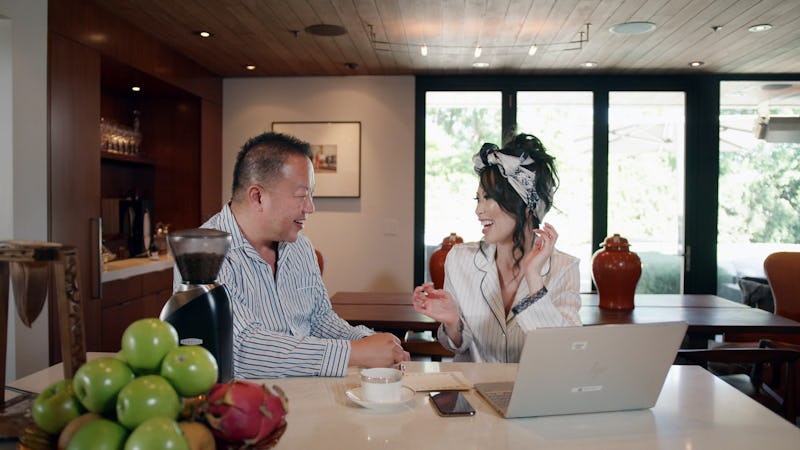 Netflix
The cast of Bling Empire is back to stir up more luxury drama. In March 2021, Netflix confirmed that the reality series would return for Season 2. "Selling Sunset and Bling Empire have both been renewed for new seasons!" the official Netflix Twitter announced. "Anyone else think they should do a crossover where Anna goes to one of Chrishell's open houses?"
This means that all of your favorite rich and fabulous characters will return to the screen, including Christine Chiu, her frenemy Anna Shay, Los Angeles newcomer and actor Kevin Kreider, real estate giant Kane Lim, DJ Kim Lee, and movie producer Kelly Mi Li. Here's everything else we know about Season 2 so far, including the new cast members and the show's much-awaited release date.
The Bling Empire Season 2 Plot
Expect more wild antics and a budding new relationship, according to the Season 2 logline. After pursuing Kelly for the duration of Season 1 to no avail (she stayed with her on-again, off-again ex-Power Rangers boyfriend Andrew Gray), Kevin is finally moving on to someone else as a romance with Kim blossoms. Unfortunately, not all of Kevin's relationships are smooth sailing, and his friendship with Kane is put to the test.
Warring heiresses Christine and Anna also compete with "a new twist" on social warfare. It's petty, sure, but it also sounds extremely entertaining.
Meanwhile, on March 20, Kane made an announcement that he'll be selling his house (for "only 1.88 million"). He even enlisted the help of Selling Sunset's agent Chrishell Stause. Hopefully, the crossover appears on the show.
The Bling Empire Season 2 Cast
Most of the Bling Empire cast members are coming back. In a January 2021 interview with Women's Wear Daily, Christine said she already had plans to take advantage of the show's exposure, business-wise. "After two decades building Beverly Hills Plastic Surgery with [my husband] Dr. Chiu, literally in hard hat and heels, I'm working on a beauty project — something highly curated that's endorsed by my husband and a team of leading experts," she said. While the line's release date then was still "TBD," she teased early on it might be ready for the second season of the show.
Meanwhile, Kevin pitched a season full of travel to Entertainment Tonight in early 2021. "I'd like to go to South Korea!" he teased of a cast trip. "Personally, I think traveling is going to be a huge thing." Kim added, "You know, we tried to travel for the first season, but obviously, with time constraints and stuff like that, we couldn't. I would actually like to fly the whole cast to Singapore [to] show them what Singapore truly is."
Chèrie and Jessey already filmed scenes for the second season, but they told TMZ last July that they've decided to focus on their family, furniture business, and other projects and wish for Bling Empire to continue without their involvement. Following Chèrie's proposal to Jessey in the Season 1 finale, the couple is engaged and raising two children. They didn't say why they chose to exit the series, but Chèrie previously told The Sun that she worried about featuring her kids on the show. Based on the logline, Chèrie and Jessey's relationship "is questioned" this season, and the Season 2 trailer features someone declaring that Jessey "has another family."
Two new entrants are joining the show, and one of them is already a reality star notorious for her luxe lifestyle. Fans of Rich Kids of Beverly Hills will recognize Dorothy Wang, who became a fan favorite during the four-season series. Her father, Roger Wang, is a real estate tycoon. She was born and raised in Beverly Hills and is friends with the other 90210 heiress, Christine.
The other new cast member, entrepreneur Mimi Morris, has a stirring backstory. Per Netflix, when Mimi was seven, her family was forced to flee their home in Vietnam for safety and ended up "living in a large hole in the ground." Her current opulent lifestyle is a far cry from her childhood, but her "strong survival skills in the face of adversity" keep her on her A-game. She might just stir some drama come Season 2, because "nothing gets past her."
While there's no mention of what happens to Kelly and Andrew's controversial relationship come Season 2, Kelly will definitely be returning to the show. She even posted the release date announcement on her Instagram after Netflix announced it on April 15. Meanwhile, in a now-deleted Instagram post from April 13, Andrew seemingly confirmed his involvement in the upcoming season. Whether he appears on the show or not remains to be seen; he does not appear in the trailer, in which Kelly declares she's happily single.
The Bling Empire Season 2 Premiere Date & Trailer
On April 15, Netflix announced that the highly anticipated show will drop on the streaming platform on May 13 with eight 40-minute episodes. The trailer released April 29 teases even more drama, from fights between Kane and Kevin, to shade from Anna thrown in Christine's direction, to a tearful conversation between Kim and Kevin. We'll find out exactly what unfolds when the season drops in full May 13.
Reporting by Kayla Blanton, Gretchen Smail, and Alyssa Lapid.
This article was originally published on