Bridgerton Fans Predict A Major New Character Is Joining Season 3
Reddit has been a buzz with this latest viewer speculation.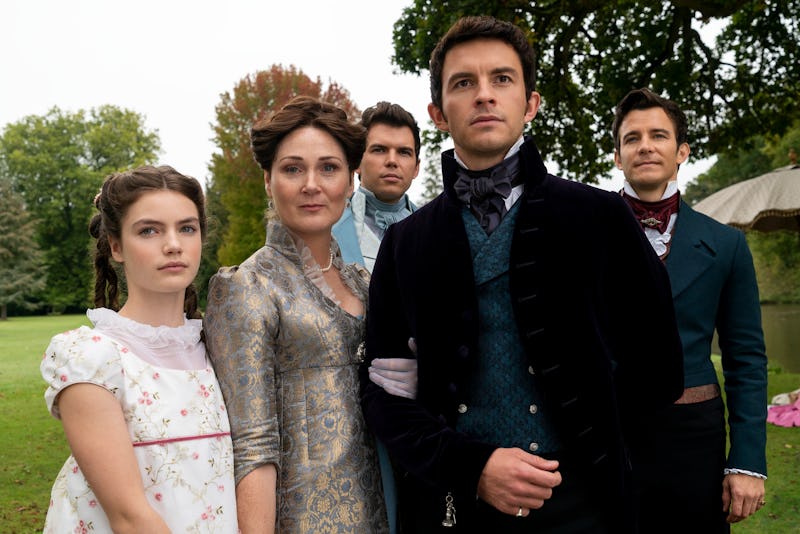 LIAM DANIEL/NETFLIX
As the show's hotly-anticipated third chapter draws nearer, Bridgerton fans have been busy theorizing what might be in store throughout Season 3. Viewer predictions regarding the show's potential release date, storylines, characters passing away, and more, have been widely circulated on Reddit, Twitter, and beyond in recent months, and one theory surrounding a dashing new cast member has now grabbed the attention of fans.
Over on Reddit, viewers discovered that The Girl Before star David Mumeni has joined the Bridgerton Season 3 cast in a regular role, according to his official portfolio, leading many fans to wonder where his character Lord Samadani will fit into the new series.
"I think he's got something to do with Penelope and Colin," one Redditor suggested. "The only ones who follow him on Instagram are Luke [Thompson] and Nicola [Coughlan] (and vice versa), and they have shared things from his account." Another fan agreed, asking "Is he perhaps a suitor interested in Pen?" prompting another user to reply: "It could be, he is only 32 so he's in the Bridgerton actor's range. Or he could be a friend Colin made during his travels."
Meanwhile, others noted that Mumeni's regular role indicates he will be featured heavily in the new season. "A regular role is defined as one of the main characters, appearing in nearly every episode," one fan commented, while another weighed in: "I cannot think of anyone else from the books who would be a regular unless he's a Benedict plotline made for this season?"
As mentioned, this is far from the only Bridgerton theory to have piqued fans' interest as of late, and the online speculation stretches far beyond just Season 3. In recent months, viewers have predicted dramatic changes to the show's format in Season 5 and pondered who will be at the center of the drama throughout Season 4. But, will any of these theories come to fruition? Fans will have to wait and see.