A Bridgerton Reddit Theory Teases Benedict's Lead Role Ahead Of Season 4
Benedict is the family's reigning single, older bro, which could set up a meaningful arc.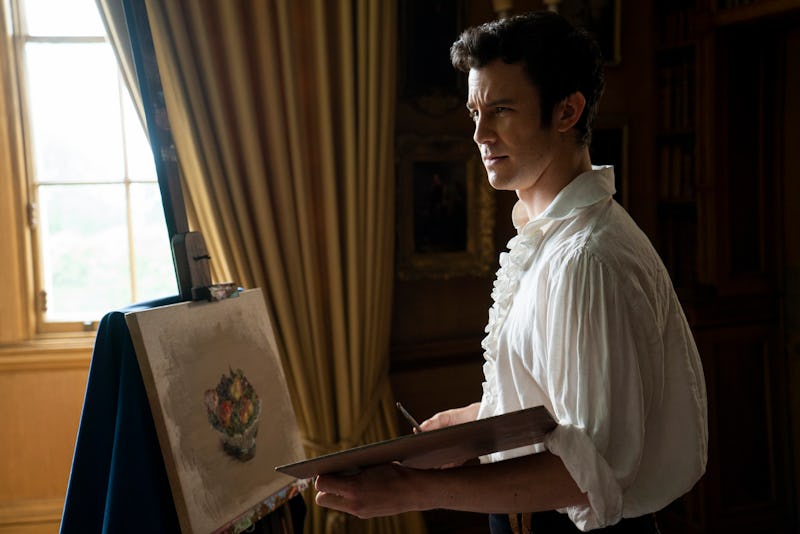 Liam Daniel/Netflix
There's nothing like a swoony slow burn — but when it comes to Bridgerton's Netflix release schedule, fans wouldn't mind the show moving a little faster. Fifteen months passed between the first two seasons of Bridgerton, while the wait for the rumored Season 3 release date has already surpassed that. But even if it takes a while for Season 4 to arrive, there's a good chance Season 3 will lay the groundwork for the second-eldest Bridgerton brother, Benedict, to step into the lead role.
As Redditor u/CalcuttaGirl pointed out in a recent post, Season 3 could see matriarch Violet Bridgerton move into a new abode now that Kate is the family's viscountess. This would be in keeping with the events of Benedict's book, An Offer from a Gentleman. Mild spoilers for the book ahead. Benedict meets his love interest, Sophie, at a masquerade ball: the last masquerade ball Violet throws before moving out of the house, in fact. For u/CalcuttaGirl, introducing that part of Benedict's storyline in Season 3 would be "the perfect scenario." Not only would it tease Benedict and Sophie's love story, but it would also help flesh out Benedict's character in time to advise Eloise on her own romance — after all, he will be the reigning single, older brother.
"I am also certain the reason the show established Ben-El bond was because Ben will be greatly involved in her story like in the book," the user added in a comment. Since the masquerade ball takes place two years before Benedict and Sophie actually get together, it would be wise for Bridgerton to plant those seeds now.
What else can fans expect from Benedict's Bridgerton season (which is widely believed, but not confirmed to be, the fourth)? In a 2022 interview with Entertainment Weekly, Luke Thompson hinted at a sense of "loss" in Benedict leaving the family dynamic and entering into relationship territory. "You know your place within that family, and then suddenly, you're almost slightly redefining yourself," he said. "I'd love for that quality to stay there, but part of the tension in the show is, what do you hold onto and what do you let go of when you start a relationship and emerge out of your family and build a family of your own?"
Thompson added that his character might need to be "a little less fun and easy" in order to find his center. "It's a lesson in probably being a little less agreeable and a little less adjustable than Benedict is."