Bridgerton Season 4 Will Likely Focus On Two Fan-Favorite Characters
The cutest 'Bridgerton' couple is on its way.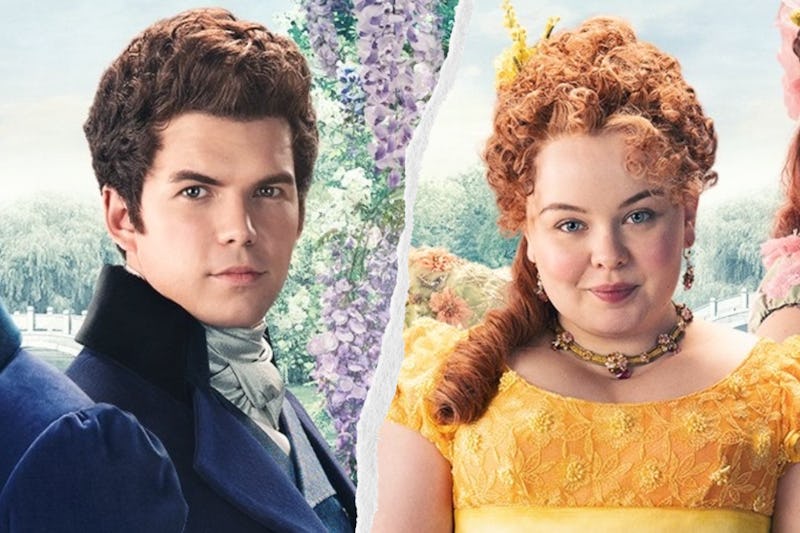 NETFLIX
The not-so-patient wait for Bridgerton Season 2 is proof of the series' grip on regency romance fans, including those who didn't know they were regency romance fans until, well, Bridgerton first dropped on Netflix. We're not just looking ahead toward the next installment, but also to the third and fourth seasons recently announced by Netflix. It might seem early to promise two more seasons when the second hasn't even premiered — but this is Bridgerton we're talking about, Netflix's biggest show ever. Plus, it's a big family, with eight siblings to marry off and endless love stories to tell.
Though details are sparse on the second and subsequent seasons, we do know via a letter from Lady Whistledown on the Bridgerton Instagram that Season 2 will focus on Anthony, the eldest Bridgerton sibling, as he looks for a viscountess. Because this tracks with the trajectory of Julia Quinn's novels, on which the show is based, we can safely guess that future seasons will each correspond to a different book. Season 3 will be Benedict's story, and Season 4 will match up with Quinn's Romancing Mister Bridgerton, which is all about Colin and Penelope. Here is everything we know about Bridgerton Season 4 and their budding romance, which was teased in Season 1 to tragic effect — what with Colin's relationship with Marina, and subsequent departure to travel the Mediterranean.
Bridgerton Season 4 Plot
Last we saw Colin and Penelope together, they were saying goodbye. Colin was off to travel as Penelope always encouraged him to. Unbeknownst to him, though, Penelope was on the verge of her very own "I burn for you"-level love declaration. According to the synopsis for Quinn's novel, their story resumes when Colin returns to London, and they both discover secrets about each other that test their potential for a "happy ending." We know Penelope's secret, but it will be interesting to see what Colin's covering up.
Marina Thompson isn't a major character in the books, nor a serious contender for Colin's love, so perhaps she could be a complicating factor in Colin and Penelope's romance, even though the Bridgerton bachelor parted ways with Marina after her deceit in Season 1.
Bridgerton Season 4 Cast
Unlike other Bridgerton series love stories, Season 4 might not need any major cast additions because the romantic leads are people we already know and love: playful Colin and sneaky, lovelorn Penelope are played by Luke Newton and Nicola Coughlan. We will likely see new supporting faces along the way.
Bridgerton Season 4 Trailer & Release Date
Season 2 of Bridgerton is filming now, according to Vanity Fair, so it could be some time before we see a trailer or release date for this and later seasons. However, due to the enormous success of Bridgerton, Netflix could work to expedite the release of upcoming installments maybe they'll even pull a Kissing Booth and secretly film more than one entry at a time.
This post will be updated with the trailer, release date, and additional plot details as more information on Bridgerton Season 4 becomes available.