Bridgerton Season 4 Will Likely Focus On This Brother's Divided Heart
In Julia Quinn's third book, the artsy brother must decide between two women he falls for.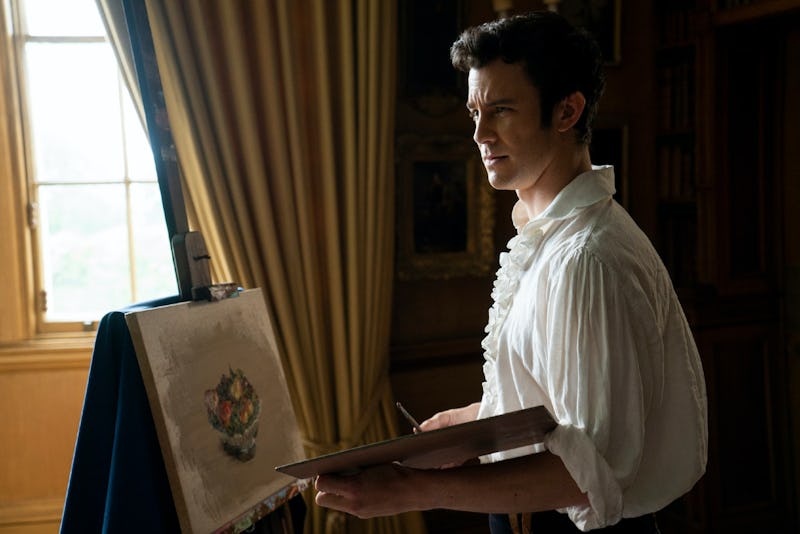 Liam Daniel/Netflix
The not-so-patient wait for Bridgerton Season 2 has been proof of the series' grip on Regency romance fans, including those who didn't know they were Regency romance fans until Bridgerton first dropped on Netflix. So you're not alone if you're looking ahead to the third and fourth seasons already announced by Netflix. It might've seemed strange to promise two more seasons before the second ever hit our screens — but this is Bridgerton we're talking about, one of Netflix's biggest shows ever. Plus, it's a big family, with eight siblings to marry off and endless love stories to tell.
Though details are sparse on the next two seasons, we can safely guess that future installments will each correspond to a different book — just like Season 2 matched with the Anthony-centric story in Julia Quinn's The Viscount Who Loved Me. Fans initially assumed that the seasons would line up with the books' installments, but on May 16, it was announced that Colin and Penelope's story — the lead romance in Quinn's fourth novel Romancing Mister Bridgerton — will actually be featured in Season 3. Perhaps this means that the Netflix series will just be swapping books three and four, with Season 4 following Benedict's story instead.
Here is everything we know about Bridgerton Season 4 and the two women Benedict falls for.
Bridgerton Season 4 Plot
According to the official synopsis for An Offer from a Gentleman, Julia Quinn's third Bridgerton book, Benedict falls for two women. First, there's the "radiant vision in silver" he meets at his family's masquerade ball, and then there's an "oddly familiar beauty dressed in housemaid's garb." Unbeknownst to him, they are actually the same person: an earl's daughter named Sophie, who is forced to live as a servant in her stepmother's house. How Cinderella of her.
Quinn makes no secret of the classic storybook inspiration, writing that "all enchantments must end when the clock strikes midnight." If Season 4 follows suit, it promises to be the show's most charming fairytale yet.
While responding to fan questions on May 16, Claudia Jessie, who plays Eloise Bridgerton, was asked what happens to Benedict. She said, "Fingers CROSSED we get his story in Season 4."
Bridgerton Season 4 Cast
Since Benedict will likely be Season 4's star, Luke Thompson will likely return as the show's romantic lead. But as of now, an actor for his love interest, Sophie, has not yet been announced.
The rest of the Bridgerton siblings will also likely come back including Anthony (Jonathan Bailey) and his Viscountess Kate (Simone Ashley), Eloise (Jesse), and Colin (Luke Newton) and Penelope (Nicola Coughlan), depending on how their love story unfolds in Season 3. Hannah Dodd, who is taking over the role of Francesca Bridgerton in Season 3, will likely stay for another. Daphne Phoebe Dynevor could also reprise her role as Daphne, showing up for bigger family events from time to time, though her husband, the Duke of Hastings, Regé-Jean Page, will likely still be a no-show this season.
One key way Bridgerton Season 3 might depart from the book it's based on is the question of Genevieve Delacroix. The seamstress does not appear in Quinn's novels, but Benedict is clearly fond of her in Season 1. We'll just have to wait and see if the character complicates things for Benedict and Sophie's budding romance.
Bridgerton Season 4 Trailer & Release Date Speculation
It could be some time before we see a trailer or release date for Bridgerton Season 4 and subsequent seasons. However, due to the enormous success of Bridgerton, Netflix could work to expedite the release of upcoming installments. Maybe they'll even pull a Kissing Booth and secretly film more than one entry at a time.
This post will be updated with the trailer, release date, and additional plot details as more information on Bridgerton Season 4 becomes available.
This article was originally published on