Britney Spears Shares & Deletes Photos Of Justin Timberlake From 22 Years Ago
"When we used to shoot hoops TOGETHER ... that's when miracles happened !!!"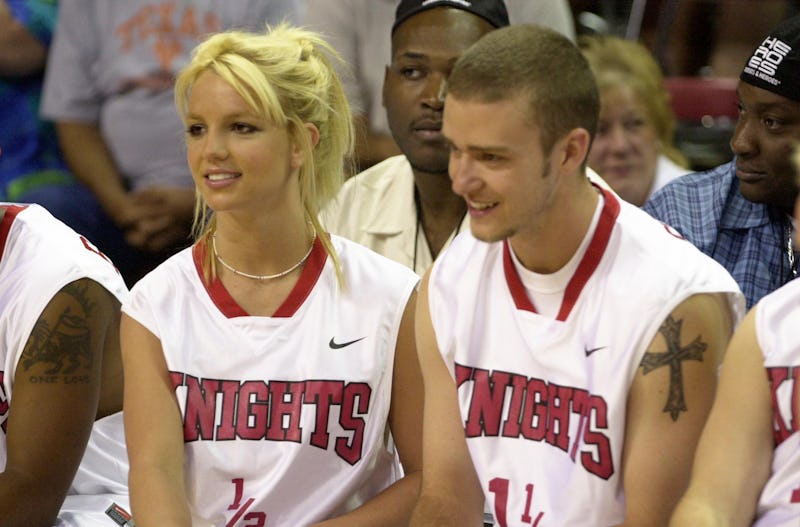 KMazur/WireImage/Getty Images
Britney Spears is reminiscing about a past romance. On Jan. 17, Spears shared vintage photos with ex-boyfriend Justin Timberlake on Instagram that were taken nearly 22 years ago. In July 2001, the former couple competed in the Challenge for the Children charity basketball game in Las Vegas, where they donned matching Knights jerseys emblazoned with "Stinky" and "Pinky" on the back.
"When we used to shoot hoops TOGETHER ... that's when miracles happened !!!" she captioned the post, without tagging Timberlake. However, it seems that the rest of her caption has nothing to do with the *NSYNC alum and is instead a plea for equality and normalcy. "I came out of my mom's stomach just like we all did !!! Psss ... why always cast me out ??? I'm as equal as all !!!"
The Instagram post has since been deleted. The "Gimme More" singer started dating Timberlake in 1999 as the pair rose to stardom separately after starring on the Mickey Mouse Club together. The pair was together for three years before splitting in 2002 in what became a tumultuous breakup.
Britney Spears/Instagram
Britney Spears/Instagram
The exes generally have stayed pretty friendly throughout the years, with Spears even dancing to his song "Filthy" in a 2020 Instagram video. "PS I know we had one of the world's biggest breakups 20 years ago… but hey the man is a genius!!! Great song JT!!!!!" she wrote, which prompted him to respond with approving emojis. However, Timberlake was criticized for his post-split treatment of Spears, specifically his depiction of her as a cheater in his "Cry Me A River" video, following the 2021 premiere of Hulu's documentary Framing Britney Spears, leading him to post a public apology.
Spears did not comment at the time, but months later, she revealed that she took their split pretty harshly and was forced to be interviewed by Diane Sawyer in spite of the breakup. "Something I never shared when I had that break up years ago was that I couldn't talk afterward," she wrote in a since-delted Instagram post. "I was in shock... pretty lame of my dad and three men to show up at my door when I could hardly speak... two days later they put Diane Sawyer in my living room... they forced me to talk!"
Spears' tone changed in a since-deleted March 2022 post, where she seemingly criticized Timberlake for using their breakup to promote his debut solo album Justified while also calling out her entire family for using her. "Your ex did the same thing ... he served with his first album using your name claiming you did him dirty !!!" she wrote. Timberlake has yet to comment on her recent posts.