At 14, Bryce Dallas Howard Was Being Grounded From Set
"On paper, I seemed like a really sweet girl who was not very intellectually impressive."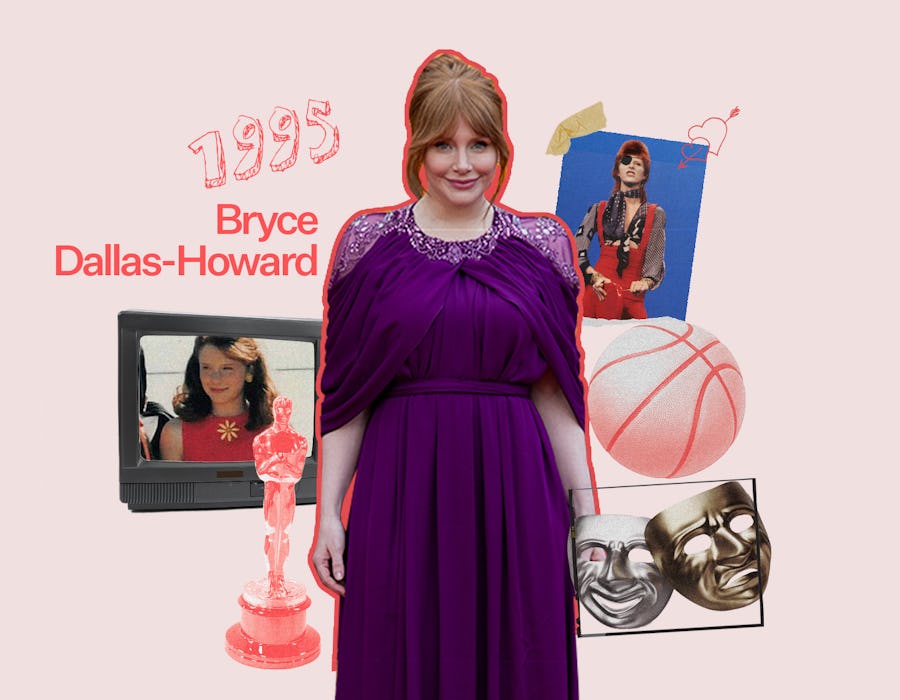 Joshua Sammer / Stringer, Gijsbert Hanekroot/Redferns, CSA Images, Scott Olson/Getty Images; Lightspring/Shutterstock;
In this spinoff of Bustle's 28 series, successful women describe exactly what their lives looked like at 14, and what their goals were for the future. Here, Jurassic World Dominion actor Bryce Dallas Howard talks about making major lifestyle choices as a teenager and working on-set with her famous director dad.
"Being 14 was a very defining year for me as a person," Bryce Dallas Howard tells me. "There were a few things that happened that gave me a sense of direction." The oldest of four children, Howard lived in Greenwich, Connecticut, with her mum and dad. It was a far cry from the bright Hollywood lights of her birthplace in Los Angeles, California, but that didn't stop the actor from entering the movie world at a young age. And she had the ideal mentor in her dad, esteemed director Ron Howard, who famously got his big international break starring in the hit American sitcom Happy Days.
Growing up, Howard split her time between theatre and basketball, excelling in both. She was disciplined during her downtime, preferring to focus on her studies and hone her acting craft. However, her best pal Alice was always on hand to provide some fun. "She introduced me to David Bowie and The Rocky Horror Picture Show," Howard recalls, fondly. "I experienced a different level of culture because of my brilliant friend." Although she undoubtedly had a blessed life, Howard had to overcome significant challenges during her early teens, but we'll get to that later.
Howard now lives in Los Angeles with her husband, Seth Gabel, and their two children, Beatrice and Theodore. She has made a name for herself in the industry, having appeared in many high-profile projects. Her lead performance in Kenneth Branagh's As You Like It — a 2006 film adaptation of William Shakespeare's play of the same name — earned her a Golden Globe nomination. She has since starred in beloved films such as The Twilight Saga: Eclipse, The Help, and Rocketman. Since 2015, Howard has portrayed protagonist Claire Dearing in the Jurassic World film franchise.
The latest instalment, Jurassic World Dominion, sees Howard performing all kinds of stunts. Dearing jumps out of an airplane, gets stuck in her parachute in a jungle-like setting, and escapes a bevy of larger-than-life dinosaurs. And while Howard didn't end up having to do the airplane dive herself, she welcomed the opportunity to get stuck into the action scenes.
"It feels like an adventure when you're making the movie, and I love that feeling, because in my real life, I take zero risks," she tells me. "I'm intellectually adventurous, but not physically adventurous. Getting to do that on screen really scratches that itch."
While she may not consider herself to be adventurous away from the camera, Howard was, in fact, showing serious physical strength and determination at 14. "I was getting injured a lot playing basketball, as I was kind of aggressive," she remembers. "I would really go for the ball, often at the expense of my own body. I broke every single finger except for my thumb."
Below, Howard talks about succeeding far past her parents' expectations, setting firm boundaries, and appearing in her dad's critically-acclaimed film Apollo 13.
Take me back to 1995. Where was home for you and what was your life like at 14?
In 1995, I was going to the Greenwich Country Day school. I was in ninth grade, which is usually the first year of high school in the U.S., but in my case, it was actually the last year of middle school. So, I'd been with the same group of people since kindergarten, and we were now the oldest kids in the school.
The way the school schedule worked, I was able to do sports and theatre. I did two shows that year: Comedy of Errors and Guys and Dolls. When I got cast in a main role, I was kind of stunned that they picked me. I was also the co-captain of the varsity basketball team, which built a lot of confidence. Being 14 was a very important time for me.
I was very strict with myself about rules. I still, to this day, have never had a sip of alcohol. I decided that when I was 14.
What made the year such a pivotal one for you?
Up until that age, I'd been really shy and had gone through a difficult time at school with certain academics. I was put through a lot of testing for learning disabilities, and I was diagnosed with specific learning difficulties, which was very illuminating for my parents. On paper, I seemed like a really sweet girl who was not very intellectually impressive.
And yet, I had this rich internal imaginative world. Every single night, I would read the end of Romeo and Juliet, and I would perform the death scene. This is by myself, in my bedroom. I was teaching myself how to cry on cue. I was also writing nonstop, but I didn't necessarily share anything with anyone at the time. At 14, a shift kind of happened, and I came "online." That year, I attended Vassar College's Summer Institute For The Gifted programme, which gives kids the chance to sign up for college classes.
My parents were sort of blown away because they had incredibly low expectations for me as a person. It was an interesting moment for me because I felt how it was to be a little underestimated and then to actually show up.
In Jurassic World Dominion, your on-screen daughter, Maisie, is 14. We witness her testing the boundaries. Did you have a rebellious streak at that age?
I was very strict with myself about rules. I still, to this day, have never had a sip of alcohol. I decided that when I was 14. It was the first time I had encountered a situation where my peers were drinking, and I was like, "No, I'm a tee-totaller." I also decided that I wasn't going to date until I was 18. The day I turned 18, I turned to my best guy friend, who I know had a crush on me, and was like, "Let's do this." He was my first boyfriend and is still a dear friend to this day. [Laughs] He actually ended up being one of my husband's groomsmen at our wedding.
I didn't want to get derailed as a teenager. I felt like drinking, drugs, and romantic relationships were something that was going to distract me from what was most important: school, my close friendships, and my family. Because of that, I didn't do anything wrong. Well, except that I had a really rude attitude toward my mother. We had a lot of friction. I don't know what it is, but at a certain point, the person who you love and respect so much, who has given you life, the sound of their voice makes you want to commit murder. They kind of can't do anything right: you think they're irrational or too strict. So that was really hard for my parents.
You were 14 when Apollo 13 came out. You were an uncredited extra in the film. Tell me about that experience.
Being on set with my dad was my favourite thing to do in the world. I had so much fun on Apollo 13. I was Colin Hanks' little buddy because he was 16 years old and a PA on set. [His dad, Tom Hanks, leads the film.] But my parents were really smart. If I was ever rude to my mum, I would get grounded from set. If you have an attitude problem, then you're not mature enough to be in a professional environment. They dangled that relatively early with me.
When I was younger, my dad directed the movie Far and Away [a 1992 film starring Tom Cruise and Nicole Kidman]. I remember crying because my mum grounded me from set one day. I was like, "You're ruining my life." Even then, I had the sense that it [going to set] was really important.
I actually have a funny story about after Apollo 13 came out…
Please tell us all about it.
There was a lot of buzz about the Academy Awards. It was somewhat assumed that the movie, my dad, and Tom Hanks would be nominated. But when the nominees were announced [Feb '96], my dad wasn't on the list. I can't say he was devastated, but he was bummed. Me, being his kid, I was shattered.
I remember walking into school that morning, and all these people turned and looked at me. I was like, "Oh my God, they know about the Oscars and they're embarrassed for me." They had this look of judgement and some of them were giggling. It was mortifying. I thought, "What is happening here? Why am I being judged because my dad wasn't nominated?"
Then I looked down, only to see that my wraparound skirt had completely opened up. Knickers and all were out there. [Laughs]
A wardrobe malfunction for the ages! Tell me, if your 14-year-old self were to meet you now, what would she think of you?
I think she'd be pretty stoked. The stuff that I knew mattered at 14 has worked out in a way that makes me feel really lucky. I've been with my husband for 22 years, I've got my two kids.
Also, when I was 14, I was a curvy girl, who was really self-confident. I remember my younger sisters being like, "Oh gosh. You wear these shorter skirts and you're so confident in your body." I wasn't itty bitty like all of my friends. With me being in the industry and all, I think the 14-year-old version of myself would look at me now and be really happy that I'm still confident in my body and that I don't feel the need to be a certain way for anyone else.